Tibbetts blazes trail with completion of Superior 100-mile race
Tibbetts is believed to be the first member of the Fond du Lac Band of Lake Superior Chippewa to complete the 100-mile Superior Fall Trail Race, which started in 1991.
We are part of The Trust Project.
LUTSEN — A decades-worth of training and preparation culminated in the race of a lifetime for ultrarunner Sophie Tibbetts of the Fond du Lac Band of Lake Superior Chippewa in September.
Under damp, gloomy conditions on the morning of Sept. 9, Tibbetts joined approximately 250 runners representing five countries and 39 states at the starting line at Gooseberry Falls State Park for the annual 100-mile Superior Fall Trail Race.
Over the next 37-and-a-half hours, Tibbetts navigated through the unpredictable, rocky terrain of the Superior Hiking Trail before crossing the finish line at Caribou Highlands Lodge in Lutsen on the evening of Sept. 10.
Of the approximately 250 runners who started the race, almost two-thirds (65%) were able to complete it within the 38-hour time limit, according to race director John Storkamp of Rocksteady Running.
For Tibbetts, the pride drawn from navigating the rugged terrain on her first attempt was immense.
"I run every single day, almost. Really, it's been years building up to this, so this was (the) pinnacle of my running career so far," she said.
Tibbetts, who works as an executive administrative assistant for Fond du Lac Human Services, is believed to be the first member of the Band to complete the 100-mile Superior Fall Trail Race.
Her trail-blazing nature can be traced back to her grandparents, who laid the foundation for the work she does today.
"Fond du Lac is my community, my family," Tibbetts said in email to the Pine Journal. "One thing I am proud of regarding my reservation that I want to mention is that my grandma, Doris (Dottie) Whitebird-Tibbetts was instrumental to the development of Fond du Lac Human Services many years ago. Her and my grandpa (Sewell Tibbetts) did a lot for our community."
Having the opportunity to be a role model to community members through her running accomplishments is something she doesn't take for granted.
"It makes me hopeful that maybe some kids from the community will see a community member doing really cool things that seem impossible, but they're doing them, and hopefully it will inspire them to do more, too," Tibbetts said. "I have two kids, you know, and I just want them to see me trying my hardest at things that seem really hard and succeeding."
Her introduction to the world of running didn't come until Tibbetts was in her mid-20s when she began tagging along with a friend who had gotten hooked on the sport. Over time, Tibbetts developed the same passion, and soon discovered other benefits the exercise provides.
"It really helps with my mental health," Tibbetts said. "Running gives me a place where I can just be myself, process things in my life and release feelings. Running is therapeutic, and it's helped me though a lot of hard moments in life, traumatic events. It's always there to turn to, you know? I can always just throw on shoes and go."
The outlet provided by running soon became a competitive endeavor as Tibbetts gradually started entering races, beginning with a 25-mile race in Lutsen. As her experience grew, so too did the mileage in the events she entered, before ultimately reaching the 100-mile mark last month.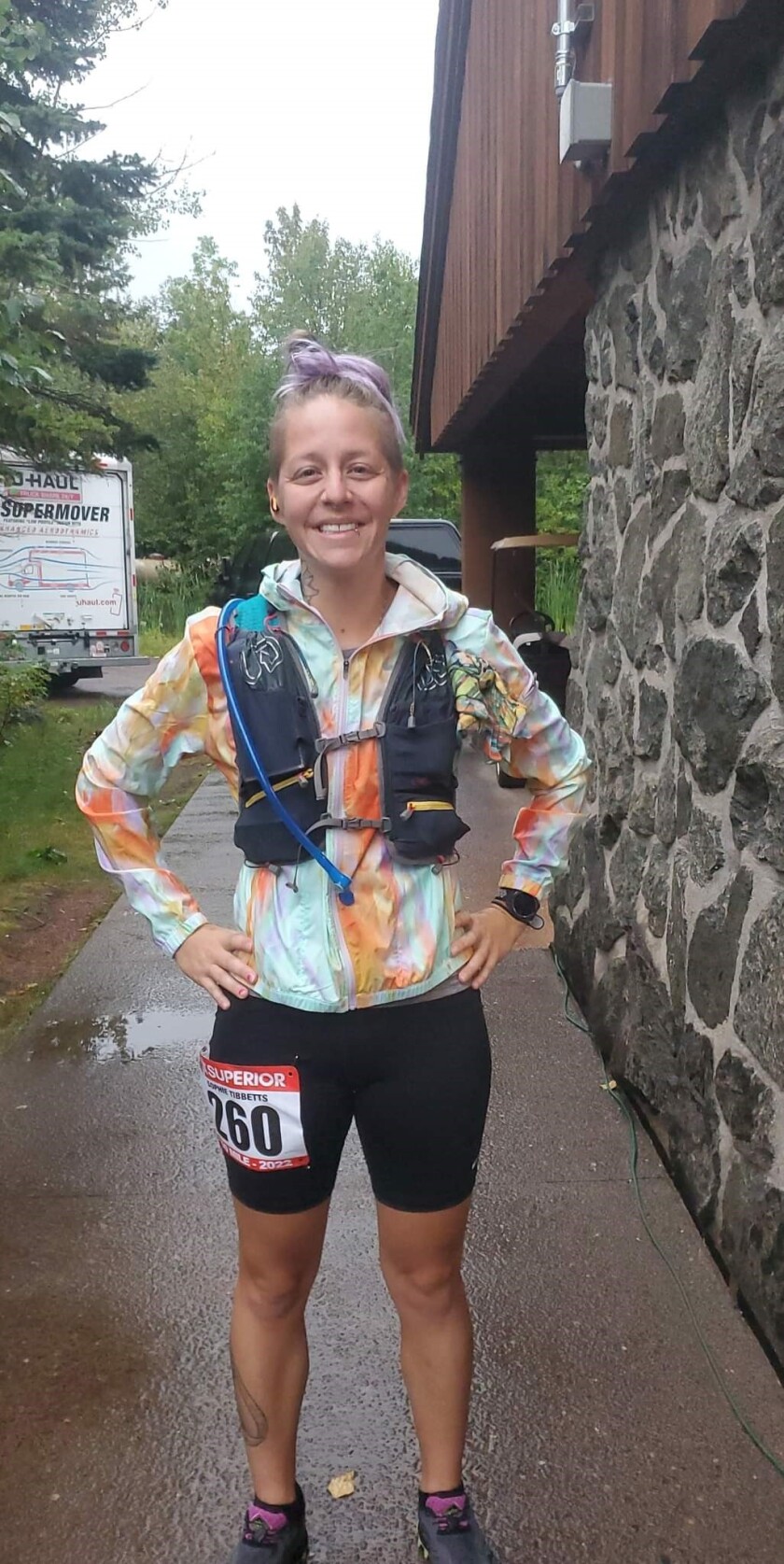 Reflecting on her journey, Tibbetts said the milestones would not be possible without the support she's received from friends and family.
"It seemed impossible," Tibbetts said of the 100-mile event at the start of her career. "But I think a lot of the reasons why I thought that I could do it (now) was because of the support I have, and two of my really good friends are also ultrarunners, and they inspire me to do more and try more and if it wasn't for those guys, I probably wouldn't have even tried it."
A fellow trail runner and event organizer, Storkamp said Tibbetts' achievements in the sport speak to her determination.
"It really says something about Sophie's tenacity that she, on her first attempt, did the Superior 100," Storkamp said. "She did it and had success in finishing, so that's pretty significant (and a) pretty neat thing."
Tibbetts doesn't know which race she will compete in next, though she said she hasn't ruled out a return to the Superior 100 in hopes of beating her time of 37:40:22.
"I just kind of want to kind of take it easy and just probably do some smaller races that I don't have to spend so much time training for just because it got hard with my baby, and I don't want to take away time from him and I just want to run for fun I guess," Tibbetts shared. "I would do another 100, definitely. I think I could get a better time next time, so that's always a driving force is that competitiveness with myself."