Sundbom hangs on for fourth Cloquet Invitational win
State champion Sam Baker is the runner up in his first appearance in the tournament at his home course.
Despite struggling early in the day, Taylor Sundbom was able to hang on to win his fourth Cloquet Invitational title in nine years Sunday, July 11, at Cloquet Country Club.
Sundbom was 4-under par after the first two rounds, but got off to a slow start and had to fend off a hard challenge from Cloquet's Sam Baker in his first appearance at the tournament.
"I definitely came out struggling. I just had to find something in my game that I could get ahold of today and make sure I could get everything back on track," Sundbom said. "I was trying to find the shot that I knew where it was going to go, but I was struggling to be there, so I was trying to do anything I could to get comfortable."
Sundbom put away his driver for good after the ninth hole and used his long irons off the tee for the final half of the round.
"I was struggling with it this weekend," he said. "My goal was just to go to a club that I knew I could get in play and then trust my iron game from there on. That's usually the strength of my game. If I can get it anywhere in the fairway or in play, I'm not too worried how far it is — I know I can get it on the green."
After nine holes Baker found himself four strokes back of Sundbom.
"I knew I had to make up some ground, so I went firing at the pin on 10 and made birdie," Baker said. "Then I knew I had to give it a run on 11 and my eagle putt happened to drop."
The charge left Baker back by a single stroke, but he pulled his tee shot on the 12th hole out of bounds and he ended the hole with a double bogey.
"I didn't do well with my irons," Baker said. "I've been having a pull-draw-type thing for my miss, and that came into play on a couple of holes and cost me a few strokes."
Baker had another opportunity when Sundbom's tee shot hit a tree on the par-3 15th. Sundbom's tee shot nearly rolled back in the water and he ended the hole with a double bogey. Baker missed his own par putt to leave himself still two back of Sundbom headed to the final three holes.
John Sheff, 58, tried to make a charge of his own as part of the final group. Sheff, who has finished runner-up in the tournament 14 times in 37 appearances, chipped in for birdie on the 10th hole and made a long birdie putt on the 16th. Sheff had a second chip shot that lipped out of the hole.
"I've got a little different tool kit than these young guys," Sheff said. "I'm playing a little different game, I've got to grind a little harder. I hit a terrible shot there. I liked the lie and I can chip all right, so I felt good about getting it up and down, but it's always nice when it goes in. It gave me a little spark."
Sheff bogeyed the 17th hole, however, to end his threat.
Sundbom recovered from the miss and made par on the final three holes to win the tournament on one of the better courses in the area.
"It's such a fun course, you can make low numbers and you can get high numbers," he said. "It's a good test and it's one of the most fun courses, I feel like, around her to play."
1
/
9:
John Sheff of Cloquet putts during the Cloquet Invitational at Cloquet Country Club on Sunday, July 11, 2021, in Cloquet. (Clint Austin / caustin@duluthnews.com)
2
/
9:
Brian Moores of Delwood, Minnesota, chips the ball on the green during the Cloquet Invitational at Cloquet Country Club on Sunday, July 11, 2021, in Cloquet. (Clint Austin / caustin@duluthnews.com)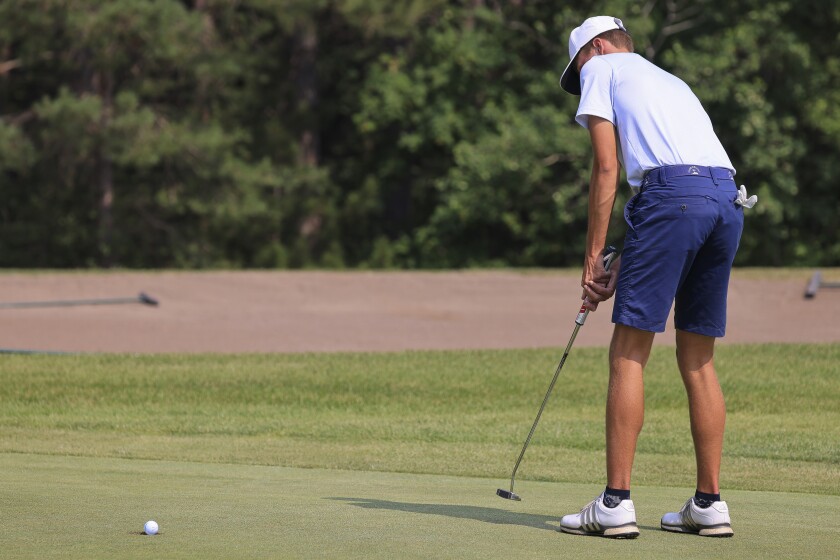 3
/
9:
Sam Baker of Cloquet putts during the Cloquet Invitational at Cloquet Country Club on Sunday, July 11, 2021, in Cloquet. (Clint Austin / caustin@duluthnews.com)
4
/
9:
Taylor Sundbom of Duluth tees off during the Cloquet Invitational at Cloquet Country Club on Sunday, July 11, 2021, in Cloquet. (Clint Austin / caustin@duluthnews.com)
5
/
9:
Sam Baker of Cloquet putts during the Cloquet Invitational at Cloquet Country Club on Sunday, July 11, 2021, in Cloquet. (Clint Austin / caustin@duluthnews.com)
6
/
9:
Brian Moores of Delwood, Minnesota, tees off during the Cloquet Invitational at Cloquet Country Club on Sunday, July 11, 2021, in Cloquet. (Clint Austin / caustin@duluthnews.com)
7
/
9:
Alex Kolquist of Duluth hits the ball out of a bunker during the Cloquet Invitational at Cloquet Country Club on Sunday, July 11, 2021, in Cloquet. (Clint Austin / caustin@duluthnews.com)
8
/
9:
Jim Stafford of Cloquet tees off during the Cloquet Invitational at Cloquet Country Club on Sunday, July 11, 2021, in Cloquet. (Clint Austin / caustin@duluthnews.com)
9
/
9:
Eric Fryc of Minneapolis tees off during the Cloquet Invitational at Cloquet Country Club on Sunday, July 11, 2021, in Cloquet. (Clint Austin / caustin@duluthnews.com)