Prep report: Perich, Eskomos put on a show at home
University of Minnesota head football coach P.J. Fleck and members of his staff were in attendance.
We are part of The Trust Project.
Koi Perich and the Esko Eskomos put on a show on Tuesday night for an audience that reportedly included Minnesota football head coach P.J. Fleck on Tuesday in an 87-42 decision over Aitkin.
Perich scored a game-high 31 points as the Eskomos doubled up the Gobblers 48-24 in the first half.
Cuinn Berger added 14 points while Zander Gabel made four 3-pointers for his 12 points as Esko (10-2) reached the double-digit mark in wins.
Eau Claire Memorial 62, Superior 60
The Old Abes won by the length of a stovepipe hat on Tuesday, as the Spartans whittled a 13-point halftime deficit down but couldn't finish off the comeback at home.
It was a duel of balanced offenses, as Memorial and Superior both had four scorers in double-figures. Superior (9-7) was led by 15 points apiece from Kyle Johnson and Calvin Anderson. Daynen Lull added 14 points and Tre Sanigar 12.
Moose Lake/Willow River 47, Grand Rapids 43
The Rebels were a shade better in the second half of a defensive struggle that went to the break tied at 21. Luke Dewey led all scorers with 14 points for the Rebels (9-6). Adam Neumann added 12.
For Rapids (1-11), Danny Markovich scored a team-best 12.
Cloquet-Esko-Carlton 4, Rock Ridge 3 (OT)
The overtime hero was Bobby Thornton for the Lumberjacks on Tuesday at Iron Trail Motors Event Center in Virginia.
His game-winner came 2:50 into the extra session, and just after Sam Troutwine's power play tally with 2:05 to play sent the game into overtime.
Patrick Dunaiski had a pair of assists for CEC (10-6-1), which got 30 saves from Logan Sickmann in goal.
Ryan Rothfork stopped 26 shots for Rock Ridge (11-5-1).
Hermantown 11, Superior 0
Weston Bohlman and Wyatt Carlson scored two goals apiece as the Hawks scored five first-period goals and won in a rout at Wessman Arena.
Garron Opsahl stopped all nine shots he faced for Hermantown (13-2-1).
Brainerd 3, Grand Rapids 3 (OT)
The Thunderhawks outshot the Warriors 49-19 but had to settle for a tie on Tuesday night at the IRA Civic Center due to a 46-save game from Brainerd goalie Ryan Gerlich.
After trailing or playing even with Brainerd for much of the first two periods, Rapids, tied it up from Gus Drennan with 11 seconds left in the second period, then finally took the lead on Will Shermoen's goal with 3:04 to play.
However, the Warriors' Kade Stengrim scored a late equalizer with 1:40 left and the teams played a scoreless overtime despite Rapids putting six shots on goal.
Myles Gunderson made 16 saves for Rapids (11-7-1).
The Spartans' Autumn Cooper reached rarified statistical air: 100 career points as part of a four-point (two goals, two assists) game at Essentia Duluth Heritage Center.
She wasn't the only one to have a big night: Makaela Reinke scored four times in the third period.
Kaylie Nault made 24 saves for Superior (16-3), while Ella Brisbois stopped 21 shots for Duluth (10-7-3).
Cloquet-Esko-Carlton 3, Rock Ridge 1
Emma Parks had a hand in all three CEC goals as the Lumberjacks marked their home finale with their fourth victory in a row.
Parks scored once and had two assists.
Araya Kiminski made 13 saves for the Lumberjacks (7-10-4).
Nola Kwiatkowski made 30 saves for Rock Ridge (12-10).
Hibbing/Chisholm 2, North Shore 0
Goals from Aune Boben (shorthanded) and Penella Rewertz were more than enough for the Bluejackets (6-17), who got a 16-save shutout from goaltender Addison Hess.
Superior 100, Grand Rapids 80
Eli Benson and Paolo Pagnucci led the Spartans boys swimmer to a victory on Tuesday, claiming two individual victories apiece.
Benson touched the wall first in the 200-yard individual medley in 2 minutes, 28.40 seconds, then later won the 100 freestyle in 54.81 seconds. Pagnucci took the 100 butterfly in 1:01.25 then won the breaststroke in 1:09.11.
Pagnucci and Benson both served two winning relays, the 200 medley relay and 200 freestyle relay.
This story was edited at 12:33 a.m. on Jan. 26 to correct statistics for the Hermantown-Superior hockey game that were submitted incorrectly. It was originally posted at 11:03 p.m. on Jan. 24.
Mountain Iron-Buhl 103, Northeast Range 19
Cherry 84, North Woods 65
Moose Lake/Willow River 47, Grand Rapids 43
Eau Claire Memorial 62, Superior 60
Rock Ridge 93, International Falls 29
Duluth East 82, Brainerd 77 (2OT)
Solon Springs 103, Mercer 29
Hermantown 94, Duluth Denfeld 55
South Ridge 68, Carlton 50
Chisholm 63, Littlefork-Big Falls 45
Proctor 58, Duluth Marshall 53
Solon Springs 73, Mellen 38
Mesabi East 64, Cook County 47
Cherry 57, International Falls 42
South Ridge 68, Deer River 39
Northwestern 75, Spooner 31
Grand Rapids 3, Brainerd 3 (OT)
Cloquet-Esko-Carlton 4, Rock Ridge 3 (OT)
Hermantown 11, Superior 0
Greenway 5, Lake of the Woods 4
Ashland 5, Moose Lake Area 2
Hibbing/Chisholm 2, North Shore 0
Proctor/Hermantown 4, Duluth Marshall 3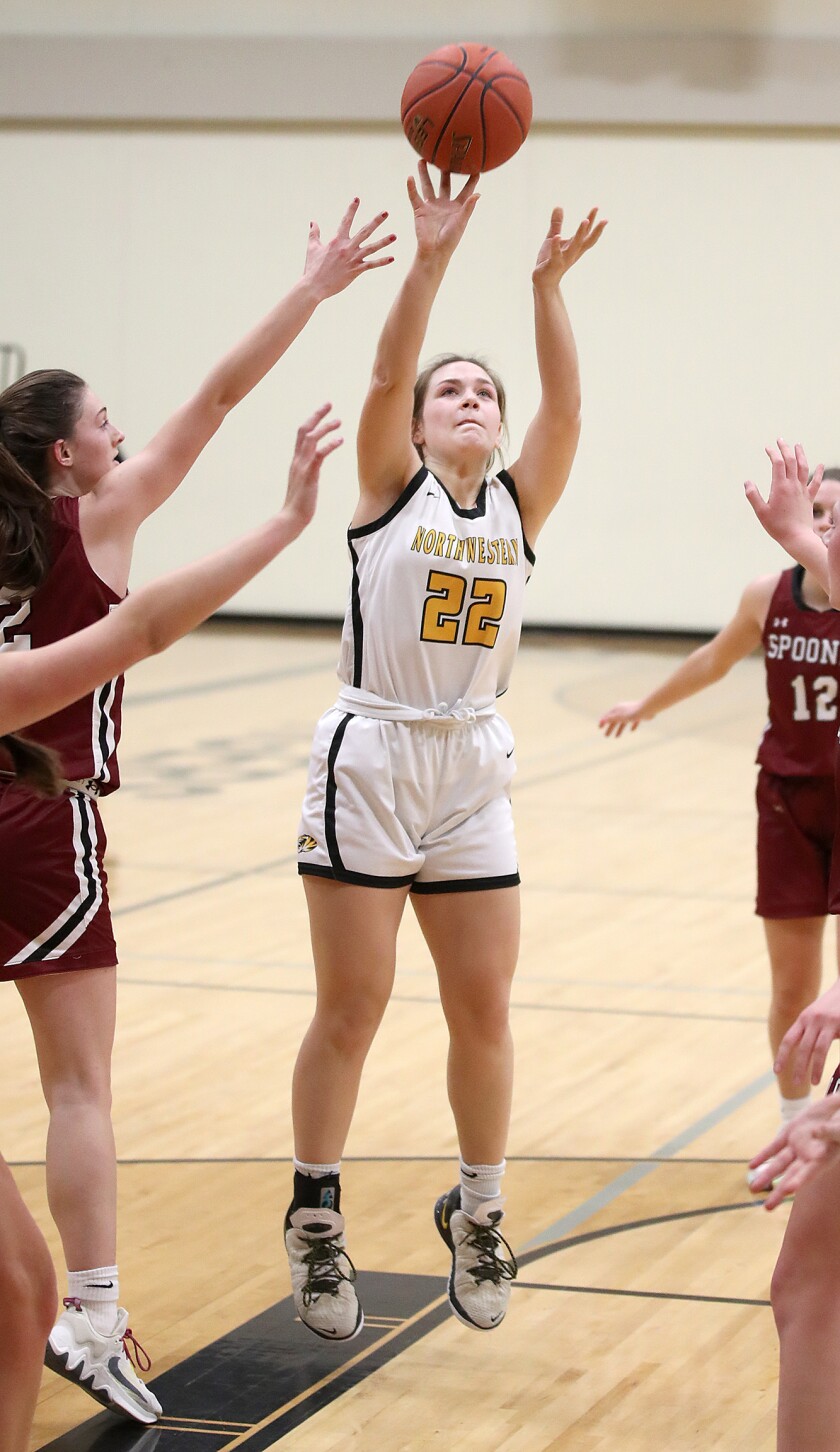 The senior went 15-for-15 from the free-throw line and scored 27 points.
In other area action, Cloquet boys basketball topped Duluth Marshall and Solon Springs girls basketball blew out Washburn.
Christian scored four goals and Peterson had assists on all seven goals East scored.
Cromwell-Wright claimed the Polar League's small-school conference title on Friday.