Prep boys basketball: Perich draws special guests at recent home game
P.J. Fleck was one of multiple coaches in attendance for the Eskomos' game against Aitkin on Tuesday, Jan. 24.
ESKO — The Esko High School gym was abuzz for the boys basketball team's Tuesday, Jan. 24 meeting against Aitkin, which included a handful of special guests in attendance to watch the action unfold.
University of Minnesota head football coach P.J. Fleck made the trip up from the Twin Cities alongside defensive coordinator Joe Rossi and safeties coach Danny Collins to watch coveted in-state recruit Koi Perich take the court for the Eskomos.
University of Northwestern defensive backs coach Matt MacPherson was also in the crowd to see Perich, who finished the game with 31 points in the Eskomos' 87-42 win over the Gobblers.
"It was pretty cool. ... It shows a lot that they want me on their squads, and it was pretty fun playing in front of them," Perich said. "I didn't feel nervous at all. I think it makes the game more fun."
The recruiting attention for Perich has accelerated in recent weeks as the pursuit of high-end players continues to heat up on the recruiting trail, especially for players within the state.
The appearance in Esko offered the college coaches an opportunity to speak one-on-one with the players' coaches as well, with NCAA rules prohibiting conversations with the recruits.
In talking with collegiate coaches, Esko head coach Scott Arntson raved about Perich's football IQ in addition to his work ethic.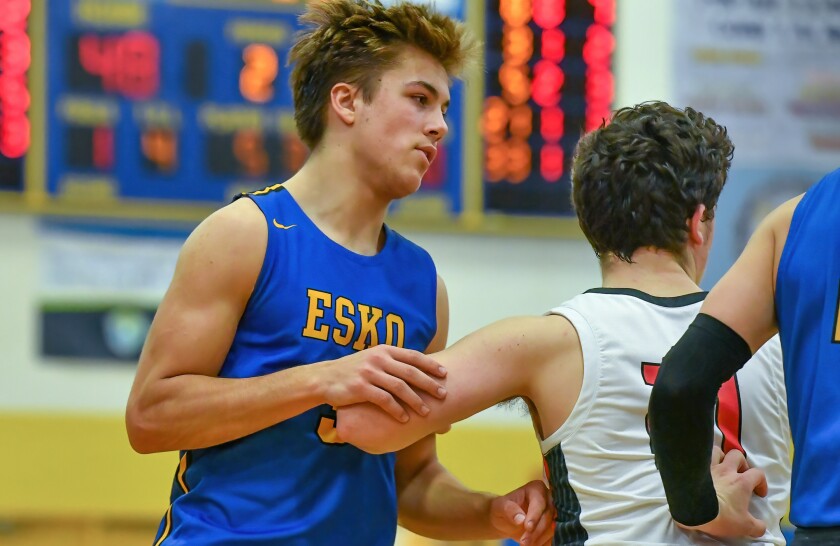 "He's going to work hard, and he's smart. I think that it's hard to see on film just how intelligent he is on the football field," Arntson said.
Perich is currently regarded as a three-star safety on the recruiting database website, 247sports, and is ranked as the No. 5 overall prospect in the state for the class of 2024.
The three-sport star has already received Division I offers from five Big Ten Conference schools, including the University of Minnesota, Wisconsin, Iowa, Nebraska and Northwestern.
"It's awesome," Perich said of the recruiting process. "I grew up wanting to play in the NFL, so taking this step-by-step and seeing it all come together is pretty cool. It shows that the work I've put in (has paid off). All of the people that have put in the time to help me, I have to thank them the most."