Prep baseball: Marciulionis' moon shot highlights Esko's 18-1 trampling of Two Harbors
Dylan Marciulionis was awarded the team's "Moon Shot Hit of the Game" after connecting on a solo home run in the third inning.
ESKO — In the weeks leading up to the start of the season, members of the Esko baseball team received a final tune-up with a series of scrimmages in Cocoa Beach, Florida.
During the trip, a plush, replica NASA space Helmet was purchased by assistant coach Dave Furcht, which spawned a new postgame tradition for the unbeaten Eskomos.
"We just decided we'd like to give that out (and) we call it the Moonshot Hit of the Game, so whoever hits the ball the hardest or the farthest, we give them that little hat and take a picture," coach Ben Haugen explained.
Junior Dylan Marciulionis was presented with the helmet following Wednesday's 18-1 shellacking of Two Harbors, after sending a towering shot over the fence in left field for his first varsity home run.
"I just saw a fastball and I was hunting (for the) fastball. I just had to swing my back leg and stay in my power triangle and just wait on the pitch and drive it," he said.
The new postgame ceremony has been a welcomed tradition for a team that has been thoroughly enjoying its impressive run together.
"We have a great bond," he said. "We've been playing with each other for a long time. There's no bad blood and we all just love each other and love playing with each other and having fun and winning."
Joining Marciulionis with a postgame award of his own was senior Ty Salmela, who earned the win on the hill in his first varsity start. The accomplishment garnered the Little Debbie Oatmeal Cream Pie Player of the Game, a tradition that dates back multiple years for the Esko program.
"We had a guy he just started (tagging) them and Little Debbie responded….He started this Instagram and then we just had the Oatmeal Cream Pie Player of the Game," Haugen explained. "Now it's turned into like the coaches have to buy a box of oatmeal cream pies before every game and we decide on who we give it to."
The distinction for Salmela was well-earned after surrendering only three hits over three innings and zero earned runs.
"I tried to locate (my fastball) outside and then set 'em up for the curveball and I'd say it worked pretty well, especially in the first inning," Salmela said. "They didn't really hit anything hard off me. And then the same thing in the second and third inning and worked pretty well."
After a tone-setting opening frame on the mound by Salmela, run support quickly followed for the Eskomos as the club plated 15 runs over the first two innings on nine hits, including a pair of doubles off the bats of Finn Furcht and Bryce Hipp.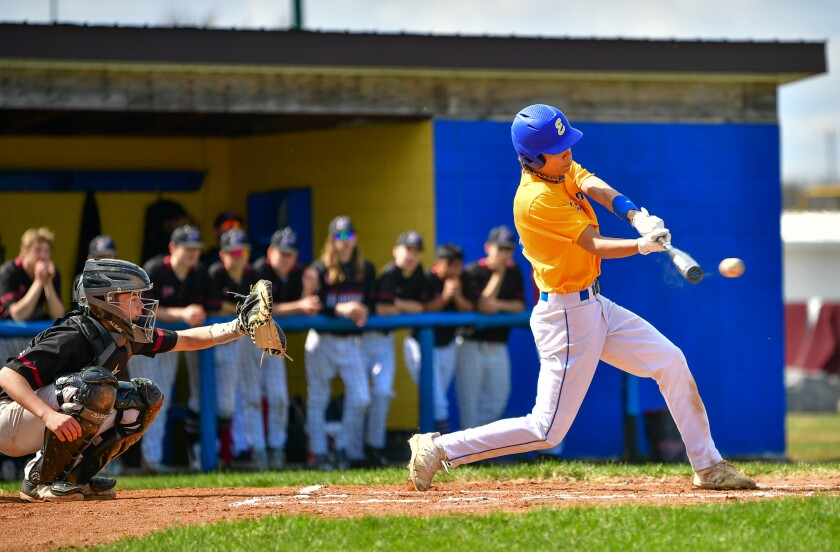 Two Harbors starting pitcher Logan Adamski lasted 1 1/31 innings after giving up six walks and 11 earned runs. Garren Tikkanen took over in relief and remained on the hill for the remainder of the five-inning contest.
"We're a tough lineup. I mean we have guys that can hit one through nine and we have guys that aren't regular starters that are getting spot starts that can hit too," Haugen said. "It's a tough lineup to get through and when we put big numbers up early, it's tough to come back from."
The Agates scored their lone run in the second inning after Adamski belted a line drive double to center field. He later scored on a fly ball error.
The Eskomos responded with three more runs over the next three innings to seal the victory as Marciulionis, Trent Ondrus and Connor Pearce all tallied RBIs.
The Eskomos (11-0) will return to the field on Friday for a doubleheader against Roseau and Warroad.
After outscoring their last eight opponents by a combined 103-12, Haugen is looking forward to seeing his club get put to the test with challenging matchups ahead.
"We're looking forward to playing some teams (in) games where we play seven innings and have to fight and claw and manufacture, and not just be gifted runs," he said. I mean we got gifted a lot of runs today too, so it really shouldn't have been that score."
The Agates will host McGregor for their next matchup, on Thursday at 4:15 p.m.
WP: Tyler Salmela 3IP, 0R, 2H, 0BB, 0K. LP: Logan Adamski 1.1IP, 11R,7H, 6BB, 1K. TH: Logan Adamski 1 for 2 (2B), R; E: Cale Haugen 2 for 3,2RBI, 2R; Bryce Hipp 2 for 3 (2 2B), RBI, 2R; Dylan Marciulionis 1 for 1(HR), RBI, 2R