2022 Pine Journal All-Area Baseball Player of the Year: Haugen shines on the mound, at the plate
Esko junior Cale Haugen is the Cloquet Pine Journal's 2022 All-Area Baseball Player of the Year.
We are part of The Trust Project.
ESKO — Merely three days after the Eskomos' season-ending loss to Proctor in the Section 7AA tournament, junior Cale Haugen put the heartbreaking loss behind him the best way he knows how: getting right back on the baseball diamond.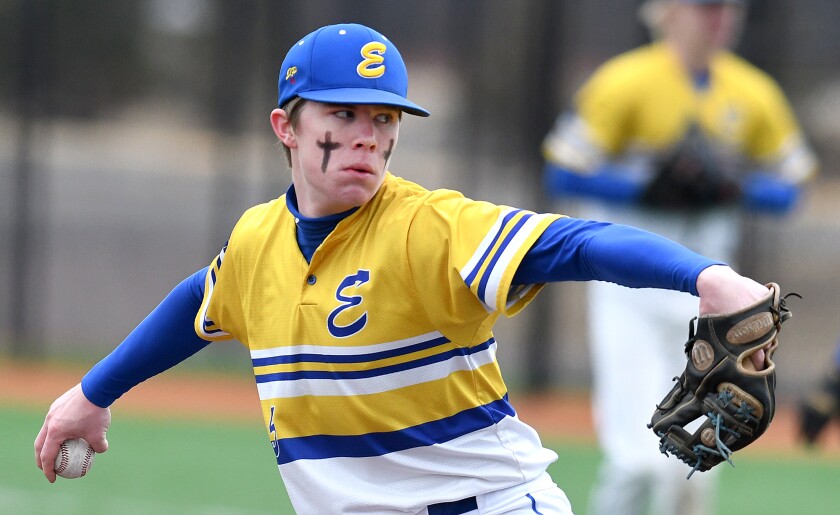 The all-state right-handed pitcher traveled 60 miles south down Interstate 35 to join the Hinckley Knights, a Class C amateur baseball team, for the three-day long Brennan Field Invitational in Hinckley.
The Knights were crowned champion after Haugen delivered a complete-game gem on the mound with 15 strikeouts in a 2-1 win over the East Bethel Bandits in the finals.
The breakout performance, while impressive, was far from an anomaly for Haugen.
The soon-to-be senior dazzled in his first year as captain with eye-popping stats at the plate and on the mound. In 42 innings pitched, Haugen compiled an ERA of 0.833 with 83 strikeouts, and finished with a record of 3-2.
Along the way, he recorded a no-hitter against Cloquet, and stymied the eventual Class AA runner-up, Roseau, in what Haugen described as the most memorable game of the season.
"I pitched six innings and threw a no-hitter through six innings, and we actually had a combined team no-hitter," Haugen recalled. "They took second place at state this year, so I think that goes to show just how good of a team we can be."
The Eagle Scout Service Project is one of the final steps in reaching the Eagle Scout rank, which only 5% of scouts achieve.
At the plate, Haugen stood atop a loaded lineup in multiple statistical categories, including batting average (.465), on-base plus slugging (1.507), extra-base hits (16), home runs (6), RBIs (32), runs (39) while drawing the most walks (21) and stealing the most bases (24).
For his efforts as a team captain and on-field excellence, Haugen has been named the inaugural 2022 Cloquet Pine Journal All-Area Baseball Player of the Year.
"It's pretty cool being the first person to be selected for this," Haugen said. "It's really great."
Ever since he put on his first baseball glove, Cale's dad and varsity coach, Ben Haugen, has been there with him every step of the way of his hardball journey.
In fact, Cale can't recall a time when his dad wasn't in the dugout as a coach or an assistant helping out in some way, shape or form.
"He's always been around, or whenever I'm at a game, he's always there," Cale said. "He's obviously the coach, so he knows what he's talking about. I've been able to play with him ever since I was 2 to 3 years old, so I think he's definitely been the greatest influence for me."
Under the tutelage of his father and other coaches, Cale developed his whiff-inducing fastball that reaches a velocity of up to 90 mph, in addition to a deceptive slider, which he describes as the favorite pitch in his repertoire.
"When my fastball is not working, I always go to the slider, because I can always throw it for a strike," Cale said. "And it's pretty good, so hitters have a tough time with it, so I like throwing that pitch."
The physical tools developed over the years pale in comparison to what Cale describes as the most vital piece of advice his father game him over the years. At times, Cale said he let his emotions get the best of him as a younger player, but has reigned it in with Ben's help.
"He's really taught me how to control my emotions," Cale said. "I mean, when I was younger, I had a really tough time with that, but as I've grown and matured, I think that's the biggest thing he's taught me is how to keep my emotions in check. Not get too high, not too low, because baseball's a game of ebbs and flows, and it's good to keep a level head. I think he's taught me that really well."
Ben said he experienced similar struggles during his playing days.
"I would say I passed that on to him from the fact that I was kind of a hot-head and let my emotions get the better of me a lot," he said. "I mean I was very, very competitive. I still am competitive, and sometimes in baseball you can kind of let those emotions backfire."
Ben hopes the lessons on managing emotions and working hard sticks with Cale and his younger brother, Sam, long after their baseball careers are over.
"If you let things stew, usually it doesn't work so yeah, that's definitely something that I've tried to instill in both of my boys," Ben said. "Now that both of them have kind of decided that baseball is something that they would like to pursue, I've tried to tell them that you have to put time and effort into it and take it seriously. Get in the weight room and practice what you can, so I think those things will carry over when they're husbands and fathers and employees."
Hungry for a trip to state
The sting of the season's playoff heartbreak still lingers for members of the Esko club.
After putting together a Polar League Conference-winning 18-3 record during the regular season, the Eskomos notched two opening round victories before falling in back-to-back games to Duluth Marshall and Proctor as the top-seed.
While the postseason exit was a tough pill to swallow, the optimism for what the team can accomplish next season has been a driving force for Cale and the rest of the team.
"We've gone far, deep in the playoffs for like the past seven to eight years, but we've never been able to get over the hump," Cale said. "We're returning almost everyone, our whole starting lineup next year, so I mean I think we're all really motivated to try to finally get over the hump and go to state."
The team's lone senior, Kade Gonsorowski, who joined Ty Christensen and Cale as the team's three captains, will be the lone departure from last season's team.
The added motivation of witnessing two clubs that the team fared well against during the regular season, Marshall and Roseau, put together strong performances at the state tournament makes the team that much more eager for the program's first trip to state since 2000.
"I think that shows the guys that we're capable and we have the talent, but then there's all those intangibles when it comes to making it that far. You have to have a little bit of luck, you have to be playing well at the right time, you have to be calm and relaxed — all of the things we preached throughout the season, and so yeah, I think they're motivated for sure," Ben said.