Northland Nature: Jack-in-the-pulpit stands out among wildflowers
Retired teacher Larry Weber, a Barnum resident, is the author of several books, including "Butterflies of the North Woods," "Spiders of the North Woods," "Webwood" and "In a Patch of Goldenrods."
We are part of The Trust Project.
By the time that we get to late May, we are in an environment different from the beginning of the month. Trees that had been bare at the start are presently growing green leaves. The forest floor that may even have had a snow cover now has another coating: green foliage and white and yellow florals — abundant spring wildflowers.
These perennials that we never tire of seeing each spring began with hepatica, but was quickly followed by spring beauties, bloodroot, anemones, Dutchman's breeches, trout-lilies, violets, bellwort, marsh marigolds and trillium. Each plant grows rapidly to form new leaves and flowers in the available vernal sunlight; before shade moves in.
Retired teacher Larry Weber, a Barnum resident, is the author of several books, including "Butterflies of the North Woods," "Spiders of the North Woods," "Webwood" and "In a Patch of Goldenrods."
But the shade does come. Elderberries, aspens and willows begin this arboreal greening, quickly spreading to ironwoods, birches and poplars. In the midst of this foliage, some open buds form blossoms of white petals. Wild plums, pin cherries and juneberries add color above to go with that below. The forest greening comes to a fruition with large trees forming leaves: maples, basswoods and oaks.
In the shade created by such canopies, a whole new set of wildflowers develop. Not as well-known as the earlier ones, baneberries, starflowers, sarsaparillas, wild lily-of-the-valleys (Canada mayflowers), bunchberries (Canada dogwood), clintonia (corn-lily) and columbines are able to tolerate the shade. Except for columbines that glow with bright red petals and yellow clintonia, most are white.
However, there is a flower, mostly green, that stands up in the woods at this time. Besides the predominant color being green, it also has a uniquely shaped flower with large leaves. This latter half of May is when the Jack-in-the-pulpit will bloom.
No petals or sepals are visible on the plant; instead, it stands with a cylindrical growth from the stem that holds a part sticking up. This part is known as the spadix — the "Jack" of Jack-in-the-pulpit. Over the spadix is a leafy growth that is called a spathe. Together, they reveal an unusual flower, what some call a person on a pulpit with a canopy overhead. I find that they are quick to form the leaves, spadix and spathe and later they will grow taller.
The large leaves also grow from the stem divide into two big leaves with three leaflets. Stems rise from an underground corm. (This underground growth is very bitter, making us wonder about another name for the plant, "Indian turnip.") Plants can grow to be a couple feet tall and are likely seen in damp woods.
Plants are either male or female; the reproductive structures are found beneath the spadix, in the lower part of the cylindrical floral growth. Not very colorful and mostly green (they often have purple on some parts), they get pollinated by insects attracted by odor. When pollinated, the female plants will grow a cluster of red-orange berries in summer, and ripe in fall.
It is interesting to note that a plant that was male one year may be female the next year, and a female one year may be a male the following year. Apparently, the success of the reproduction can determine this. Yes, "Jack-in-the-pulpit" may become "Jill-in-the-pulpit." And like most spring wildflowers we see each year, they are native plants and perennials.
Though an unusual plant, Jack-in-the-pulpit belongs to the Arum family, which has two other Northland plants as members: water calla and skunk cabbage.
I always find all of these plants to be delightful parts of the spring flora of late May.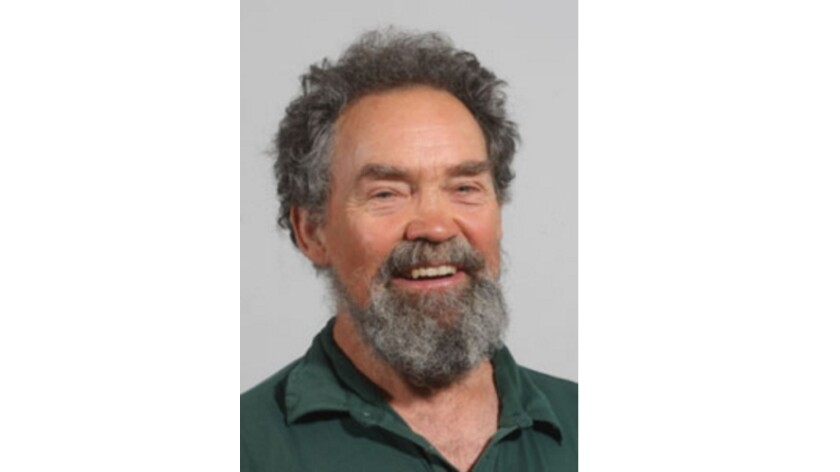 Retired teacher Larry Weber, a Barnum resident, is the author of several books, including "Butterflies of the North Woods," "Spiders of the North Woods," "Webwood" and "In a Patch of Goldenrods."
Retired teacher Larry Weber, a Barnum resident, is the author of several books, including "Butterflies of the North Woods," "Spiders of the North Woods," "Webwood" and "In a Patch of Goldenrods."
Retired teacher Larry Weber, a Barnum resident, is the author of several books, including "Butterflies of the North Woods," "Spiders of the North Woods," "Webwood" and "In a Patch of Goldenrods."
Retired teacher Larry Weber, a Barnum resident, is the author of several books, including "Butterflies of the North Woods," "Spiders of the North Woods," "Webwood" and "In a Patch of Goldenrods."