Northland Nature: Forest fungi flourish after August rain
Retired teacher Larry Weber, a Barnum resident, is the author of several books, including "Butterflies of the North Woods," "Spiders of the North Woods," "Webwood" and "In a Patch of Goldenrods."
We are part of The Trust Project.
This time of late summer continues to be very active. Patches of goldenrods, asters and sunflowers that abound in the fields and roadsides are buzzing with insects in the afternoon sunlight.
Walking here in the dew-covered early mornings reveals a plethora of orb webs made by spiders during the previous evenings and being coated with dew and fog droplets in the cooling pre-dawn.
Ariel Bonkoski teaches beginners how to identify wild edibles as foraging popularity grows.
The forest trees hold acorns, berries and fruits, ripe or ripening. And some trees also hold leaves changing into colored autumn attire.
Among the branches, migrant warblers, often in flocks of mixed species, move on their fall flights. But the woods is also the home to a huge variety of mushrooms and other fungi recently popped up after August rains.
The first half of August was below normal in precipitation, but once the second half began, showers and thunderstorms came. The amount varied greatly in the region. Though we did not get the downpours as seen in some locations, we did get enough rain to bring about a very good growth of forest fungi of many kinds.
During a walk about two days after the rainfall, I was able to find nearly 20 kinds of these growths. Mushrooms typically stick up above the substrate of soil or logs in an "umbrella" shape. A stem (stipe) holds up a cap (pileus). Under the cap is where the mushroom produces the reproductive spores. They are usually growing between thin structures called gills.
But not all mushrooms have this arrangement. While most of the ones that I found had gills, others had tiny holes (pores) beneath the cap. Collectively, these are called boletes.
During my walk, I found many boletes, but one stood out as unique. It was a rough and dry looking gray-black one called Strobilomyces (old man of the woods).
A few kinds appear to have gills, but instead have folds of skin below the cap. This was apparent in a patch of yellow-gold Cantharellus (chanterelles). And I found one with spines (teeth) under the cap. Hydnum (hedgehog mushroom) has a brownish cap above the white spines. By far, most mushrooms were gilled.
Among these abundant gilled mushrooms, I found Russula with caps of many colors: white, brown, gray, yellow and red. Lactarius (milk mushrooms) were here, too, oozing white latex. Tiny Marasmius (pin wheels) grew from pine needles. Hygrocybe (waxy caps) brightened the forest floor with caps and stems of red and yellow. Amanita with either yellow or white caps were in the nearby lawns.
Wet rotting logs held plenty as well. With pointed caps, Mycena were quite common. Taller and with scaly-looking caps was a growth of Pholiota also on the log. But none were as numerous as the tiny Xerophalina (fuzzy foot) that literally covered a dead log with hundreds of these minute mushrooms, each with a yellowish cap of about one-half inch.
Not just mushrooms were in the woods. On a downed oak log was the bright-orange-yellow growth of Laetiporus (sulfur shelf or chicken-of-the-woods). Coral fungi of tan colors adorned a log while golden ones were on the soil nearby.
But the one that I enjoyed finding was a growth of Leotia (jelly babies). These small yellow-gold growths rose up from the ground in shapes looking a lot like miniature mushrooms, complete with caps and stems.
They are, however, of another type of fungi and not even related to mushrooms. Small and easy to overlook, I don't find them every year and it was great to see them growing in the woods.
In late-summer wet woods, forest fungi are doing well.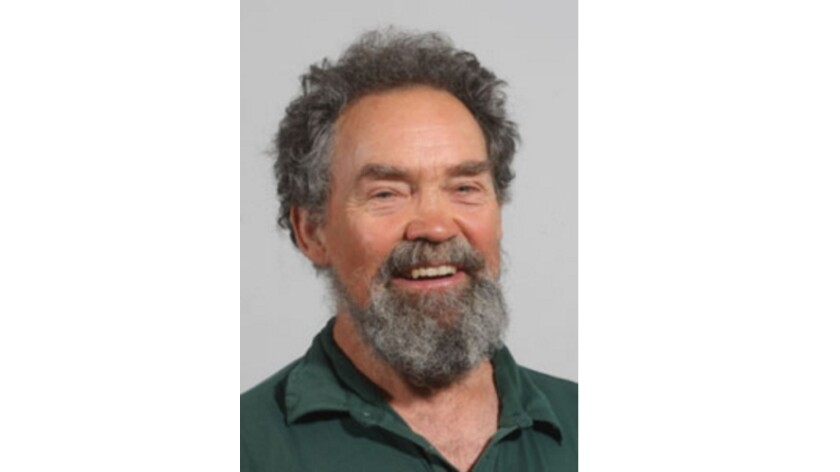 Retired teacher Larry Weber, a Barnum resident, is the author of several books, including "Butterflies of the North Woods," "Spiders of the North Woods," "Webwood" and "In a Patch of Goldenrods."
Retired teacher Larry Weber, a Barnum resident, is the author of several books, including "Butterflies of the North Woods," "Spiders of the North Woods," "Webwood" and "In a Patch of Goldenrods."
Retired teacher Larry Weber, a Barnum resident, is the author of several books, including "Butterflies of the North Woods," "Spiders of the North Woods," "Webwood" and "In a Patch of Goldenrods."
Retired teacher Larry Weber, a Barnum resident, is the author of several books, including "Butterflies of the North Woods," "Spiders of the North Woods," "Webwood" and "In a Patch of Goldenrods."