DNR Reports: Multiple roadkill permits issued as deer are on the move
Minnesota Department of Natural Resources report for the week of Oct. 31.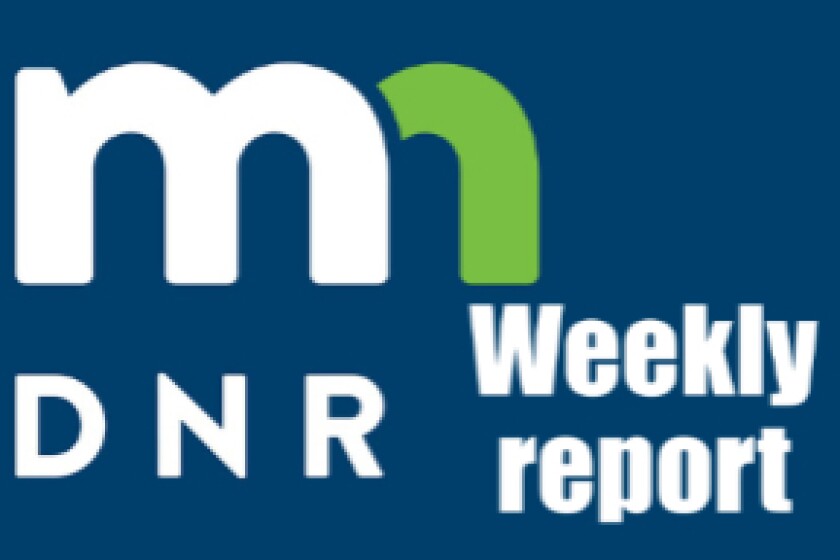 We are part of The Trust Project.
District 5 - Eveleth area
CO Darrin Kittelson (International Falls #1) reports continued work activities include small-game hunting and fishing enforcement. Winterizing boats and maintenance of other related equipment were performed. Several animal-related complaints were handled along with a few reports of bears causing concern for residents.
CO Curtis Simonson (International Falls #2) reports spending time this past week patrolling area forest roads for ATV/small-game-hunting activity. Time was spent working decorative material theft complaints and checking anglers on the Rainy River. Equipment maintenance was completed throughout the week as well.
CO John Slatinski IV (Ray) monitored small-game and ATV activity. The cooperative weather has allowed more people to spend time outdoors and grouse hunters continue to report good conditions. Time was spent returning calls in regard to the upcoming deer season as well as wild animal-related complaints. Seasonal equipment maintenance continues to be tended to.
CO Troy Fondie (Orr) reports the trapping opener was a non-event with little participation noted due to high fuel prices and low fur prices. Public access sites were checked. Area forest roads and ATV activity monitored. Equipment work continues. Numerous phone calls continued throughout the week.
CO Aaron Larson (Tower) worked primarily small- and big-game enforcement. Larson fielded several calls related to big-game-hunting complaints. He also investigated a trapping related complaint and has been working illegal cutting of decorative materials.
CO Marc Johnson (Hibbing) primarily worked small-game, big-game, and ATV activity. Many calls came in regarding hunting rules questions and permit requests as the firearms opener draws closer. Time was also spent assisting local law enforcement agencies and investigating a hunter-harassment complaint.
CO Shane Zavodnik (Virginia) spent time investigating multiple trespass complaints over the week. He also completed office work and continues to investigate several ongoing cases.
CO Duke Broughten (Aurora) spent the week monitoring hunting and ATV activity. Grouse hunters reported good success this week. Waterfowl hunters reported limited success. ATV activity increased this week with the warm weather. Broughten investigated a complaint of people rallying waterfowl with a boat. He also fielded calls regarding nuisance animals, car-hit deer, and a wetland violation.
District 6 - Two Harbors area
CO Sean Williams (Ely #1) reports another warm weekend meant high ATV use and grouse-hunting activity. Hunting success continued to be much lower than seen at the beginning of the month as the volume of younger birds seems to be reduced and a few weeks of education has made a difference. A good number of woodcock were found to still be passing through and several hunters reported good success.
CO John Velsvaag (Ely #2) checked anglers and whitefish netters this past week. Grouse hunting has still been good around Ely. Velsvaag received calls about firearms transportation laws and shooting from roadways.
CO Thomas Wahlstrom (Grand Marais) worked remote trout lakes and small-game hunters and checked whitefish nets. He responded to wildlife-related complaints and instructed youth during the ATV field day at Cook County School.
CO Mary Manning (Hovland) checked a few bird hunters and ATV operators. Manning assisted other officers and volunteers with an ATV safety training field day where a record number of students earned certification. Manning also spent time in the field checking areas for illegal deer baiting and handled seasonal equipment issues.
CO Anthony Bermel (Babbitt) spent much of the week investigating complaints and answering questions from the public. Decorative tree harvest and theft continue to be monitored and worked. Enforcement action for the week included failure to carry consent while cutting spruce tops and juvenile ATV violations. A presentation was given to the Ely Rotary Club and truck night was attended at the Babbitt school.
CO Matt Miller (Silver Bay) checked grouse hunters and ATV operators. Deer hunters were taking to the woods to prepare stands and cabins. Commercial fishing operators were checked, and records checks completed. Enforcement action was taken for ATV and angling violations.
CO Kylan Hill (Tofte) reports continuing field training with COC Hudson Ledeen. The small-game hunting activity has slowed down as firearms deer season approaches. Field day for ATV safety class was held at the Cook County Elementary School. Forty eager students had a great time riding the ATVs. It was the first time for most. Enforcement action was taken for operating an ATV in the lane of traffic and failure to properly display registration. The officers assisted the county with an OHM crash near Grand Marais.
CO Don Murray (Two Harbors) worked small-game activity and big-game baiting investigations during the week. Murray also checked fall beaver trapping activity and answered questions on the upcoming firearms deer season.
District 7 - Grand Rapids area
CO Vinny Brown (Northome) investigated TIP complaints, checked grouse hunters, and monitored bough-cutting activity. Enforcement action was taken for no ATV lights, allowing a child to grouse hunt without a parent present, and transporting boughs with no permit. Training and equipment maintenance were completed.
CO Jayson Hansen (Bigfork) patrolled state parks and checked anglers, waterfowl hunters, boaters, ATV riders and big-game hunters. Numerous game and fish-related questions were answered. He also responded to wildlife-related complaints. Reminder: People wishing to sight-in their deer rifles in the five days before the firearms deer season need to do it at a gun range. See Page 25 of the hunting regulations book.
CO Mike Fairbanks (Deer River) checked anglers, investigated hunter-harassment and monitored waterfowl activity. Fairbanks and his K9 partner Si also assisted the county with locating people who fled into the woods. Enforcement action was taken for license issues and hunter-harassment.
CO Thomas Sutherland (Grand Rapids) worked late-season open-water angling, with good success had by area walleye anglers. Sutherland took enforcement action for allowing a youth under 18 on an ATV without a helmet. Work was also done in the CWD Zone 679, where there is a feeding ban for deer. Multiple roadkill permits were also issued as the deer are on the move.
CO Brian Holt (Grand Rapids) checked small-game hunting and trapping throughout the previous week. Time was also spent speaking with deer hunters out in the field preparing for the upcoming firearms deer season opener on Nov. 5. Holt continued to investigate big-game-hunting violations and completed required training.
CO Taylor Hochstein (Hill City) continued field training with COC Andrew Ladzinski. Grouse hunters continue to have success, as a majority of the leaves have cleared from the trees. Trout anglers were also doing well as the season comes to an end. Questions were answered regarding CWD regulations and firearms deer licenses. A trespassing complaint was also handled.
CO Jacob Willis (Brookston) spoke at a firearms safety class with 14 students this week. He responded to small-game-hunting complaints and fielded numerous calls about the upcoming deer season. Unlawful decorative material harvesting continues to be an issue not only in the theft of materials from public lands, but trespassing and stealing from private property. Two individuals were caught in the act on private land cutting decorative boughs. Enforcement action was taken for failing to obtain permission to harvest materials, trespassing, driving after revocation, and operating an unregistered ATV. One of the trespassers was also lodged at the St. Louis County Jail for an outstanding warrant.
CO Andy Schmidt (Duluth West) continued training with COC Ben Ulrich. They focused on waterfowl-hunting and fall fishing activity. A complaint of an abandoned camp was handled and time was spent working baited stands in the area.
CO Kipp Duncan (Duluth East) continued to work small-game hunters. Many grouse hunters were checked throughout the week. Most hunters are happy with the number of grouse they have been seeing. A few waterfowl hunters were also checked. ATV activity was busy over the weekend, probably due to the beautiful weather. Several trappers were checked on Saturday as they were preparing their trap sites. A dumping-of-waterfowl complaint was investigated, as was a shooting-from-the-roadway complaint involving a possible trespass. Duncan also worked a few nights for illegal deer shining in past complaint areas.
CO Tony Elwell (Cloquet) checked small-game hunters and investigated several deer-baiting tips this week. Good numbers of woodcock were observed in hunters' bags this week.
CO Ben Karon (Pine City) and COC Fontes spent the week investigating trespass and hunting concerns. Time was spent speaking at a snowmobile safety class and with preschool- and kindergarten-age students. Time was also spent on patrol for other hunting activities.