DNR Report: Stay away from fawns, bears are active and the fish are biting
Minnesota Department of Natural Resources report for the week of June 21.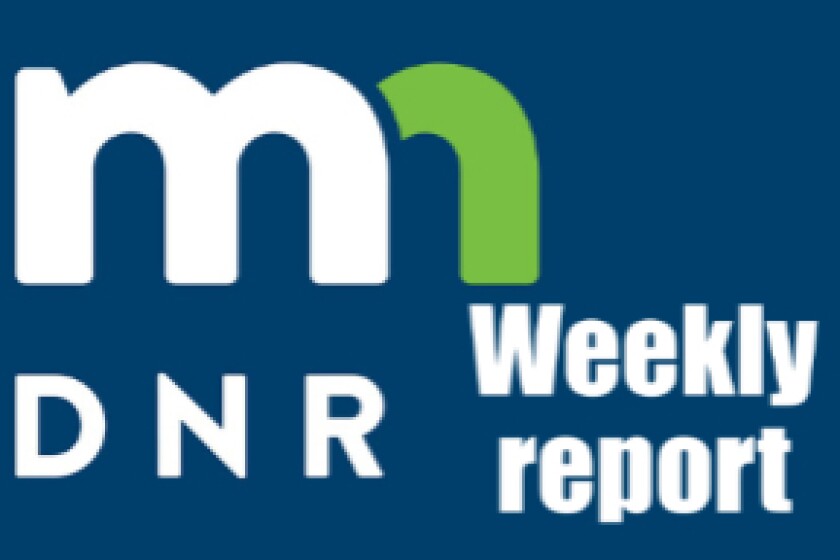 We are part of The Trust Project.
District 5 - Eveleth area
CO Darrin Kittelson (International Falls #1) reports continued assisting the Koochiching County Sheriff's Office & Emergency Management with flood relief on Rainy Lake. The good news is the lake has crested and water levels have receded approximately 3 inches since the crest. Boat and water safety enforcement on Rainy Lake was conducted along with monitoring the no-wake zone within 500 feet of shore. Again, please be respectful of this ordinance, which most likely will be in place for at least another 30 days. Animal-related complaints were also handled. People are reminded to leave baby animals alone.
CO Curtis Simonson (International Falls #2) spent time this week checking anglers on Rainy Lake, patrolling area forest roads for ATV activity. Simonson also responded to a wildfire and assisted with a firearms safety class.
CO John Slatinski IV (Ray) reports an uptick in the violation rate for transporting watercraft with drain plugs installed was noted and time was focused on educating recreational users on the requirements. Rules and laws, from local agencies, involving boat wakes remain in place to protect the environment and property. Water levels continue to drop but are still nowhere near seasonal norms. Bear sightings are becoming more frequent. Remember to remove food sources to avoid potential conflicts; do not be part of the problem. Fishing activity remains steady with success reports favorable.
CO Troy Fondie (Orr) reports angling and boating activities were checked on area lakes. Area forest roads and public access sites were monitored. Beaver and wolf issues haves remained constant throughout the week. Bugs remain problematic.
CO Marc Johnson (Hibbing) primarily worked angling, boating, and ATV enforcement. In addition, time was spent coordinating for an upcoming training and performing maintenance on station equipment.
CO Duke Broughten (Aurora) spent the week monitoring fishing and ATV activity. Recreational activity appeared to be lower than usual during Father's Day weekend. Anglers reported moderate success this week. Broughten fielded calls regarding trespass, recreational vehicle training requirements, and nuisance animals.
District 6 - Two Harbors area
CO Sean Williams (Ely #1) reports angling activity continued steady through the week, with success tapering off as temperatures became much more summer-like. ATV activity was high over the weekend, with much of the traffic along the newer developed trails. Please remember there are still some closed ATV trails due to flooding and damage. Remember to check before planning your trip and be conscious of signs while traveling.
CO John Velsvaag (Ely #2) checked anglers and ATV riders this past week. Fishing has been good and water conditions continue to improve. Velsvaag took several calls on deer fawns and beaver complaints.
CO Mary Manning (Hovland) spent the week at Camp Ripley assisting with handgun training for the latest CO Academy. She also aided with the return of a canoe that had lost on an area lake after heavy rains and flooding.
CO Anthony Bermel (Babbitt) worked primarily ATV and AIS enforcement throughout the week. A couple citations were issued for youth passengers without helmets on ATVs. As a reminder, a DOT-approved helmet is required for all ATV operators and passengers under age 18 on class 1 and 2 ATVs. Issues with bears continue to be prevalent in the area.
CO Kylan Hill (Tofte) reports monitoring boaters, paddlers, and anglers all week. Muskies are being caught like mad on Crescent and Boulder. Smallmouth bass are also finding their way into the livewell. A few no-license-in-possession and no-throwable-PFD violations were handled. Hill and USFS Officer Belmore spent time on ATV. They encountered a very lost party driving on a severely washed out road without cell coverage. The officers were able to point them in the right direction. Time was also spent in the BWCA.
CO Don Murray (Two Harbors) worked angling and invasive species enforcement activities during the week. Anglers were having good success this week but the bugs were biting as much as the fish. Bring your bug spray if heading north this time of year. Enforcement action was taken for licensing violations and illegal transportation of fish.
District 7 - Grand Rapids area
CO Vinny Brown (Northome) checked anglers, monitored ATV and OHM activities, and responded to TIP reports and animal-related calls. While at a local resort checking anglers, Brown noticed that a fishing rod over the back of an unoccupied boat was moving. Brown walked over and picked up the rod and reeled in a large crappie. The owner came down to the harbor and enforcement action was taken for the unattended fishing line. While speaking to a mother about not having a helmet on her child on an ATV, another member of the party fled on a dirt bike. The individual was tracked down shortly after and charges of fleeing on a motor vehicle are pending. Enforcement action was also taken for parking violations, ATV-registration violations, no PFDs on watercraft, possession of open alcohol containers, failure to drain live wells, no boat navigation lights, and possession of slot northern pike and walleyes.
CO Jayson Hansen (Bigfork) patrolled state parks and checked anglers, boaters and ATV riders. Numerous game and fish-related questions were answered. He also responded to wildlife-related complaints.
CO Mike Fairbanks (Deer River) worked boat and water, checked anglers and monitored OHV activity. Many complaints have been taken for boats not complying with the no-wake zones. Enforcement action was taken for license issues, insufficient PFDs, no navigation lights and OHV-registration issues.
CO Thomas Sutherland (Grand Rapids) worked ATV activity the past week with many people on area trails. Enforcement action was taken for operating an ATV down the middle of the roadway and for having expired registration. Sutherland also worked the area walleye and panfish bite, with summer patterns finally setting up.
CO Brian Holt (Grand Rapids) worked anglers and boating activity throughout the past week. Time was also spent working an AIS enforcement detail and following up on open fire investigations. Holt checked ATV complaint areas and handled nuisance-bear complaints.
CO Jacob Willis (Brookston) followed up on information provided from Wisconsin conservation wardens that involved multiple violations in Minnesota. A call of someone chasing geese with their boat on an area lake was responded to and enforcement action was taken. Willis also took part in instructing a firearms safety class field day in Moose Lake along with other District 8 officers.
CO Andy Schmidt (Duluth West) worked angling and boating activity in the area. Anglers were having some luck and a remote fishing camp was checked that had exceptional success with walleyes and northern. Schmidt was happy to see they were in compliance with all regulations. He assisted with a complaint of a party that intentionally drove his boat through a flock of geese on an area lake. Schmidt met with the area hydrologist regarding an issue at a lake outlet.
CO Kipp Duncan (Duluth East) assisted area conservation officers and volunteer instructors with a youth firearms safety field day. Many youth attended the class and showed their proficiency with handling firearms safely. Field work consisted of checking anglers on area lakes and working ATV complaint locations for illegal operation. Complaints were handled involving bear activity and calls were also received of deer being aggressive towards people and dogs. This behavior is most likely due to a fawn very close by.
Lake Superior Marine Unit
CO Matt Miller (Lake Superior Marine Unit) checked anglers along the St. Louis River and Lake Superior. An ATV complaint was worked along the Munger Trail, and follow up was completed on a possible dumping of hazardous waste. A firearms safety field day was presented in Moose Lake. Enforcement action was taken for ATV violations.