DNR Report: Modified snowmobile exhausts lead to tickets
Minnesota Department of Natural Resources report for the week of Jan. 2.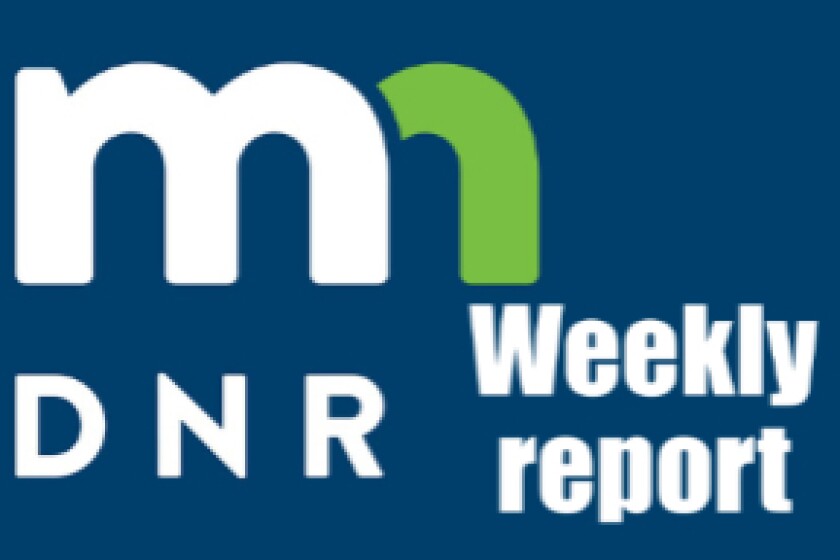 We are part of The Trust Project.
District 5 - Eveleth area
CO Darrin Kittelson (International Falls #1) reports time was spent checking ice fishing and spearing activity on Rainy Lake, with some fish being caught. Snowmobile activity is picking up in the area, but trails need more snow as it doesn't take long for trails to get washed out. Enforcement action was taken for fishing license and snowmobile registration issues.
CO Curtis Simonson (International Falls #2) reports working area snowmobile trails this past week and checking anglers on the Rainy River and Rainy Lake. Simonson also spent time working the marten/fisher fur registration in International Falls and Big Falls.
CO John Slatinski IV (Ray) reports conditions on area lakes and trails continue to keep snowmobile and fishing activities at lower-than-normal levels. Some anglers reported very good activity prior to the weekend, then there was a bit of a lull. Slush continues to be a problem. Lack of ice on the big lakes continues to limit people from venturing too far and limits trail connections with area attractions. Work continues on a background investigation.
CO Troy Fondie (Orr) reports lake conditions remain difficult at best. He noted little activity on area lakes, with slush, deep snow, and drifting impacting lake travel. Snowmobile trail conditions remain poor. Some swamps are not frozen and limited grooming is taking place. There's been limited snowmobile activity due to poor riding conditions. Equipment work and administrative tasks rounded out the week.
CO Aaron Larson (Tower) spent time working angling and snowmobile enforcement. He spent time working at the fur registration in Tower with other COs, resulting in several violations that he had come across through the season. Larson also spent time checking anglers in the BWCA during the trout opener. Larson addressed other snowmobile-related violations.
CO Marc Johnson (Hibbing) primarily worked trapping, angling and snowmobile enforcement. Time was also spent assisting at the furbearer registration day held in Hibbing. Snowmobile trails and area lakes remain in poor condition, but more snowmobile activity was seen throughout the week. A lengthy trapping investigation was concluded that resulted in charges.
CO Shane Zavodnik (Virginia) spent time assisting DNR Wildlife with fur registration in Eveleth over the week. Several license and site-validation violations were encountered during the slower-than-normal event. Time was also spent patrolling area lakes and snowmobile trail systems. Slush on the lakes still exists but seems less severe compared to the previous week or so. Several snowmobile violations were encountered, including an individual who was found to be in possession of an illegal-length northern pike when spearing.
CO Duke Broughten (Aurora) spent the week monitoring fishing and snowmobile activity. Ice anglers reported limited success. Ice thickness and slush continue to hinder travel on lakes. Snowmobile activity was low. Many snowmobile trails cannot be groomed due to unfrozen ground beneath the snow.
District 6 - Two Harbors area
CO Sean Williams (Ely #1) reports snowmobile trail activity was high over the weekend. Lake conditions were difficult for traveling with severe wind drifts and slush. Violations included angling with no license in possession, failure to display current snowmobile registration and operating a snowmobile on a roadway.
CO Thomas Wahlstrom (Grand Marais) worked the BWCAW trout opener with several officers. Hard work was put in from a few anglers clearing portages and fighting deep slush to get to their favorite fishing spot. Enforcement action was taken for angling and snowmobile violations.
CO Anthony Bermel (Babbitt) reports finishing the final phase of field training with COC Jesse Drown. The officers assisted with fur registration in Tower. A large amount of time was spent working snowmobile trail enforcement, and trails were busy throughout the week and weekend. Additional time was spent checking anglers and cross-country skiers. Enforcement action was taken for possession of illegal-length northern pike, snowmobile registration violations, altered exhaust, no ski pass, failure to register fisher, and wanton waste.
CO Matt Miller (Silver Bay) checked trout anglers in the BWCA on a warm and slushy opener. Large amounts of snow have many trails impassable with downed trees and brush. Anglers willing to work found some willing fish. Complaints were received regarding snowmobiles operating with modified exhaust, including from a local club that is worried about losing trail easements due to the noise. A reminder to snowmobile riders that any modification louder than stock is illegal and will be cited. Enforcement action was taken for angling and snowmobile violations.
CO Kylan Hill (Tofte) reports a decent amount of snowmobile traffic in the area throughout the week. Modified exhausts have again made an appearance and a few riders were issued citations. Registration violations were abundant with multiple sleds failing to display both numbers and the registration stickers. Some nice lake trout were seen on the ice on Saturday for the BWCA opener. However, activity was way down. Continued work was done on a background investigation for the upcoming Academy. Hill assisted the county with locating a pair of snowmobilers who buried both of their machines.
CO Don Murray (Two Harbors) worked snowmobile and angling activity during the past week. Snowmobile trespass and modified exhausts seem to be the most common violations encountered so far this season. Please stay on designated trails and respect private property while enjoying area trails.
District 7 - Grand Rapids area
CO Vinny Brown (Northome) checked anglers and trappers and monitored snowmobile and ATV activity. Enforcement action was taken for fishing without a license, numerous no-license-in-possession violations and possession of slot fish. One angler was caught with seven lines down in his wheelhouse. Enforcement action was taken for the extra lines.
CO Mike Fairbanks (Deer River) spent the week finishing field training with COC Hudson Ledeen. The officers checked several anglers on area lakes, including the large crowds on Lake Winnibigoshish. Enforcement action was taken for no shelter tags, illegal-length fish and angling without a license.
CO Thomas Sutherland (Grand Rapids) worked snowmobiling and angling activities. Large groups of snowmobile riders arrived in the Grand Rapids area over the New Year's weekend. Trails are in fair condition and many of the swamps that the trails cross aren't frozen completely, creating areas that can't be groomed.
CO Taylor Hochstein (Hill City) gave a law and ethics talk at a snowmobile safety class in Hill City. Snowmobile clubs are working hard to clear and groom the trails. Some of the violations addressed included speeding on a snowmobile, both snowmobile and ATV registration issues and angling without a license.
CO Jacob Willis (Brookston) worked a detail for the trout opener in the BWCA this past weekend. Mild weather made for a beautiful weekend and a few fish were on the ice. A district meeting was also attended and maintenance on equipment continued. Enforcement action was taken for no license in possession, failure to display snowmobile registration, and failure to transfer ownership of a snowmobile.
CO Kipp Duncan (Duluth East) and COC Cornell spent most of the week on snowmobiles. They patrolled the Duluth-area trails, which were starting to get in really good condition. They worked snowmobile enforcement, as well as ice anglers. They investigated an archery deer-hunting case where the hunter harvested a deer with the use or aid of bait.
CO Tony Elwell (Cloquet) spent the week checking ice anglers and monitoring snowmobile activity, with various ice angling and snowmobile violations being dealt with. Time was also spent talking to Cromwell-area youth participating in snowmobile safety training. Snowmobile trails are slowly improving, with local clubs working extremely hard to clear, pack and groom trails. They are asking folks to ride wide through wet sections of trail to allow slush to freeze and allow larger equipment to get through. Contacting them to find out what else you can do to help out would also be greatly appreciated.
CO Mikeena Mattson (Willow River) completed special projects this week.
CO Ben Karon (Pine City) spent time this week conducting a background investigation. Time was also spent on snowmobile patrol. Karon reminds riders to stay on the marked trails or risk losing the use of them on private property!