DNR Report: Lower than normal deer hunting activity observed
Minnesota Department of Natural Resources report for the week of Nov. 7.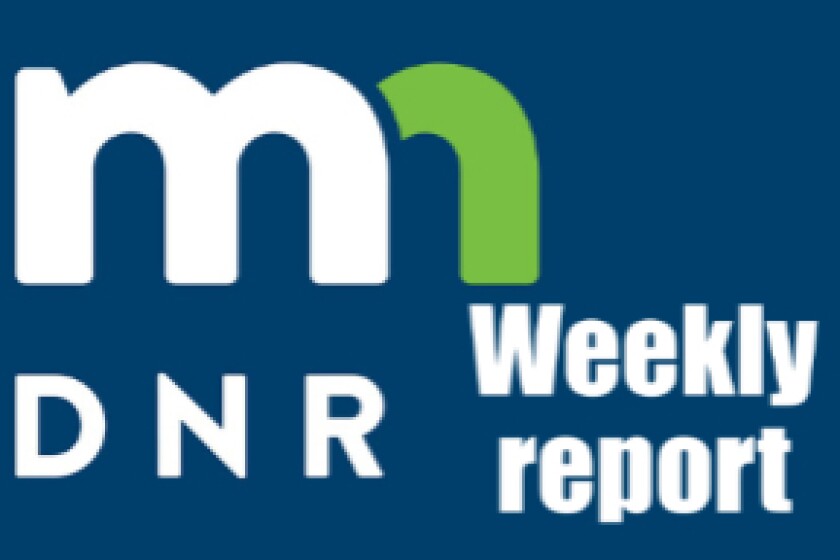 We are part of The Trust Project.
District 5 - Eveleth area
CO Darrin Kittelson (International Falls #1) reports opening weekend of deer season was relatively quiet and slow in the north woods with few deer seen harvested. Enforcement action was taken for hunting over bait, no license in personal possession, recreational feeding deer in a prohibited county, and transporting loaded firearm. Animal complaints were also handled throughout the week.
CO Curtis Simonson (International Falls #2) reports working the busy rifle opener this past week. The much anticipated opening weekend had many people out in the stand. Simonson assisted neighboring officers with hunting over bait violations. ATV activity and small game hunters were also monitored this past week. Enforcement action taken this past week consisted of hunting with the use and aid of bait, operating unregistered ATVs, operating ATVs during the closed hours of the firearms deer season and failing to validate site tags.
CO John Slatinski IV (Ray) reports waterfowl continue to lure hunters to the water although most of the focus this past week was people readying for the firearm deer season opener. A nice stretch of weather brought anglers back to the big lakes for one last trip, with success noted. Whitefish netters were happy with the weather, which was considerably warmer than previous trips. And to top it off they were finding whitefish in the nets. Deer season opener then took center stage with various violations encountered from baiting to site tag validation violations.
CO Troy Fondie (Orr) reports one of the poorest deer seasons he can remember. Hunter participation was extremely low and numerous camps were vacant. Zero deer were observed harvested over the weekend. Deer management continues to be a lively topic. Waterfowl hunters are standing by waiting on the last big wave of new birds.
CO Aaron Larson (Tower) worked primarily big-game enforcement. Larson encountered several violations including attempt to take deer with the aid of bait, transport a loaded firearm, trespass, hunter harassment, fail to validate tag, no license in possession. Larson also began investigating a litter violation.
CO Marc Johnson (Hibbing) primarily worked small-game activity and the firearms deer season opener. Hunters reported very few deer seen and fewer harvested. Strong winds and rain capped off the weekend keeping many from returning to their stands. Violations encountered included trespassing, fail to validate site tag, operating a motor vehicle in a restricted area, and various ATV violations.
CO Shane Zavodnik (Virginia) spent time investigating several deer baiting and trespass complaints over the week. Lower than normal deer hunting activity was observed over the opening rifle season with very few deer being harvested in the area. Zavodnik assisted a multi-agency search for an abducted child over the weekend. Just before an Amber Alert was nearly sent out, Zavodnik along with surrounding agencies were able to locate and apprehend the suspect who was in possession of the child. Zavodnik continues to follow up on several deer hunting complaints fielded over the week.
District 6 - Two Harbors area
CO Sean Williams (Ely #1) reports hunting pressure over the deer firearms opener in the area of the Echo Trail was very high. Nearly every pull off and trail head was occupied by a hunter. Reports from hunters were very poor and only a few successful hunters were located. Violations included false bill of sale for decorative materials, careless fire, hunting without a license in possession, and insufficient blaze orange.
CO John Velsvaag (Ely #2) checked anglers and deer hunters this past week. Deer-hunting success was mixed but fishing has been good. Velsvaag received calls about shooting hours and transporting deer.
CO Thomas Wahlstrom (Grand Marais) worked the firearms deer opener and checked whitefish nets throughout the week. The officer responded to several big game hunting complaints. Enforcement action was taken for hunting over bait and whitefish netting violations.
CO Mary Manning (Hovland) took calls on hunting and checked deer hunters and stands during a very slow firearms opener. Manning checked hunters in Magney State Park and reminded several that firearms must be cased and unloaded in areas closed to hunting (like parking lots). She also responded with other wardens and deputies to handle an ongoing property line dispute that erupted into yelling match; parties cooled down and dispersed. One hunter was eventually cited for placing bait and hunting over it right off the main trail used by his neighbors with whom he had been arguing.
CO Anthony Bermel (Babbitt) worked a busy opening weekend of deer season. A bit of rutting activity was seen, although most groups report low deer numbers and a largely disproportionate ratio of does to bucks. A doe was seized that was taken in a buck only area. An arrest was made on an individual illegally transporting spruce tops that had controlled substances in their possession. Enforcement action for the week included hunting with aid of bait, permitting a juvenile to hunt in violation of the game laws, fail to validate deer tag, hunter harassment, possession of marijuana and drug paraphernalia, fail to carry consent for decorative materials, driving after cancellation inimical to public safety, and expired ATV registration.
CO Matt Miller (Silver Bay) checked deer and grouse hunters on opening weekend of the firearms deer season. Complaints of tree stands on WMAs, baiting, and off-hour ATV operation were received and checked. Assistance was given to local agencies with a fatal car crash and traffic complaints. Enforcement action taken for big game and ATV violations.
CO Kylan Hill (Tofte) and COC Hudson Ledeen report a tough opening weekend of firearms deer season. Hunters reported seeing very few deer, and expressed frustrations with local wolf populations. However, a nice 8 point buck and nice spike buck were seen harvested opening morning. Hill and Ledeen want to express their concern with the lack of blaze orange compliance throughout the weekend. One hunter even exited the woods without any blaze orange on, and had a loaded firearm on their ATV to boot. Officers were also disappointed to not see a single youth hunter, and want to remind sports-persons to bring a kid hunting. Other enforcement action included hunting deer with the aid of bait, operating an ATV with too many passengers, without headlights, and with a juvenile without a helmet on.
CO Don Murray (Two Harbors) worked the opening weekend to the firearms deer season. Fewer hunters were seen in the field this opener as rain and windy conditions for part of the weekend made for tougher hunting. Enforcement action was taken for licensing and ATV violations.
District 7 - Grand Rapids area
CO Vinny Brown (Northome) worked opening weekend of firearms deer season. Some hunters had deer hanging but most reported minimal deer movement. Enforcement action was taken for several deer hunting related violations, including transporting loaded firearms, hunting with insufficient or no blaze orange/pink, possession of untagged deer, and shooting deer from the roadway.
CO Jayson Hansen (Bigfork) patrolled state parks, checked anglers, and worked big game and ATV activity. Numerous game and fish questions were answered. He also responded to wildlife complaints.
CO Mike Fairbanks (Deer River) worked the firearms deer opener, checked waterfowl hunters and monitored decorative materials activity. Hunter success was good. Enforcement action was taken for license issues, shoot from roadway, no blaze orange, operation of ATV during closed hours and fail to validate license.
CO Thomas Sutherland (Grand Rapids) worked a busy weekend of deer opener with many sportsmen in the woods. Sutherland took enforcement action for hunting deer over bait, feeding deer during a feeding ban and failing to validate a deer license before moving it from the kill site. Sutherland also reminds hunters across the state to wear a harness attached to the tree while high off the ground. One unlucky hunter fell asleep Sunday afternoon during the high winds, slanted forward and fell to the ground from over 12 feet up. Luckily enough he was able to slowly make it to a trail and call for help.
CO Brian Holt (Grand Rapids) worked small game hunting, trapping and recreational vehicles during the previous week. Time was also spent working the busy opening weekend of the firearms deer season. Enforcement activity involved ATV violations, transporting loaded firearms and WMA violations.
CO Taylor Hochstein (Hill City) continued field training with COC Andrew Ladzinski. It seems that area hunters have switched from small game to preparing for the firearms deer season. Time was spent checking stands for baiting activity with other local officers. Hochstein and Ladzinski assisted other agencies on multiple vehicle crashes and a vehicle fire on HWY 169. Many questions were fielded regarding the new CWD regulations for Itasca and Aitkin counties. Reports in the field have been low for people harvesting deer for the opening weekend.
CO Jacob Willis (Brookston) saw a lot of hunters out for firearms deer opener, but not a lot of deer taken. Many hunters were checked in the field, and most reported few shots heard. A TIP call was investigated that turned out to have no violations. While investigating this call a medical emergency was tended to, which resulted in the individual being transported to the hospital.
CO Andy Schmidt (Duluth West) spent the week training with COC Ben Ulrich. They worked deer baits and TIP calls before the deer season opener. Along with other officers they went in on baited stands and appropriate enforcement action was taken. One group of waterfowl hunters were checked on opener. Violations included no license in possession, hunting over bait, and failure to validate tag.
CO Kipp Duncan (Duluth East) spent some time in the woods prior to the weekend looking for illegal baiting near deer stands. Other pre-weekend activity included working illegal bough and tree top complaints. Duncan worked a couple night shining work details also during the week. Over the weekend, Duncan checked many deer hunters both in the field and at their hunting camps. Baiting deer and complaints of shooting from the road were some of the violations investigated.
CO Tony Elwell (Cloquet) patrolled the area for illegal bow cutting, shining and worked the firearms deer opener this week. Elwell observed a slow opener, but some hunters found success. Enforcement action was taken for hunting deer with the aid of bait, hunting deer without a license, transporting a loaded firearm, failure to validate site tag, and failure to tag deer.
CO Ben Karon (Pine City) and COC Fontes had a busy week leading up to firearms deer opener. Many phone calls were taken for trespassing issues and general questions for the opener. Many people were checked on opener and many violations were addressed with citations and warnings. Complaints were taken and handled as well. Hunters seemed to have better success this year than last year. The vast majority of hunters were following the rules and regulations.