DNR Report: Anglers report success with fall crappie, walleye fishing
Minnesota Department of Natural Resources report for the week of Sept. 12.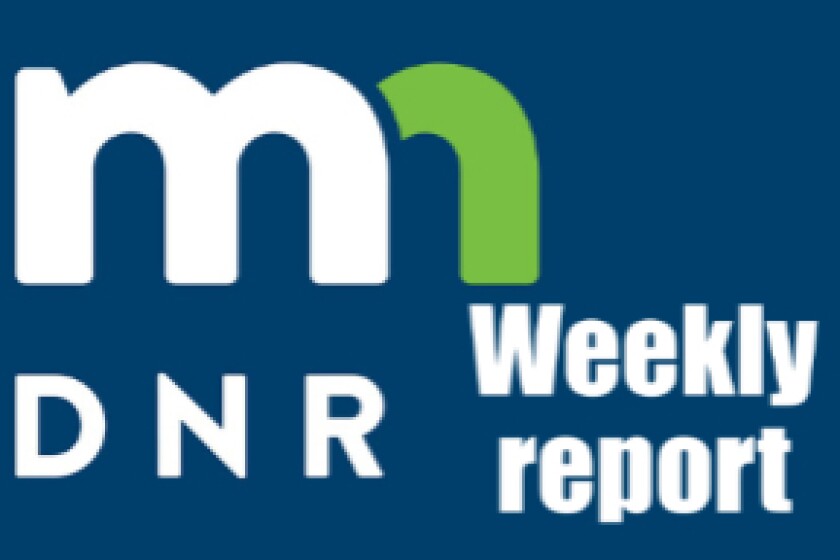 We are part of The Trust Project.
District 5 - Eveleth area
CO Darrin Kittelson (International Falls #1) reports fishing and bear hunting are the main focuses of the work activities with more people venturing into the woods. People are reminded to check that they have current registration on their ATVs. A special operation was worked with the U.S. Fish and Wildlife Services and U.S. Customs and Border Protection at the U.S. Customs Port of Entry over the weekend. Enforcement action was taken for illegal bear transportation, fish-transport issues, and an overlimit of fish.
CO Curtis Simonson (International Falls #2) reports working the Rainy River checking sturgeon anglers and working bear-hunting activity.
CO John Slatinski IV (Ray) reports bear hunters were very active earlier in the week and the harvest of some larger bears was reported. Waterfowl hunters were contacted, with some success reported. Slatinski investigated complaints of illegal trail use. A location was found where approximately 35 gallons of chemicals, tires, and other debris were left along a county roadway. A complaint was investigated, and the responsible party contacted in an incident where an individual was getting rid of a camper by cutting it into pieces and burning it. Angling and boating activity continues in strong numbers, with anglers looking for the fall bite to kick in.
CO Troy Fondie (Orr) reports monitoring area lakes and forest roads over the week. Public access sites were checked. Computer training was completed. Numerous phone calls were answered on a variety of topics. Other time was spent working on equipment.
CO Aaron Larson (Tower) worked primarily bear-hunting and ATV enforcement. Larson testified in court and investigated several complaints. He also spent extra time enforcing aquatic invasive species laws.
CO Marc Johnson (Hibbing) primarily worked ATV enforcement bear-hunting activity. Time was also spent training at Camp Ripley, completing online training, and conducting follow-up investigation for ongoing cases. Violations encountered included ATV speed, expired registration, equipment violations, and youth ATV prohibitions.
CO Shane Zavodnik (Virginia) spent time following up on a possible aquatic plant management complaint. Time was also spent completing various administrative duties.
CO Duke Broughten (Aurora) spent the week monitoring fishing, bear-hunting, and goose-hunting activity. Anglers continued to report moderate success, whereas goose and bear hunters reported limited success. Wild rice harvesters reported a poor harvest. Broughten also fielded calls regarding deer licenses and firearm safety requirements.
District 6 - Two Harbors area
CO John Velsvaag (Ely #2) checked bear hunters and anglers this past week. He also followed up on ATV-related complaints and a litter call. Velsvaag also checked public access sites for illegal camping.
CO Thomas Wahlstrom (Grand Marais) checked anglers, boaters, and bear hunters. He assisted search and rescue and responded to wildlife-related calls. Enforcement action was taken for hunting and ATV violations.
CO Anthony Bermel (Babbitt) primarily patrolled in the BWCAW with CO Lawler. Additionally, ATV operators were stopped and enforcement action was taken for operating on a state highway.
CO Matt Miller (Silver Bay) checked anglers and boaters on area lakes. Bear hunters are seeing some success despite abundant forage in the woods. ATV riders were contacted riding along the shoulder of a state highway where they are not allowed. A forestry encroachment issue was worked. Enforcement action taken for ATV and angling violations.
CO Kylan Hill (Tofte) reports an uptick in AIS-related traffic stops throughout the week. A reminder to remove all boat drain plugs prior to transporting. Bear hunters and guides were checked and decent success was found. No violations were detected and Hill thanks hunters for a clean season so far. ATVs are abundant in the area. Hill issued a cease and desist order to a landowner and a contractor after Hill found unpermitted work within a public water.
CO Don Murray (Two Harbors) worked goose- and bear-hunting activity during the week. Bear harvest is down from previous years as natural food sources are more plentiful this season. Fishing remained good on area lakes with some nice fish being caught. The start of the fall color change is starting to occur with the first maple trees beginning to turn red.
District 7 - Grand Rapids area
CO Vinny Brown (Northome) checked bear hunters and monitored decorative materials and ATV activities. Enforcement action was taken for child helmet violations. A fugitive with multiple warrants was apprehended while Brown was conducting birch pole harvesting checks. A family who took a wrong turn in a remote area and became stuck in the mud were given assistance with getting their vehicle out.
CO Jayson Hansen (Bigfork) patrolled state parks and checked anglers, boaters, ATV riders and big-game and waterfowl hunters. Numerous game and fish-related questions were answered. He also responded to wildlife-related complaints.
CO Mike Fairbanks (Deer River) worked waterfowl complaints, monitored wild rice harvesting, checked anglers, instructed at the CO Academy and assisted the county with trees blocking the roadway. Fairbanks and his K9 partner Si also assisted in teaching a youth firearms safety class and gave a presentation at the Academy this week. Area angler success was great. Enforcement action was taken for license violations and failure to remove the drain plug.
CO Thomas Sutherland (Grand Rapids) worked the early goose season, youth waterfowl and bear-hunting activities over the past week. Some hunters in the area had success with early geese. With area crop harvests finally taking place, geese were able to make their way to fields where hunters were waiting. Area fall crappie and walleye patterns are starting to set up and anglers are having good success.
CO Brian Holt (Grand Rapids) worked hunting and angling activity throughout the previous week. Time was also spent on miscellaneous wildlife-related complaints and monitoring boating activity. Holt followed up on open cases and monitored AIS compliance in the area.
CO Jimmy Van Asch (Pengilly) worked big-game, boating, angling, and ATV activities throughout the surrounding areas. Van Asch also assisted with Academy training at Camp Ripley. Enforcement action was taken for several angling and boating violations.
CO Taylor Hochstein (Hill City) reports that not that many people were observed fishing, but most of those who made it out found success in catching walleyes, trout, and catfish. Various calls were responded to and investigated.
CO Andy Schmidt (Duluth West) spent much of the week assisting with Academy training at Camp Ripley. He also worked the youth waterfowl season and handled complaints related to waterfowl hunting. ATV activity was worked and complaints were investigated.
CO Kipp Duncan (Duluth East) followed up on several involving trespass, hunter harassment, and ATV complaints. Field work included assisted another law enforcement agency with a possible fishing violation that turned into a much larger incident that is still ongoing. He continued to work bear-hunting activities, fishing enforcement on area lakes, and worked some ATV complaint areas. Time was also following up on past illegal archery deer-hunting locations that required follow up from the year prior.
K268 Ben Karon (Pine City) took time this week to work at the DNR booth at the Minnesota State Fair. Karon assisted at the Academy training DNR cadets. He also assisted at a local firearms safety course. Patrol for aquatic invasive species and hunters was also done.