Minnesota DNR report: Mixed reports on the success of fishing opener
Minnesota Department of Natural Resources report for the week of May 16, 2022.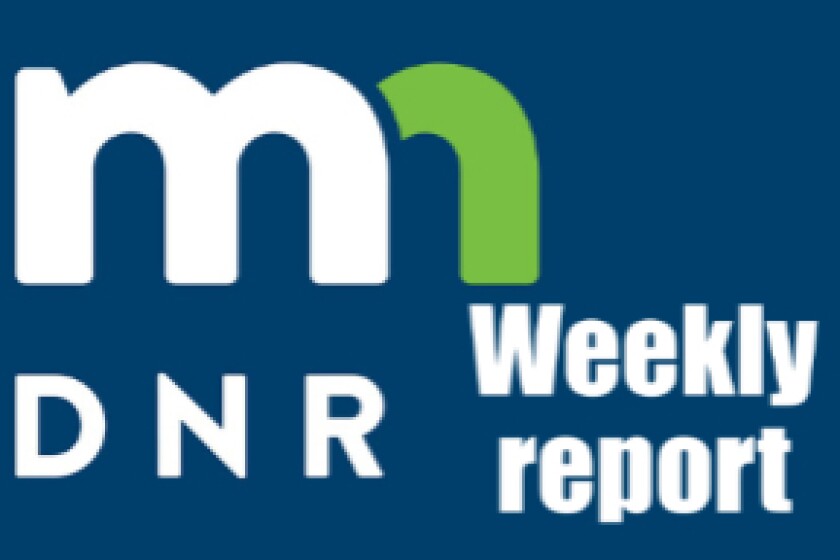 We are part of The Trust Project.
District 5 - Eveleth area
CO Darrin Kittelson (International Falls #1) reports fishing opener on Rainy Lake was the slowest in this officer's career as far as number of anglers checked, mainly attributed to the high water levels. The catch and release sturgeon fishing on the Rainy River continues to be good. Kittelson assisted with a traffic accident and a medical call. Enforcement action was taken for license issues and leaving a boat at a public access site.
CO Curtis Simonson (International Falls #2) reports working the Rainy River/Four Mile Bay for the 2022 fishing opener. High waters and heavy winds had anglers adapting to find fish. Enforcement action taken consisted of an overlimit of walleyes, possessing filleted walleyes on a special regulated lake, and PFD-related violations.
CO John Slatinski IV (Ray) reports flooding continues on area waterways, creating conditions unfavorable for both recreational users and area property owners. Sandbagging continues in earnest and volunteers are being requested to assist. Anglers were reporting some success with shore anglers having a difficult time finding places to fish as the water is up into the wooded areas and placing them back from where the traditional shoreline is. Boat registration and required safety equipment need to be checked prior to embarking on outings.
CO Troy Fondie (Orr) reports spending the majority of the week dealing with wolf-related issues. Anglers were greeted with rain and wind and localized flooding on area lakes and rivers. Public access sites were monitored and forest roads were checked. Like clockwork, beaver problems appear to be developing as the trapping season comes to a close. Administrative reporting and equipment work continues.
CO Aaron Larson (Tower) worked the fishing opener on Lake Vermilion. Anglers were for the most part finding good success catching eater-size walleyes. Larson also spent time testifying at a trial and preparing equipment for the summer season. Violations included boat-registration issues, failure to possess an angling license, and marijuana/paraphernalia possession.
CO Marc Johnson (Hibbing) primarily worked fishing opener and ATV/OHM enforcement. Local lakes saw little pressure over the opening weekend and strong winds kept many smaller boats off the water. Time was also spent at a community event in Cherry. Violations encountered included expired registration, fishing with extra lines, and failure to have required watercraft safety equipment.
CO Shane Zavodnik (Virginia) spent time patrolling area lakes for anglers attempting to take walleyes before the season opener. Enforcement action was taken with multiple people night fishing hours before the season officially kicked off. Overall, harvest success was lower than previous years, most likely due to the heavy rainfall and extremely high water levels on the lakes. Zavodnik took enforcement action involving watercraft registration, license, and drug violations throughout the week. He also attended the Law Enforcement Memorial Event held at the Capitol as an Honor Guard member.
CO Duke Broughten (Aurora) spent the week monitoring fishing, boating, and ATV activity. Fewer anglers were observed over the opener than in previous years. Anglers reported moderate success. They were limited by high winds and high water over the weekend. ATV activity remained consistent. Broughten received questions regarding the operation of off-highway motorcycles (OHMs). OHMs have different operation regulations than ATVs. Operators are reminded to check regulations before operating. Broughten also fielded calls regarding nuisance animals and fishing regulations.
District 6 - Two Harbors area
CO Sean Williams (Ely #1) reports lower-than-normal water temperatures along with very high fast-moving water levels confounded many anglers over the fishing opener. Some anglers found success and several limits were seen on area lakes. Violations included angling with no license in possession, failure to display watercraft registration and no PFDs on board a watercraft.
CO John Velsvaag (Ely #2) checked anglers this past week. He patrolled in the BWCAW and area lakes. Velsvaag also took several calls on the northeastern pike regulations and questions on leaving personal property on state lands.
CO Mary Manning (Hovland) attended National Police Week activities in Washington, D.C., with other Honor Guard members.
CO Thomas Wahlstrom (Grand Marais) checked anglers during the opening weekend. Some nice lake trout were caught, while walleyes were hard to come by. Many of the smaller lakes were still iced over. Time was spent responding to flooding incidents, answering angling and BWCA questions, and checking ATV riders.
CO Anthony Bermel (Babbitt) worked the busy fishing opener, with good success observed. Minnow traps were checked throughout the week. A Bear Committee meeting was attended. Enforcement action was taken for unattended fishing lines, insufficient PFDs, no name and address on a minnow trap, and failure to display watercraft registration.
CO Kylan Hill (Tofte) reports an odd fishing opener in Cook County. Half of the more popular lakes still were ice-covered on opening day, leading to smaller-than-normal angler numbers. Those who did find open water, however, came home with a decent bag of fish. No angling violations were detected. One PFD violation was handled on the eve of the opener after Hill contacted a group of boaters trying to find a campsite that had all but disappeared due to high water. On that note, Lake Superior tributaries were totally unfishable after heavy rains mixed with the spring ice melt caused impressive sights along Highway 61. These heavy rains caused road washouts throughout Lake and Cook counties.
CO Don Murray (Two Harbors) worked a busy fishing opener along the North Shore. High water levels and warmer-than-average temperatures made for good fishing on area lakes but poor fishing on area streams. Enforcement action was taken for failure to remove watercraft drain plugs and licensing violations.
District 7 - Grand Rapids area
CO Vinny Brown (Northome) took reports of stolen beaver traps and incidentally caught animals and monitored ATV activity as it continues to pick up. Enforcement action was taken for ATV-registration issues and for allowing a 5-year-old to ride as a passenger on an ATV without a helmet. Brown also worked fishing opener weekend and checked anglers on several area lakes. Overall, Brown saw good success among anglers on Island Lake, Round Lake, and Lake Winnibigoshish. Enforcement action was taken for miscellaneous boat safety violations, no fishing licenses in possession, possession of illegal-length northern pike, and possession of illegal-length walleyes.
CO Jayson Hansen (Bigfork) patrolled state parks and checked anglers, boating, ATV activity, and small-game hunters. Numerous game and fish questions were answered. He also responded to wildlife-related complaints.
CO Mike Fairbanks (Deer River) checked anglers, monitored OHV activity and assisted with grass fires. Angler success was great this week. Fairbanks and his K9 partner Si also provided a demonstration for Aitkin elementary students and assisted the BCA in searching for evidence in an ongoing investigation. Enforcement action was taken for license issues, illegal-length fish and watercraft-registration issues. Happy birthday to K9 Si, who turned 10 this past week.
CO Thomas Sutherland (Grand Rapids) worked a busy fishing opener with many area and out-of-state anglers in town. Enforcement action was taken for angling with extra lines, northern pike out of season, angling for walleyes prior to the season, angling without a license and expired registration on a watercraft.
CO Brian Holt (Grand Rapids) focused enforcement efforts on angling activity throughout the previous week. Time was also spent investigating a wildfire and several TIP complaints. Holt worked a busy fishing opener in the Grand Rapids area. Enforcement activity involved boating, AIS and trapping violations.
CO Jimmy Van Asch (Pengilly) worked angling, boating, and AIS enforcement throughout the surrounding areas. High winds did not deter anglers from participating in the opening fishing weekend. Enforcement action was taken for several angling, boating, and angling license violations.
CO Taylor Hochstein (Hill City) worked a very busy fishing opener. High water levels and windy conditions challenged anglers but most had some success putting fish in the livewell. Hochstein was impressed that every angler checked in a boat had a wearable life jacket on board and only minor violations were addressed.
CO Jacob Willis (Brookston) attended National Police Week events in Washington, D.C., with the Division Honor Guard. Honors presented for the Grell family included the Candlelight Vigil on the National Mall, marching in the National Emerald Society Parade, and standing the cordon line for President Joe Biden at the Fraternal Order of Police Memorial Service on the Capitol Lawn.
CO Andy Schmidt (Duluth West) attended National Police Week events in Washington, D.C., with the Division Honor Guard.
CO Kipp Duncan (Duluth East) spent time preparing boats and safety equipment for the open-water fishing seasons. He worked spring fish run activities on North Shore tributaries. Smelting activity continues and time was spent monitoring complaint areas. The weekend brought out many people attempting to catch walleyes on area lakes. Overall success was good, with most people happy with the weather and the catching.
CO Jeff Humphrey (Cromwell) responded to several calls and complaints regarding trespassing, wolf depredation, wetland work, off-highway vehicle use, licensing and nuisance animals. Humphrey saw a busy fish opener with most anglers reporting catching fish and being happy to finally get out on the water. Humphrey attended state law enforcement memorial services held in St. Paul for fallen officers, which included wreath-laying ceremonies for COs Eugene Wynn and Sarah Grell. Division training was attended. Violations encountered included no angling licenses, safety equipment, OHV use, AIS, and a warrant arrest.
Lake Superior Marine Unit
CO Keith Olson (Lake Superior Marine Unit) reports a busy fishing opener was worked with CO Duncan on the Duluth-area lakes. Fishing overall was productive with walleyes and northern pike making up most of the bags. The high winds and choppy conditions kept many on the leeward sides of islands and shorelines. Enforcement action was taken for special regulation violations pertaining to slot sizes. This was Olson's 34th and final fishing opener.
CO Matt Miller (Lake Superior Marine Unit) checked anglers in the Carlton and St. Louis River areas on opener. Extremely high and fast water conditions made fishing very hard for river anglers, with few fish seen in the bag. Flooding was monitored at state parks along the North Shore, with assistance given for trails and roads under water. A dogs-chasing-deer complaint was wrapped up, and TIP calls were handled in reference to deer and turkey seasons. Enforcement action was taken for ATV and angling violations.