COLUMN: Remembering the reasons why we hunt
As hunters, there are many traditions that are ingrained in us almost as old as hunting itself. One of them is storytelling, but one story that often gets overlooked every year is why we hunt.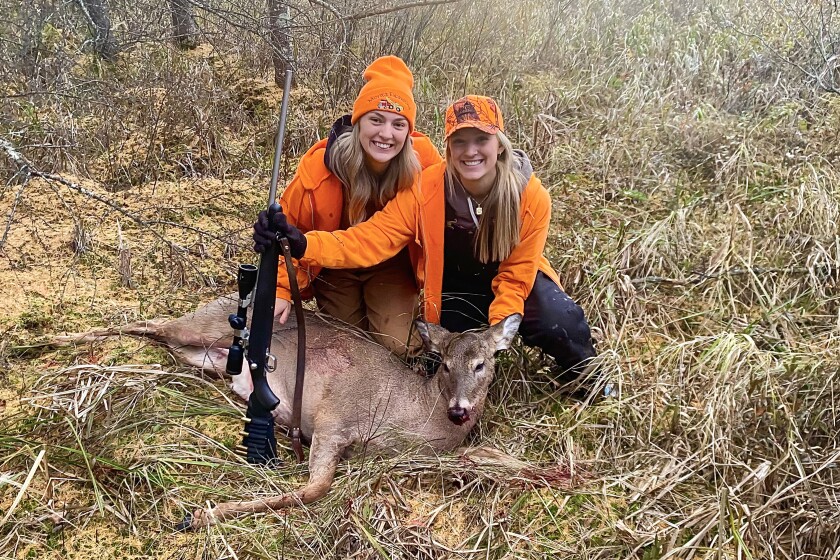 As hunters, there are many traditions that are ingrained in us almost as old as hunting itself. One of them is storytelling, but one story that often gets overlooked every year is why we hunt.
I can't lie, I haven't harvested a deer in years. It's a personal choice I've made because I simply enjoy observing much more than setting off to hunt on my own. I've spent the last few openers hopping from stand to stand sitting with my dad, my siblings and my nephews.
However, I can still relate to and support those who do choose to harvest a deer. In fact, I probably get more excited when someone else gets a deer than the person who actually shot it.
Almost all of my friends and family members geared up in blaze orange on Saturday morning and hiked to their stands before the sun came up, as did I.
I was sitting with my sister, Lydia, on Saturday morning. Our hunting party usually does a lottery every year where we all put money in for the first deer, biggest deer and smallest deer. Oddly enough, Lydia won all three prizes because she was the only one who harvested a deer all weekend.
We had just gotten to the stand and before we even got settled in, I saw a doe walking across the little opening in the field to the east. I told her there was a deer, but she thought I was just messing around — rightfully so.
By the time I convinced her there was actually a deer out in the field, it was gone. I told her to get ready in case another one were to follow, and sure enough, another doe trailed behind the first. She flicked the safety off and took her shot.
Dad walked over from his stand about 45 minutes later. We didn't know if she had hit the deer or not and we were prepared to walk through the long grass for quite some time until we tracked it down. But when we got a little closer, the deer was laying right where she shot it.
Dad was happy because we didn't have to spend our morning trekking through the bog, Lydia was happy because she had never dropped a deer before with one shot and I was simply just happy to be there.
Another opening weekend is in the books, but as I sat in the woods this weekend, one question loomed over me: Why do I hunt?
And it wasn't just because we couldn't get the heater to work.
I think we can all agree that we don't hunt for one set reason — there are just as many reasons as there are hunters.
I believe that hunting is not just "getting meat for the freezer," it's so much more than that. So, why do I hunt?
Here are some of my reasons.
For some, hunting may be a way to put food on the table. Most hunters consume the meat from the animals they've harvested and it may be important to know exactly where the food is coming from.
The reality of it is, in order to consume meat, an animal has to lose its life. This is something that a package of meat at the grocery store doesn't fully convey. Hunting awakens a deep appreciation and respect for life and death.
The Vikings played on Sunday and our whole party gathered at the hunting shack to watch the game and take a break from the stands.
On the grill outside, Lydia's deer was the main course. As everyone asked her about her Saturday morning harvest our family friend Aaron made venison bites for everyone to try. Football, family and fresh venison — it doesn't get much better than that.
Another big reason I hunt is all about the experience and the people I share it with.
I hunt because my father hunts and he took me with him the first time I was old enough — we built a bond that I still cherish. The bond expands to my little sister, my brother, my niece and nephews and my grandpa, who is gone now, but loved the sport, too.
Not everyone in my family hunts. However, they are all involved in certain aspects of the process. Whether it's gathering at the shack around the campfire to tell stories or sharing a delicious meal after a successful harvest, we all look forward to spending time together.
In our fast-paced world full of technology where living through a screen is becoming more of the norm, I find it refreshing to take a step back and immerse myself in the sights, sounds and smells of nature.
Seeing someone harvest a deer is nice, but the real value of hunting is the sense of peace I feel when I'm out in the woods.
My dad can attest to this, too. He hasn't harvested a deer in years, not because he hasn't seen any, but because he enjoys the observation side of hunting more, just like me. I asked him on Friday if he would take a shot if he saw a big buck.
"Probably not," he replied.
He claims he doesn't harvest deer that much because he doesn't want to gut any more deer than he has to — but I think it's for a different reason.
We live on a farm in Aitkin, Minn. The land we live on was the same land our ancestors homesteaded on 135 years ago. Since my grandfather passed in 2020, my dad has been the caretaker of the farm.
We all take a lot of pride in where we live, especially my dad. The land is important to all of us and it's in his hands now. There's no better time to appreciate its beauty than during hunting season, and that's what my dad does. He doesn't hunt to harvest, he hunts because he simply loves being out in nature.
I hunt because if I didn't, I would have seen fewer blue jays, eagles, coyotes and foxes.
There is something special about sneaking into the woods while it's still dark to watch the sunrise and the woods come to life. There are not many other times in our everyday life that we actually take time to observe animals in their natural habitat without them knowing we're there.
Not all of us hunt for the same reasons, whether it's the fresh meat it provides, the camaraderie with quality people in quality places or simply to escape reality and de-stress in the wilderness, all are valuable and worth the yearly tradition.
This is why I hunt. Next time you're in a stand or duck blind, why not give it a little thought to see what you come up with? Whatever your reasons may be, I wish you a safe and prosperous hunt this fall.