Boys basketball: Eskomos' shooting overwhelms Lumberjacks
Cloquet to next host Grand Rapids Thursday, Dec. 12; Esko to next play Friday, Dec. 13, at Duluth East
Esko seniors Trevor Spindler and Payton Wefel each scored 19 points as the Eskomos routed Cloquet 89-54 on Friday, Dec. 6, in Cloquet.
Esko was blistering hot from long range early in the game, hitting 7-of-9 3-pointers in the first six minutes to start the game and jumping out to a 36-14 lead midway through the first half.
Fast starts have been a point of emphasis for his team during practice for Esko, according to head coach Derek Anderson, and he was happy to see the Eskomos jump out in front quickly in their season-opener.
"We had talked last year about how we were a little slow out of the gate and it affected us a little later on and it took us a little while to get our rhythm going," Anderson said. "We talked this year a lot about trying to jump on teams right away and being aggressive. The kids really bought into that and obviously they shot really, really well at the beginning."
Junior Eli Blue score 15 of his 16 total points in the first nine minutes of play and the Lumberjacks were left scratching their heads.
"Before we realized we were playing a basketball game, we were down 20 points," Cloquet coach Steve Battaglia said. "We were kind of a deer in headlights there and by the time we figured out what was happening, we started forcing the ball and chucking shots early in our own possessions. We combo plattered their extremely hot start with poor decision-making and before you know it, the game was out of hand."
Cloquet junior Adam Schneider led all scorers with 22 points.
Cloquet also lost to Hermantown 80-54 Tuesday, Dec. 10. The Lumberjacks (0-2) are next scheduled to host Grand Rapids at 7:15 p.m. Thursday, Dec. 12.
Esko lost to St. Paul Johnson 75-72 on Saturday, Dec. 7, and topped Duluth Denfeld 93-76 on Tuesday, Dec. 10. The Eskomos (2-1) are next scheduled to play at Duluth East at 7:15 p.m. Friday, Dec. 13.
Esko 52-37—89
Cloquet 28-26—54
Esko — Trevor Spindler 19, Payton Wefel 19, Riley Fischer 13, Eli Blue 16, James Legarde 5, Preston Lowe 8, Cade Berger 1, Jerry Andler 4, Chad Hart 4. Totals 23 10-23 89.
3-point goals — Spindler, Fischer, Blue 3, Wefel 4, Lowe 2.
Cloquet — Damian Diver 10, Adam Schneider 22, Dylan Heehn 11, Tyler Issendorf 2, Alec Turnbull 8, Nathan Blatchford 1. Totals 10 13-19 54.
3-point goals — Diver 2, Heehn, Schneider 2, Turnbull 2.
1
/
2:
Cloquet's Alec Turnbull shoots a 3-pointer during Friday the Lumberjacks home loss to Esko Friday, Dec. 6. Dave Harwig/Pine Journal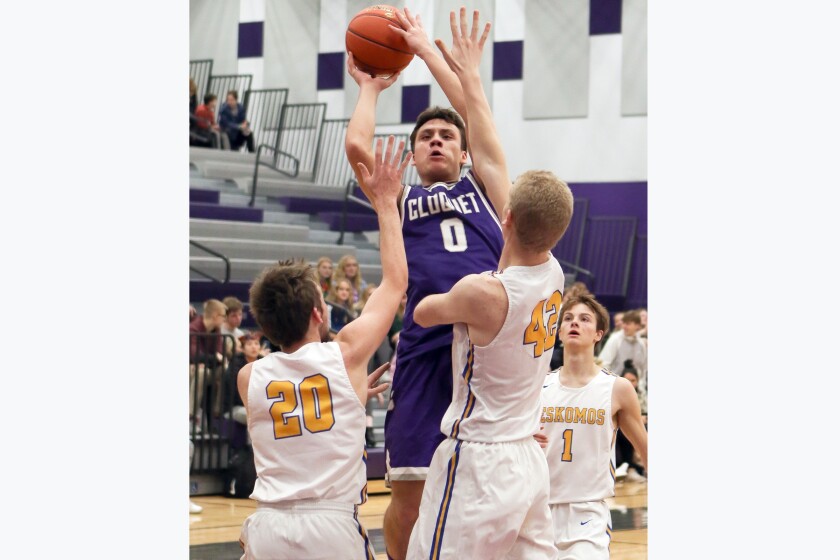 2
/
2:
Cloquet's Damian Diver shoots a jumper over Esko's Payton Wefel (20) and Chad Hart during the Lumberjacks 89-54 home loss Friday, Dec. 6. Dave Harwig/Pine Journal