2021 Player of the Year: Proctor's Rodberg laments ending, but what a year, and what a career
Seton Hill recruit set new standard for kills and work ethic for Rails' program.
Proctor senior Payton Rodberg went to the state volleyball tournament last month at Xcel Energy Center in St. Paul, even though she admitted it felt like water torture.
There on the court was Greenway, when the Rails felt like it should have been them instead. But sports, just like life, don't always go the way you want them.
After getting crushed 25-15 in the first set, Greenway bounced back for a 28-26, 25-23, 26-24 victory over Proctor as the Raiders captured the Section 7AA title Nov. 6 in Hermantown, thwarting the Rails' attempt at qualifying for their first state volleyball tournament.
"It sucked," Rodberg said, bluntly. "It took me a while to get over it, honestly, probably one or two weeks. After the first set, we thought we had it but then we just kind of started playing more carefully as a team. They kind of got up and we went down, but we still fought for it. We lost each set by two points so I'm not disappointed at all by that, by the effort. We worked hard."
It was hard work that got Rodberg and Co. to that point, one of the best seasons in school history, and for that she is Proctor's first 2021 Duluth News Tribune All-Area Volleyball Player of the Year.
"That's amazing, actually," Rodberg said upon hearing the news. "That's super cool, but at the same time, I worked my butt off for it. This is something I wanted as a goal and I achieved that goal."
That's something Rodberg's coaches and teammates say is her "MO," her modus operandi, where if she wants something bad enough, she's going to keep working until she gets it.
Rodberg, a 5-foot-10 outside hitter with a vertical leap in the high 20s and booming swing, has committed to playing college volleyball at Seton Hill, an NCAA Division II program in Greensburg, Pennsylvania.
Rodberg was a force this fall for the Rails (22-6), with 398 kills, good for 4.5 per set, while adding 265 digs, 58 ace serves, 33 set assists and 26 blocks.
"Every coach loves to have a 'Payton' on their team, someone who is self motivated and driven to succeed," said Rails coach Trish Jauhola. "She's that person who can take control of a game when we need her to and put that ball down.
"Payton will succeed in athletics wherever she goes. She just has that drive. She is always looking to improve and just has that mentality that she's not going to fail. She's always looking to succeed."
Rodberg is a three-sport athlete. She is a post player in basketball and shortstop in softball.
"You see it in all her sports," Jauhola said. "Failure is not an option in her mind. She'll succeed in whatever she chooses to do. When she sets her mind to it, she's going to go after it, and she's going to go after it 100%."
Joining Rodberg on the All-Area First Team is the Rails' only other senior and her close friend, setter Gabby Jauhola, Trish's daughter.
Gabby Jauhola, a three-time All-Area selection, spearheaded the Rails attack with 829 set assists, good for 9.3 per set.
Rodberg and Jauhola are also teammates in basketball.
"I'm definitely going to miss her next year," Gabby Jauhola said. "It's just going to be different, not playing volleyball with her. It was quite the experience. I've known her for so long, and we know each other so well. I always knew whenever we needed to get that point or kill, I'd just look to Payton and she'd put it down. She is just a great player and person who has worked hard for everything she's accomplished."
Yes, the Rails are only graduating two players, but they're big ones.
Just how big?
Rodberg is a five-year starter and four-time LSC and All-Area selection.
While older records are sketchy or simply nonexistent, Trish Jauhola said Rodberg's 1,326 career kills are a program record. Recent standout Sam Pogatchnik, for instance, finished just shy of 1,000, according to Jauhola.
For setting, Jauhola said Heather Modean was an amazing setter in the early 1990s who went on to play at St. Cloud State but no record was kept of her set assists. Gabby Jauhola now has the Rails' standard with 2,508 for her career.
"We haven't had a pair of all-stars like we had this year," Trish Jauhola said. "I mentioned at our banquet, 'Do you realize we had probably the two best volleyball players who ever walked the halls here at Proctor High School?' It was a fun year. I wish we could keep them longer."
Rodberg, who turned 18 Sunday, would love to stay for one more year, to have another shot at that elusive state tournament, but she has to move on. She certainly will remember the memorable years she had, even if her last match was a tough one.
"It hurt me to watch the games at the state tournament, but it was something I had to do," Rodberg said. "I just wanted to see the teams and see if we could have been compatible with them, and we could have been, had we got there. Our hard work didn't pay off in that game (against Greenway in the section finale) but I wish it did."
But it sure paid off several times along the way.
The All-Area volleyball team graphic was corrected at 10:45 a.m. on Monday, Dec. 13 to restore a selection whose slide was omitted in error. It was originally posted at 7 a.m. on Saturday, Dec. 11.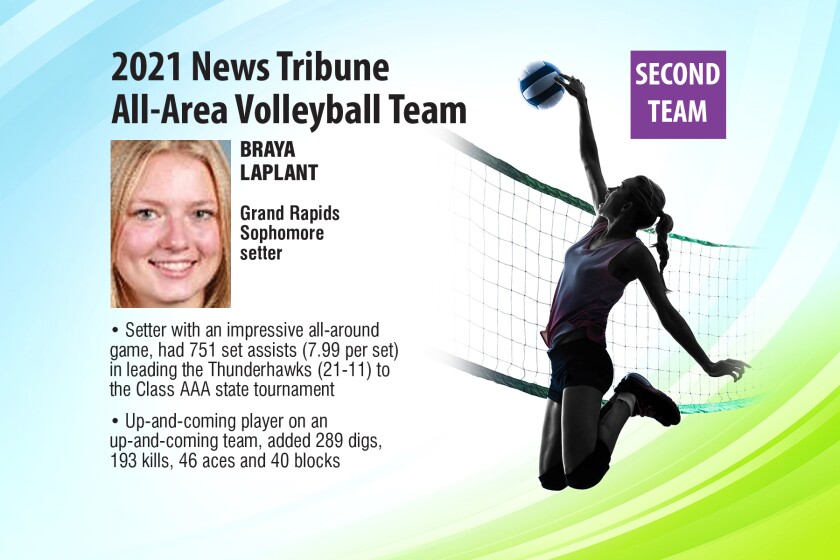 1
/
6:
Proctor's Payton Rodberg looks down on the camera like she looked down at the opposition from above the net as she poses for a portrait outside of Proctor High School on Friday afternoon, Dec. 3, 2021. Rodberg has been named the 2021 Duluth News Tribune All-Area Volleyball Player of the Year. Jed Carlson / Superior Telegram
2
/
6:
Proctor's Payton Rodberg (4) taps the ball over the net before Superior's Makayla McMeekin (7) could get her block up in the first set of the match in Superior on Thursday night, Sept. 30, 2021. Jed Carlson / Superior Telegram
3
/
6:
Proctor's Payton Rodberg lounges outside of Proctor High School on Friday afternoon, Dec. 3, 2021. Rodberg has been named the 2021 Duluth News Tribune All-Area Volleyball Player of the Year. Jed Carlson / Superior Telegram
4
/
6:
Proctor's Payton Rodberg (4) tips the ball over the Superior block during the Rails match in Superior in September. Jed Carlson / Superior Telegram
5
/
6:
Proctor's Payton Rodberg poses for a portrait outside of Proctor High School on Friday afternoon, Dec. 3, 2021. Rodberg has been named the 2021 Duluth News Tribune All-Area Volleyball Player of the Year. Jed Carlson / Superior Telegram
6
/
6:
Proctor's Payton Rodberg, center, celebrates a kill during the Rails match in Superior in September. Jed Carlson / Superior Telegram