New food truck rolls into Canal Park
Cloquet-based Room at the Table stacks its menu with smashburgers and veggie-forward catering options.
We are part of The Trust Project.
DULUTH — It's hot in the food truck.
Heat emanates from the grills, and when Paul Sapyta adds modest mounds of ground beef, grease dances and bubbles up as puffs of steam swirl above.
Sapyta presses both hands onto a hamburger press, flattening the domes into meat pancakes. "After we smash, then we season," he said.
This is his happy place.
Sapyta is co-owner of Room at the Table, a Cloquet-based catering business, which is now operating a food truck this summer in Canal Park, 425 S. Lake Ave.
It's a side hustle for Sapyta, who started his business in 2018 and has watched it grow larger than expected. "We went from a small caterer working out of a church kitchen (and) a VFW kitchen to doing a facility that's feeding 100 people a day, plus two food trucks," he said.
Sapyta's "the creative muse," and his brother-in-law and co-owner, Kevin Peterson, manages the catering and behind the scenes out of the Cloquet Forestry Center commercial kitchen.
They relied on word-of-mouth and intentionally don't have a website in order to keep business manageable. But, at the urging of their younger employees, they launched a Facebook page .
"It's a hard business. We've been fortunate," said Peterson. "We also know people try this and aren't always as successful. It's a lot of work."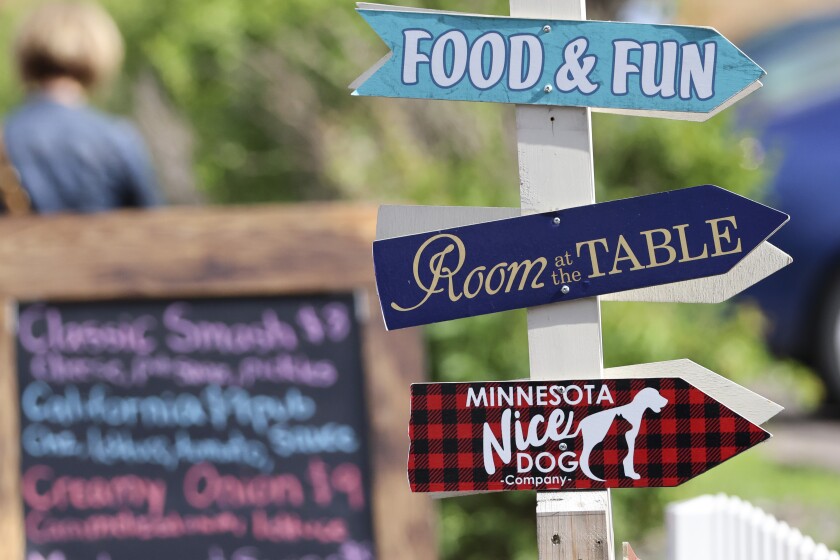 They aim for good, clean and easy to serve, so Sapyta created a variety of smashburgers, which he can get into somebody's hand in two minutes.
There's also tacos, grilled cheese, a veggie patty and they recently sold out of their pulled pork in two hours at the Rhubarb Festival. Their catering menu is more upscale and vegetable-forward.
During a call with the News Tribune, Peterson prepared strawberries for upcoming desserts and breakfast toppings. They don't have a set catering menu, but on deck that day were bison and veggie kebabs, wild rice and roasted turkey.
Everything's gluten-free except for the bread. (They have that, too, upon request.) It was important to the pair, whose immediate families have dietary restrictions.
Sapyta and Peterson wanted everyone to be able to eat the same food and participate in the same way, which led to the business name.
Notes in blue tape line the food truck prep area — "You're a superstar!" "Thank you!" "Keep up the good work" — next to a hand drawing of how to stack an onion burger.
Lori Hoyum, of Duluth, does a lot of writing for her professional job, so she likes that working in the food truck offers a stark change. "I learn from Paul and get to be around food, make a good wage and have fun," she said.
Along with Hoyum, Corey Hulst works with Sapyta up front and behind the scenes.
"Watching how he treats people endeared him to me," said Hulst. "Where his heart is: 'Just let me feed people.' That's what I grew up with, too."
After serving in Afghanistan, Sapyta moved to Cloquet with his family in 2007. He began helping with church meals, then catering parties, weddings and jazz nights at Carlton's Oldenburg House.
From the VFW parking lot, Sapyta and Peterson would cook, serve and sell out burgers, even during winter.
They began to develop their menu as "vagabond caterers," doing food prep in various church kitchens, always on the lookout for something permanent.
Then, at a food expo, Jim Vnuk sampled Sapyta's cauliflower appetizer, and he liked what he tasted.
"I said, 'Where are you working out of … would you like a full-time kitchen?" Vnuk recalled. Vnuk, of Jim N' Jo's Katering, had been actively seeking someone capable to take over the business.
"Paul is real creative. He's not afraid to take risks … and work them into menus so people can experience new things," Vnuk said.
Two years later, Vnuk works closely with Peterson at the forestry center, preparing them to take over his clients, while Sapyta leads the charge on the food trucks.
They're learning a lot about catering, food and the business, said Peterson, and they're able to inspire each other in certain respects.
Vnuk feels secure in the partnership and what's next. "The only alternative before this point would've been for me to shut it down. With their skillset set and their drive, I see them following right in my footsteps," he said. "And, they'll walk right by me."
Room at the Table food truck
Where: Lot next to The Garden Canal Park, 425 S. Lake Ave., Duluth
When: 11 a.m.-7 p.m. daily
More info: facebook.com/RoomatTable
"Gratitude makes it that everything is enough," said Carolyn Ripp, of Nest Wellness Studio in Cloquet.
Sweetly Kismet Candy Store and Top Hat Carriage Service will offer horse-drawn sleigh rides at discounted rates to those donating winter gear for local shelters.