St. Luke's nurses vote 'no confidence' toward CEOs
Minnesota Nurses Association nurses state low staff levels and retention rates, which put patients at risk, inspired the vote as they continue to negotiate new contracts. Additionally, Essentia Health nurses are writing to the Benedictine Sisters on the Board of Directors, asking them to advocate for staff and patients.
We are part of The Trust Project.
DULUTH — Twin Ports nurses with the Minnesota Nurses Association have taken a vote of "no confidence" in St. Luke's co-presidents and CEOs Eric Lohn and Nick Van Deelen, the nurses announced at an MNA rally Tuesday afternoon at the St. Luke's campus.
The vote was reached by "well over a supermajority" of MNA nurses at St. Luke's, said Larissa Hubbertt, a registered nurse at St. Luke's. The vote was taken as nurses expressed their frustrations with the health care system for not fixing understaffing and employee retention issues, and as St. Luke's and Essentia nurses negotiate for new contracts.
According to Hubbartt, 650 nurses were at St. Luke's in 2019, and the most recent roster has 510 nurses. She said about half of the nurses in the emergency department have left, and a third of the intensive care unit's nurses left in 2021.
"That's centuries of nursing experience we have lost," Hubbartt said.
When Hubbartt and registered nurse Lorie Olesiak spoke with Lohn and Van Deelen last year, they offered suggestions for ways to improve nurse morale to prevent burnout and nurses leaving. Suggestions included more flexible scheduling and higher wages. Hubbartt said she was told by St. Luke's management that a plan was being developed to address the staffing shortages, but she and other MNA nurses have not seen any changes.
In a statement, Lohn and Van Deelen said St. Luke's has offered a 10% raise for nurses over three years in its most recent negotiating session, while MNA is asking for a 36.5% increase over that time.
"Raises of this magnitude would severely increase the cost of health care for our patients, decrease the number of community members who can afford health care, and decrease our ability to pay competitive wages to our other valued employees." Lohn and Van Deelen said in the joint statement. "While MNA has repeatedly declined the use of a mediator, we will continue to advocate for one, to help us reach a responsible, fair and equitable contract."
Essentia Health nurses expressed similar frustration, with Essentia registered nurse and MNA First Vice President Chris Rubesch stating Essentia nurses are writing an open letter to ask the Benedictine Sisters on the Board of Directors to stand with nurses and use their influence to create change that will better reflect the health care system's Benedictine heritage.
"We are troubled by (Essentia Health management's) priorities as we sit here in the shadow of a giant new hospital, but inside we see a lack of focus on patient care and bedside staffing," Rubesch said.
He said Essentia's $430 million in profits in 2021 are concerning, as charity care reached a five-year low at $10 million and CEO David Herman received large pay raises during the coronavirus pandemic. Herman's salary is over $2.7 million.
Keandra Schumacher started working as a nurse at Essentia in 2020, and was told the staffing shortages were temporary and was promised things would get better. She said she frequently was in charge of up to eight patients at one time, despite Essentia claiming the nurse-to-patient ratio is 1:4.
Inadequate nurse to patient ratios significantly increase patient mortality risk, according to numerous studies. The Journal for the American Medical Association stated the odds of patient mortality increased by 7% for every additional patient in the average nurse's workload in the hospital, while an American Heart Association study found patients in hospitals with poor nursing work environments had a 16% lower likelihood of survival. The AHA study stated those odds became 5% lower with each additional patient per nurse in medical-surge units.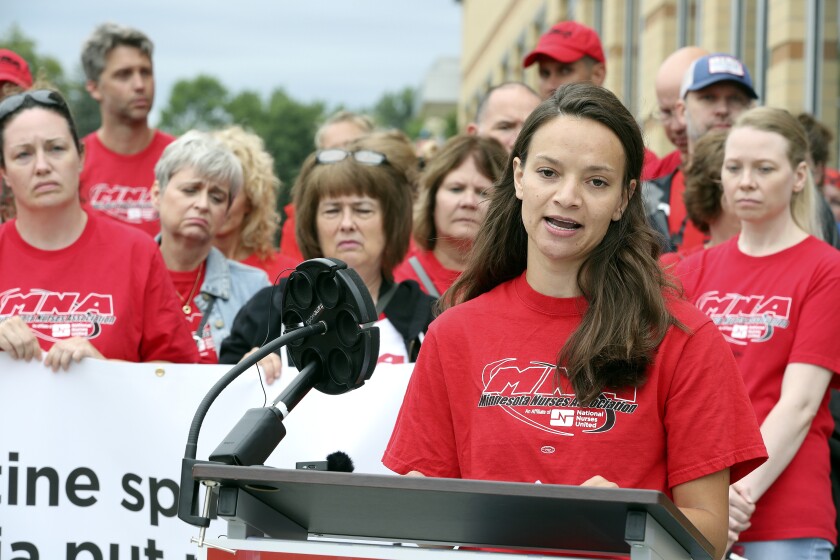 "I've been pushed past my breaking point," Schumacher said. "For the past 2.5 years I've picked up extra hours in the hopes that my coworkers and my patients will not have to suffer from the understaffing. … But it is now my understanding that it is not my problem to solve."
Schumacher said despite her frustration, she is driven to continue working as a nurse because she feels caring for patients at the bedside is her calling in life. She said she's heard "it will get better" since she started in the profession, and she hopes someday she will see that become the reality.
When asked about the possibility of a strike, Rubesch said it's "not a word we're afraid to say" if management maintains its refusal to engage in negotiations for new contracts.
Essentia Health said in a statement that pay and benefits it offers are competitive in the communities the health care system serves.
"We are continuously exploring innovative ways to enhance the recruitment and professional development of our nurses," Essentia said in the statement. "We have a long history of reaching mutually beneficial agreements with the MNA and we are confident we can do so again."
Rubesch said management has acted as if the staffing shortage was created by the pandemic, despite nurses' insistence that the problem existed long before and continues to worsen.
"Currently, our staffing is the worst I have ever seen," Olesiak said. "Our patients deserve better than this. I feel we have an outstanding group of nurses at St. Luke's. These Nurses put the patient above all else, and we need our CEOs to do the same."
Olesiak and Hubbartt said they hope the vote of no confidence will make Lohn and Van Deelen take action to solve these problems by listening to nurses. The next negotiations meeting is set to take place Aug. 10, and plans for possible further action will be decided after that. Olesiak said no strike is planned yet, but "it is a tool in our toolbox."
Earlier Tuesday, nurses in the Twin Cities announced "no confidence" votes for CEO James Hereford and the board of directors at HealthEast, M Health Fairview Riverside and Southdale; CEO Mark Gorelick at Children's Minneapolis and St. Paul hospitals; and CEO J. Kevin Croston at North Memorial Hospital.
For Fay Haataja, of Carlton County, the post-COVID program at Essentia Health helped her overcome debilitating headaches, brain fog and long-term memory loss after more than a year of symptoms.