Mobile vaccination clinic pushes Carlton County past milestone
A refitted Metro Transit bus treated just nine people, but it pushed the county past the 70% threshold of its eligible population that has been vaccinated. Experts say 70% is a modest goal for the general population to reach herd immunity.
John "Jumbo" Forneris was riding by Our Savior's Lutheran Church in Cloquet on his ATV Thursday, June 17, and saw a Minnesota Department of Health mobile vaccination clinic in the parking lot.
Forneris, 43, had never seen anything like it, but thought there was a big line, so he kept riding.
"I didn't even know that this was a thing," Forneris said. "I decided on the way back, I'll drive by again and thought, 'This is it, how convenient. I'll just stop by and do it.'"
RELATED: Carlton County vaccine clinic 'a giant leap out of this pandemic'
Forneris said he hadn't waited to be vaccinated for any particular reason, but the ease and convenience of the clinic made the choice a simple one. What's more, the clinic was providing the one-dose Johnson & Johnson vaccine, meaning those who were vaccinated at the mobile clinic don't need to come back for a second shot.
Carlton County Public Health and MDH partnered to bring the clinic to Cloquet as part of a swing through northeastern Minnesota. MDH refitted a decommissioned Metro Transit bus to provide a safe and sanitary space to administer COVID-19 vaccinations. Officials vaccinated more than 100 people at stops in International Falls, Two Harbors and Silver Bay last week.
Carlton County Public Health nurse Jenny Barta said they tried to pick a high traffic area for the clinic and chose to pair it with Our Savior Lutheran Church's monthly food shelf distribution.
Despite lines of cars and plenty of people, they treated just nine people, and Barta took and administered four additional doses to vaccinate residents of a congregate living center.
"All in all, we gave out 13 doses of vaccine today," Barta said. "While not the numbers we were hoping for, but that's 13 more people who are on their way to being fully vaccinated and helping to stop the spread of COVID-19 in our community."
The 13 doses administered through the mobile vaccination clinic also pushed Carlton County past a major milestone — more than 70% of people ages 16 and over in the county have received at least one dose of a COVID-19 vaccine. The 70% benchmark is what some experts have given as a modest goal for the general population reaching herd immunity, Barta said.
Carlton County is among the leaders in vaccination rates in Minnesota. Barta said county officials established a plan to provide drive-thru vaccinations at sites across the county for priority populations and expanded that as eligibility for the general population increased.
While the vaccination rates are good in Carlton County, Barta said the public health department's work isn't done.
"Today, we bumped over that 70%, which is not the finish line, by all means," she said. "It's definitely a goal we've had, we're happy to be able to finally meet it and we'll continue to provide vaccine services in the future."
Officials soon hope to ramp up vaccinations of children 12 and over. Barta said the county has been primarily administering the Moderna vaccine. It has not yet been authorized for people under 18, but that could come before the end of June, according to Barta.
For Forneris, he was happy with his vaccination process and encouraged more people to come out and get vaccinated.
"It was very simple and nobody made fun of my tattoos," he said. "I highly recommend it — there's no reason not to. If it was that easy that someone as lazy as me can do it, everybody can do it."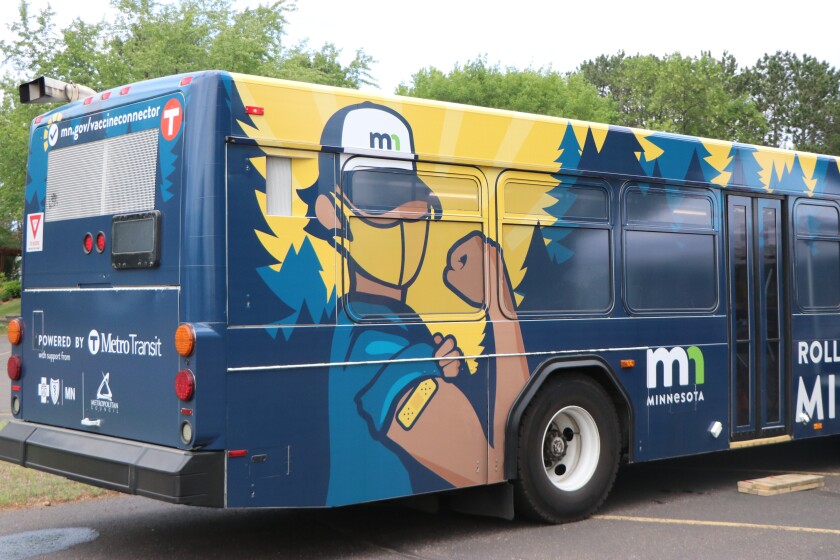 1
/
2:
The Minnesota Department of Health refitted a decommissioned Metro Transit bus to become a mobile vaccination clinic. The clinic made stops last week in International Falls, Silver Bay, Two Harbors and on Thursday, June 17, 2021, it stopped at Our Savior's Lutheran Church in Cloquet. (Jamey Malcomb / jmalcomb@pinejournal.com)
2
/
2:
Rhonda Diver waits for 15 minutes after received her COVID-19 vaccination at a mobile vaccination clinic Thursday, June 17, 2021, at Our Savior's Lutheran Church in Cloquet. Diver drove up from Hinckley take advantage of the MDE clinic. (Jamey Malcomb / jmalcomb@pinejournal.com)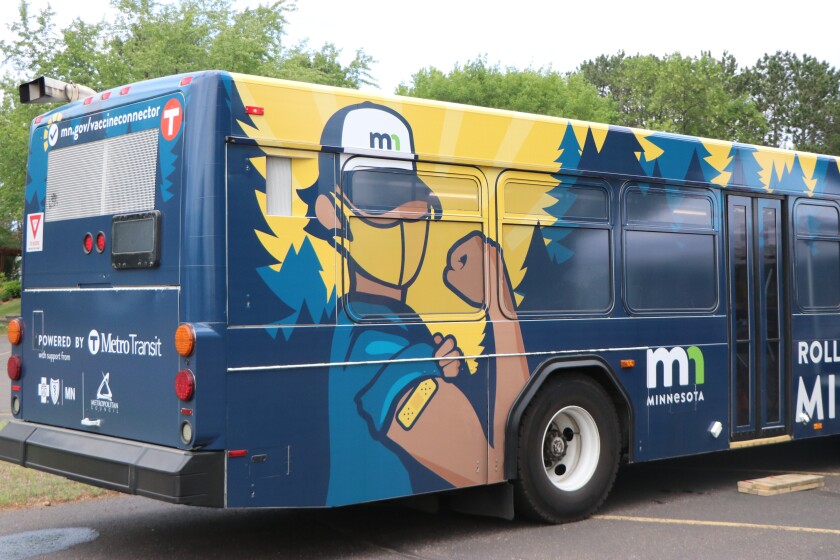 1
/
2:
The Minnesota Department of Health refitted a decommissioned Metro Transit bus to become a mobile vaccination clinic. The clinic made stops last week in International Falls, Silver Bay, Two Harbors and on Thursday, June 17, 2021, it stopped at Our Savior's Lutheran Church in Cloquet. (Jamey Malcomb / jmalcomb@pinejournal.com)
2
/
2:
Rhonda Diver waits for 15 minutes after received her COVID-19 vaccination at a mobile vaccination clinic Thursday, June 17, 2021, at Our Savior's Lutheran Church in Cloquet. Diver drove up from Hinckley take advantage of the MDE clinic. (Jamey Malcomb / jmalcomb@pinejournal.com)