8th Congressional District: Stauber wins over Schultz
The 8th Congressional District was long considered a Democratic stronghold but has become more Republican in recent years.
We are part of The Trust Project.
DULUTH — Incumbent Congressman Pete Stauber will represent the 8th Congressional District for a third two-year term.
Stauber, a Republican from Hermantown, beat his Democratic challenger, state Rep. Jen Schultz, of Duluth, 57.2% to 42.7%, according to unofficial results from the Minnesota Secretary of State.
Just after midnight, Stauber addressed supporters and other GOP candidates still gathered at the Black Woods Event Center in Proctor.
Flanked by his wife, Jodi, and several of his children, Stauber reflected on when he was first elected to the seat in 2018
"We did this four years ago and standing here, again, this never gets old. This is special," Stauber said. "And I want to tell you that northern Minnesota will never have a better champion for our way of life than Pete Stauber."
Meanwhile, Schultz spent election night at the Harbor Side Ballroom at the Duluth Entertainment Convention Center with other DFL candidates and supporters.
Schultz conceded to Stauber in a news release early Wednesday, wishing him luck in Congress and urging district residents to contact him with issues that matter to them.
"We heard from so many people who are tired of lies and misinformation, fear mongering and hate, and instead want to see elected leaders address the real problems our families face," Schultz said. "We ran a people-centered, solutions driven campaign and our work doesn't end tonight."
Stauber is a former Duluth police office, St. Louis County commissioner, professional hockey player and small business owner. He was first elected to represent the 8th District in 2018 when he won against Democrat Joe Radinovich — 50.7% to 45.2%. In 2020, he became the first Republican to win reelection in the district in 76 years when he defeated Democrat Quinn Nystrom by 19 points.
The 8th Congressional District was long considered a Democratic stronghold but has become more Republican in recent years.
Schultz, who holds a doctorate degree in economics and is a professor at the Labovitz School of Business and Economics at the University of Minnesota Duluth, has represented the eastern side of Duluth in the Minnesota House of Representatives since 2015. In March, a few weeks before announcing her run for Congress, she announced she would not seek a fifth term in the Minnesota Legislature.
Throughout the campaign, Stauber and Schultz sparred over public safety, abortion, mining and the economy.
Schultz sought to unseat Stauber, who she said no longer represents Northeastern Minnesota, pointing to no votes on bills like the Bipartisan Infrastructure Law, which would use domestic iron and steel in road, bridge and water pipe projects across the U.S., and the Inflation Reduction Act, which heavily incentives the domestic mining and processing of minerals needed for electric vehicles.
"Pete Stauber just adds to the gridlock in Congress. He is not getting anything done. He is not willing to compromise. He's not willing to work with whoever is president," Schultz said in the Oct. 28 debate in Hibbing.
Stauber, who had the backing of former President Donald Trump, largely ran on the message that Republicans would improve public safety and that the Biden administration was responsible for inflation and gas prices. He wants the federal government to spend less money and for the U.S. to be "energy dominant" — more drilling for oil and natural gas on federal lands — with the hope it would lower gas prices.
"I am the champion for mining on the Iron Range and in the United States," Stauber said in the Hibbing debate. "I am fighting for our way of life and fighting for our families."
Members of Congress make $174,000 per year.
The 8th Congressional District includes all of Northeastern Minnesota.
This was the first election with redrawn district boundaries based on the 2020 Census. Most notably, the changes, announced in February, meant the district includes all seven of the Anishinaabe reservations in Minnesota.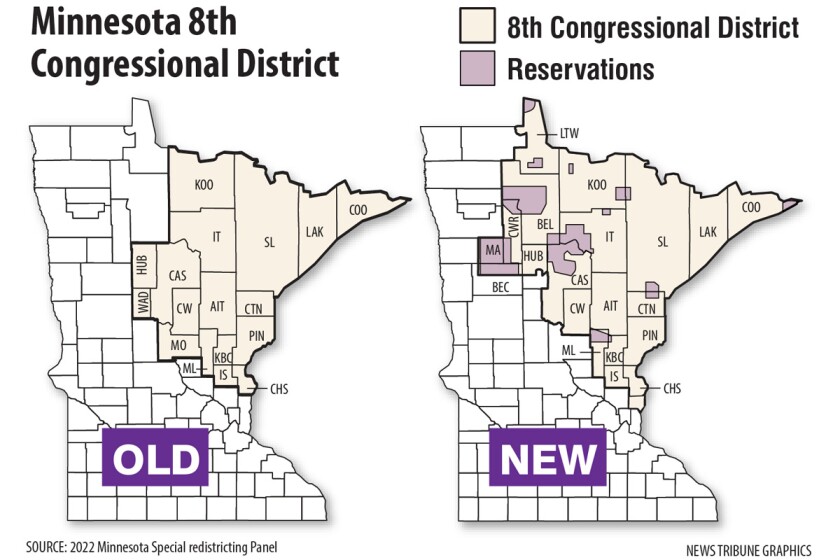 Even with the new boundaries, the district was expected to remain in the hands of Republicans.
Politics and sports statistics website FiveThirtyEight said the party had a 15-point advantage when the map was released.
The election, strikes and the abortion debate made headlines in Minnesota this year.