Wrenshall students get hands-on experience with house project
Juniors and seniors are building the frame of a house that will be put up in the community in April.
WRENSHALL — The banging heard outside the Wrenshall career and technical education building prompts thoughts on what students could be working on inside, with the answer being larger than many would guess—a house.
Chris Gustafson, the district's shop teacher, said the project is a way for students to get hands-on experience building something real.
"You can't always do that in education," he said. "Something that is real-world and not just making a model house."
The program's latest project would not have been possible without the new CTE building to house the frame. The classroom-sized space the program previously occupied wouldn't have been large enough.
The project began in January, and Gustafson said it came about thanks to a community member's request. The students should have the frame completed by April, he said. Then it will be moved to a plot in the community.
The frame still needs insulation and siding, but Gustafson said it is being constructed up to code.
The students working on the project are juniors and seniors, most of whom are interested in the trades.
Peyton Johnson, a senior, said the project offers great experience before he starts work as a carpenter in the summer.
"I know what I want to do," he said.
Mason Mallon, another senior, isn't necessarily going to go into carpentry or the construction field, but he said he has some experience building houses.
"I also built my house last summer," he said.
Understanding technical terms like the king stud, trimmers and rough seal along the window frame Mallon was working on, Mallon learned something new and fun on his second home build.
Not only are students learning practical skills while building the house, but also some interpersonal ones as well.
Gustafson said he organized the students into groups, mixing those who have some experience among those with less. The students who are more familiar with construction are leaders who help the other students. If they can't solve an issue, they turn to Gustafson.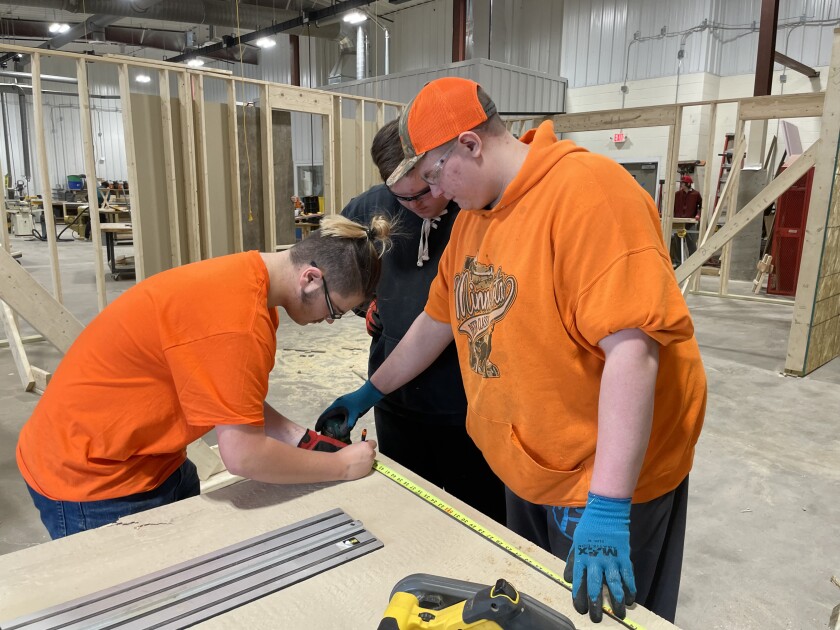 "If you do something you learn it, if you teach it you really learn it," Gustafson said.
Since starting the project, Johnson said he has learned how to work with others on a large-scale build.
For Mallon, patience when working on a project has been a new skill, and he said the project has showed him how to fix his mistakes as he goes.
While the project is still underway, Gustafson said he already lined up the program's next project for the spring. The students will help install solar panels at Locally Laid Egg Company when the temperatures start to climb.
"I get feedback from the kids that they like building something that's real," he said.