Cloquet student plans to turn passion for birds into a career
The top-ranked Cloquet High School student for the class of 2022, Harmony Tracy already has her sights set on a career in ornithology.
We are part of The Trust Project.
CLOQUET — For Cloquet High School senior Harmony Tracy, bird observation and the study of migratory patterns has not only become a source of passion, but also something she hopes to make a career out of in the not so distant future.
Tracy, a President's Scholar Award semifinalist who will continue her academic career at Harvard University in the fall, first became interested in the field after observing a rose-breasted grosbeak eating from the bird feeder outside her window, which caught the attention of her younger brother.
"Ever since then I've just been so fascinated by it," Tracy said of her passion for ornithology. "I think they are just beautiful, and it really matches up with my interests too, because I've always been interested in science and being outside, and it's just so much fun just to go outside and look for birds and see how many you can identify."
Tracy's love for birds led her to pursue a science fair project on how climate change impacts the movement of wild turkeys in the state. The pursuit was inspired by discussions with Cloquet Science Research Mentor Dr. Cynthia Welsh about the influx of new turkeys in her backyard.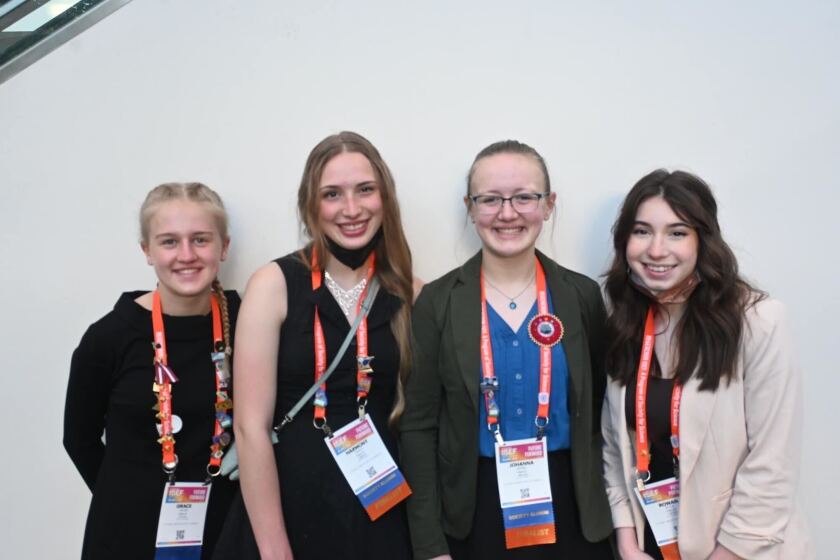 Using ArcGIS software to create a story map with data provided by the Minnesota DNR and a NOAA weather specialist, Tracy was able to chart the movement of wild turkeys north over the past 50 years, and show that the number of days with snow over 12 inches and days below zero were negatively correlated.
Her project was later chosen as the best story map in the Minnesota ArcGIS story map competition. The top-honor, which also earned her a paid internship at the Lake Superior National Estuarine Research Reserve, came despite having little prior experience using ArcGIS software.
"She taught herself how to use ArcGIS. I have some skills in it, but not to the degree that she learned on her own," Welsh said.
The data Tracy collected became the foundation of the project she presented at the Regeneron International Science and Engineering Fair (ISEF) in Atlanta, Georgia last week.
Tracy was one of four representatives from Cloquet High School at ISEF, which brought together over 1,750 students from 49 states and 63 countries for this year's event.
Though the group was unable to come away with an award in the crowded field of competition, Tracy said she was thankful for the opportunity, and credits Welsh for opening so many doors through her work in the science fair.
"Science fair has opened up so many opportunities to me for internships and all sorts of opportunities. Even this travel opportunity to Georgia. She's just been amazing and she's helped so much," Tracy said. "I really could not have done it without her at all."
As her time at Cloquet High School nears its end and the next chapter of her academic career, Tracy hopes to continue her work in ornithology through bird-banding at Hawk's Ridge over the summer.
Looking ahead to her freshman year of college, Tracy said she's eager to create new friendships along with exploring the new city.
"For sure just the people that I'll meet there and there are just so many fascinating professors, classmates," Tracy said in describing what she's looking forward to most. "And definitely the opportunity that Boston as a city offers as well."
The farm, located in Cromwell, was originally purchased in 1918 by Charles and Wilhelmena Anderson for $6.20 per acre.