Cloquet School Board approves OSHA COVID-19 vaccine mandate
The measure requires unvaccinated employees to wear a mask and undergo weekly testing.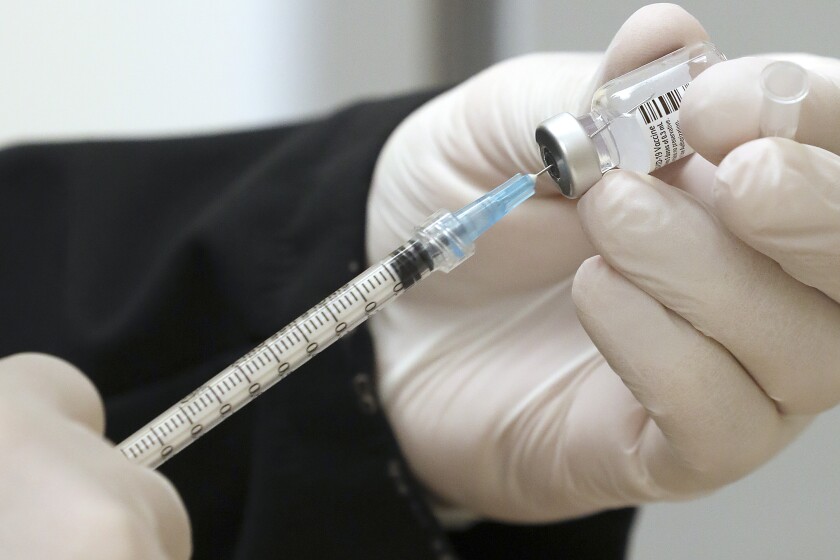 CLOQUET — The Cloquet School Board on Monday, Jan. 10, unanimously approved a policy that requires staff be vaccinated for COVID-19 or be tested for the virus weekly, in line with the federal Occupational Safety and Health Administration's emergency temporary standard.
During the board's working session, Superintendent Michael Cary told the board members they have to approve a policy related to the measure — whether they solely mandate vaccines or also allow unvaccinated employees to wear masks and undergo testing.
Currently, 85% of Cloquet Schools employees are vaccinated, Cary said. However, with the shortage of workers and 15% of district staff unvaccinated, Cary said enacting a policy that only mandates vaccinations would reduce the district's staff "overnight."
"I think really the only option we could prudently pursue right now is vaccination with the option to mask and test," he said.
OSHA requires that organizations with more than 100 employees adopt a policy about the measure as of Monday, or face hefty fines for not being in compliance, Cary said. The district has until Feb. 9 to implement testing for staff.
PREVIOUSLY: Optional mask policy for Cloquet Schools pushed to January
During the regular meeting, board member Ken Scarbrough was the only one to comment on the policy.
"I've been triple-jabbed. I support vaccines, but I absolutely do not support the federal government mandating vaccines so I think this policy of allowing testing is a good option," he said.
The U.S. Supreme Court is currently hearing a case on OSHA's emergency temporary standard. The board unanimously approved the policy contingent on the Supreme Court's decision.
Board votes to raise its pay
In other business, the board voted 5-1 to raise its salary from $250 per month to $300 per month and its per meeting pay from $50 to $75. Gary "Hawk" Huard was the lone dissenting vote.
Prior to the vote, two other motions to increase the board's pay were offered, but no seconds were given. Huard made a motion to raise the board's monthly pay to $600 and its per-meeting pay to $100, and Board Chair Ted Lammi made a motion for $275 per month and $60 per meeting.
COVID-19 data point proves elusive
During the working session, Cary also spoke about his quest to find a suitable metric the board could use to determine when the district should move to or from universal masking in its buildings. In conversations with Carlton County Public Health officials and a regional epidemiologist from the Minnesota Department of Health, Cary said he didn't get much guidance.
County officials referred Cary to the MDH epidemiologist, who he said declined to provide a number.
"We really don't have a whole lot to go on with setting a metric unless we want to set our own," he said.
District deals with staff shortages
Staff shortages have been another area of concern, and Cary told the board during the regular meeting that the administration is working on contingency plans in case COVID-19 cases continue to increase and buildings would have to be shut down for lack of staff.
On Monday alone, the district had 59 staff members absent. Cary said not all of those were for COVID-19 or illness — some were pre-arranged personal days scheduled months ago or jury duty, for example. However, officials are going to keep an eye on things and plan accordingly.
"We're hopeful we can weather this thing without having to do any of the shut downs neighboring districts have," Cary said.
Board leadership stays the same
The board also elected officers, with Lammi receiving the sole nomination for board chair, Nate Sandman receiving the only nod for clerk and Dave Battaglia being the lone nominee for treasurer. All three board members served in the same positions they were nominated for prior to the reorganization.