Fire causes minor damage to Bergquist Imports, Erbert & Gerbert's storefronts; warehouse destroyed
No injuries were reported.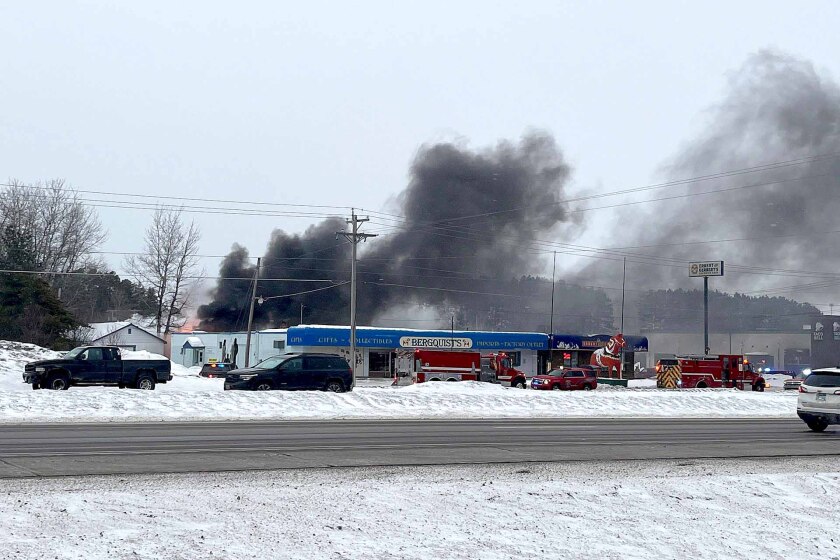 CLOQUET — Multiple Cloquet Area Fire District stations responded to a fire in the back warehouse portion of the Bergquist Imports and Erbert & Gerbert's building at 1412-1414 Frontage Road off Minnesota Highway 33 on Wednesday, Feb. 22.
No injuries were reported from the fire to occupants or firefighters, and all occupants of the building had exited safely.
Heavy black smoke was reported coming from the warehouse portion of the building around 4:18 p.m, the fire district posted on its Facebook page.
Cloquet Fire Chief Jesse Buhs said the fire was under control Thursday morning, but the building was still an active scene because of smoldering fire under the collapsed section of the warehouse.
The warehouse collapsed due to the fire and heat mixed with the snow load on the roof, Buhs said. Crews were able to make interior attacks on the fire, but were unable to reach all areas that were actively burning and had to switch to an exterior approach from a set of aerial ladders.
Buhs said the storefronts and warehouse are connected by breezeways, which helped separate the fire in the back warehouse from the front side of the building.
"The back portion, which is the warehouse, is a total loss," Buhs said. "The front portion, which is the storefronts, has been spared for the most part.
"For us, the plans that we have in place for firefighting in winter weather worked well and there weren't any delays or significant issues that arose," he said. "It's always way more challenging, of course, to fight a fire and operate in those conditions. Our staff is well-trained and equipped to handle those weather conditions and they performed extremely well."
Erbert & Gerbert's posted on Facebook that the restaurant is temporarily closed.
There are no fire damage estimates yet. The cause is under investigation by the Cloquet Area Police Department and the Minnesota State Fire Marshal.
This story was updated at 10:26 a.m. Feb. 23 with additional details about the status of the buildings and quotes from the fire chief. It was originally posted at 9:35 p.m. Feb. 22.