"Enough is enough": More than 100 joined peaceful vigil in Cloquet to honor George Floyd
Newly named Cloquet police chief joins vigil, says work needs to be done to put an end to police violence.
More than 100 people gathered Saturday in Cloquet to pray, hold space and protest against systemic racism and police violence in the name of George Floyd, including Derek Randall, who was named to chief of the Cloquet Police Department on Tuesday.
The vigil began with speeches and prayer at Veterans Memorial Park where people held signs that read "all lives matter when black lives matter," "white silence is violence" and "no justice no peace."
Later, the crowd marched to the Cloquet Police Department, where event organizer Taysha Martineau of Cloquet asked Randall to kneel with her while leading a moment of silence for eight minutes and 46 seconds, the amount of time George Floyd could not breathe under the knee of a Minneapolis police officer.
"Today I'm here with police officers because we need to abolish hatred on a fundamental level," Martineau said.
She referred to herself as an indigenous rights activist and anarchist who decided to put aside her own politics and feelings after Randall showed up at her door days before the protest to tell her he was interested in joining the event.
"We need to be brave enough to hold ourselves accountable and look inside ourselves," Martineau said. "I had to do that just for today to happen because like Derek said when he came to my door I was like, 'Oh my God' ... Today has definitely contributed to growth in our community."
Randall said when he read about the event and its mission online, he realized that the change he wants to see is the same change that Martineau and her group, the Gitchigumi Scouts, were asking for.
"I'm very grateful for our city and I'm very grateful for the citizens, especially you folks that have stepped up and said, 'Enough is enough and we need to address this issue,'" Randall said.
Randall told the crowd that the department is looking into steps that need to be taken in order to ensure that what happened to Floyd doesn't happen in Cloquet.
He added: "One thing that I've realized is that it's really hard to treat somebody disrespectfully, to harm them, to be rude when you know them."
The eight minutes of silence representing the amount of time Floyd couldn't breathe was a somber and difficult moment for many.
"When George Floyd called out for his mama he summoned a sacred power and every life giver in America heard that," Martineau said.
Marit Williams of Hermantown attended Saturday's vigil with a friend to advocate for justice for the people who have lost their lives to police brutality. It wasn't the first time she joined a gathering in the name of George Floyd and it won't be the last.
"I think there's a lot of misconceptions," Williams said. "Rioting is getting more attention that the protesting."
Williams said that the arrests and charges against the four police officers who were on the scene at the time of Floyd's killing is a sign that the protests are working.
Ray "Skip" Sandman of Duluth was one of a handful of people to speak at the beginning of the vigil.
"This country is the greatest country in the world, this city is a great city, but yet it happens here, too," Sandman said. "It needs to stop. We need to become unified. We need to speak in one voice: enough is enough."
Although she's been doing her best to stay home during the COVID-19 pandemic, Lyz Jaakola of Cloquet said that it was too important for her not to attend the vigil.
"It's that important that we are here together talking about this," Jaakola said, emphasizing the word 'together.' "Even though the rest of Cloquet is not here, you're going to go back and talk and you're going to go back and talk."
Many people in attendance focused on the need for conversations surrounding white privilege and systematic racism to continue when protests and other events are not taking place.
Saturday's event ended with Martineau calling on all participants to wash their hands upon returning home and get tested for COVID-19 in order to protect the community.
1
/
7:
Xavier Johnson (from left), 11, of Esko stands with his father Dusty Johnson, brother David Johnson, 11, and mother Shelly Johnson during a rally Saturday demanding justice for George Floyd at Veterans Memorial Park in Cloquet. Floyd died while in the custody of the Minneapolis Police Department on Memorial Day. (Clint Austin / caustin@duluthnews.com)
2
/
7:
People take a knee for nine minutes Saturday during a rally demanding justice for George Floyd at the Cloquet City Hall. (Clint Austin / caustin@duluthnews.com)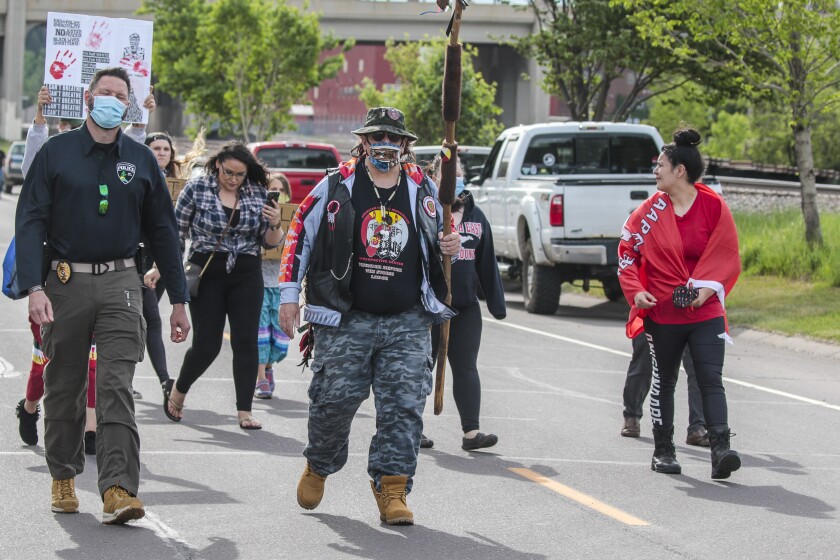 3
/
7:
Cloquet chief of police Derek Randall (from left), Shawn Carr and Taysha Martineau lead a march Saturday from Veterans Memorial Park to the Cloquet Police Department demanding justice for George Floyd who died on Memorial Day while in the custody of the Minneapolis Police Department. (Clint Austin / caustin@duluthnews.com)
4
/
7:
Fond du Lac Band of Lake Superior Chippewa member Pam Diver holds a dream catcher Saturday during a rally demanding justice for George Floyd at Veterans Memorial Park in Cloquet. (Clint Austin / caustin@duluthnews.com)
5
/
7:
Members of the Cedar Creek Singers with the Fond du Lac Band of Lake Superior Chippewa sing a song Saturday during a rally demanding justice for George Floyd at the Cloquet City Hall. (Clint Austin / caustin@duluthnews.com)
6
/
7:
Dusty Johsnon of Esko rests his hand on the shoulder of his son David Johnson, 11, of Esko during a rally Saturday demanding justice for George Floyd at Veterans Memorial Park in Cloquet. (Clint Austin / caustin@duluthnews.com)
7
/
7:
Jessica Smith wears a sweatshirt with a message about racism Saturday during a rally demanding justice for George Floyd at Veterans Memorial Park in Cloquet. (Clint Austin / caustin@duluthnews.com)
1
/
7:
Xavier Johnson (from left), 11, of Esko stands with his father Dusty Johnson, brother David Johnson, 11, and mother Shelly Johnson during a rally Saturday demanding justice for George Floyd at Veterans Memorial Park in Cloquet. Floyd died while in the custody of the Minneapolis Police Department on Memorial Day. (Clint Austin / caustin@duluthnews.com)
2
/
7:
People take a knee for nine minutes Saturday during a rally demanding justice for George Floyd at the Cloquet City Hall. (Clint Austin / caustin@duluthnews.com)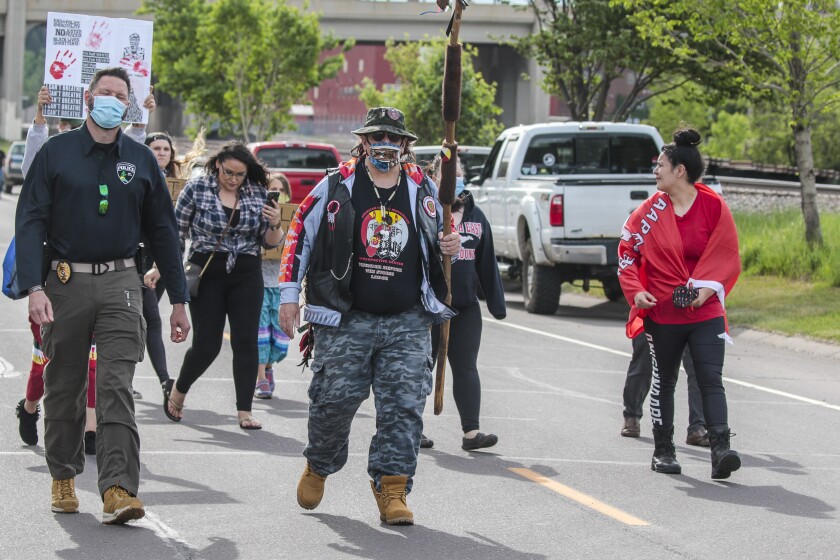 3
/
7:
Cloquet chief of police Derek Randall (from left), Shawn Carr and Taysha Martineau lead a march Saturday from Veterans Memorial Park to the Cloquet Police Department demanding justice for George Floyd who died on Memorial Day while in the custody of the Minneapolis Police Department. (Clint Austin / caustin@duluthnews.com)
4
/
7:
Fond du Lac Band of Lake Superior Chippewa member Pam Diver holds a dream catcher Saturday during a rally demanding justice for George Floyd at Veterans Memorial Park in Cloquet. (Clint Austin / caustin@duluthnews.com)
5
/
7:
Members of the Cedar Creek Singers with the Fond du Lac Band of Lake Superior Chippewa sing a song Saturday during a rally demanding justice for George Floyd at the Cloquet City Hall. (Clint Austin / caustin@duluthnews.com)
6
/
7:
Dusty Johsnon of Esko rests his hand on the shoulder of his son David Johnson, 11, of Esko during a rally Saturday demanding justice for George Floyd at Veterans Memorial Park in Cloquet. (Clint Austin / caustin@duluthnews.com)
7
/
7:
Jessica Smith wears a sweatshirt with a message about racism Saturday during a rally demanding justice for George Floyd at Veterans Memorial Park in Cloquet. (Clint Austin / caustin@duluthnews.com)