Cloquet graduates embrace non-traditional outdoor graduation
Neither cold weather nor a pandemic could stop Cloquet High School's class of 2021 from celebrating their graduation.
After more than a year of pandemic learning, approximately 165 Cloquet High School graduates were granted a somewhat normal end to what could be considered a very abnormal senior year.
From online learning to a parking lot prom, Cloquet graduates said their senior year may have been strange, but that it was not lost.
This year's graduation ceremony, held on Friday, May 28, matched the theme of nontraditional experiences, with the event taking place on a makeshift stage in the middle of the football field.
"I think it turned out really good," graduate Cody Tibbetts said of the ceremony. "It's definitely unique."
The event kicked off at 6 p.m. and consisted of speeches, a drumming ceremony, a choir performance and, of course, diplomas.
Community members and loved ones packed the bleachers as each graduate crossed the stage, fist bumping school officials, and stopping to smile for cameras.
Afterwards, everyone gathered on the field for congratulatory exchanges and photos.
Prior to Friday night, some of the seniors had been worried about possible capacity limits with an indoor venue, explaining that there likely would not have been enough room for everyone in their families to attend.
Because of this, the Cloquet graduates and their families said they were grateful to be able to have a public ceremony without safety limitations, even though Minnesota weather brought on a pretty brisk evening.
"I'm super excited that we could be all here, in person, unmasked, so being cold was worth that," graduate Noah Streblow said. "It's better than what we could've had for sure."
Noah's mother, Erin Streblow, teaches English at Cloquet High School, and shared that Friday's ceremony was one of the best she's ever attended.
"It was great," community member Bernie Despot said. "It was great to see normal."
Despot had one child graduate from Cloquet last year and one graduate this year: His daughter, Bri Despot, graduated virtually in 2020 and his son, Alex Despot, graduated on the football field in 2021.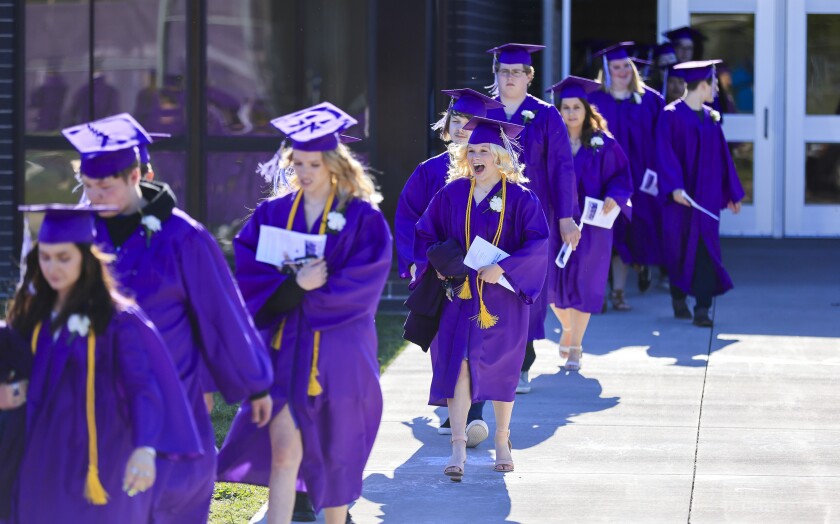 Alex shared that he was grateful to have a ceremony that included everyone being able to be together in person.
"It was really nice to just walk across (the stage), especially with my classmates," he said.
Cloquet graduate Gracy Johnson spent her entire senior year learning solely online, and while she kept in contact with friends, she echoed the sentiment that it was nice to see everyone together.
"I enjoyed it," she said. "I think it was fun."
Throughout the evening, Cloquet school officials, faculty and staff expressed tremendous pride for what the class of 2021 accomplished, despite the COVID-19 pandemic.
They credited the students for helping not only themselves, but the entire high school get through the school year.
"I'd be remiss if I didn't personally thank this class for helping to get our school through the craziest of my 18 years of education," high school principal Steve Battaglia said. "They helped to guide our staff as we all struggled through the school year together."
American Indian Education Director Teresa Angell shared that she has been involved with many students since they were young, and said she has watched them hold themselves accountable throughout their senior year, despite challenges presented by the pandemic.
Approximately 35 American Indian students graduated on Friday, according to Angell, which she says shows an above-average success rate.
Battaglia encouraged the students to embrace the obstacles of the past year and use them as a reminder of what they are capable of overcoming.
"This year was a test, and everyone in a purple cap and gown passed with flying colors," he said.