Moose Lake woman builds up old camper from scratch
Amanda Paull bought a 20-foot 1979 Coachmen Cadet for $800. She knew it'd take some work, but not this much.
We are part of The Trust Project.
MOOSE LAKE — Standing among the white walls, shiny appliances and chocolate brown-stained wood countertops, you wouldn't think Amanda Paull's camper was anything other brand-new.
But it's come a long way.
"It's funny that somebody didn't fall through the floor," said her father, Keith Rasmussen. "The tin had rusted away, so all that was basically holding was the top plywood floor and that was really weak.
Also: "The drawer was filled with ants. Ants and eggs, ants carrying eggs."
In fall 2020, Paull found a 20-foot 1979 Coachmen Cadet for $800. It was the right price, right size and the right location — just down the road.
She knew it'd take some work, and was prepared to paint and replace the flooring.
Paull enlisted the help of her father. As they tore away the pieces, they found it completely rotten on the inside. All that would remain of the original: the frame and the wheels.
"I called it a snowmobile trailer because that's all that was left," recalled Paull's husband, Tom.
Amanda Paull spent eight to 20 hours a week in the camper, tearing down and eventually building up. She also spent many hours researching and saving ideas on Pinterest to the point where she knew exactly what she wanted.
Paull kept the existing layout. The ideas she shared with Rasmussen, they'd build together.
They were able to reuse many materials he had in his shop for the bathroom and kitchen counters. Paull made the cabinets. They ran into some issues with the electrical wiring — new territory for them — but Paull said after they fit the tin on and attached the roof, everything would fall into place.
Paull and her father have been working up to this camper renovation since she was a kid, helping him in his workshop. Of all his children, Rasmussen said she's the one who is most interested in projects like this. Paull refinishes dressers and tables and sells them on Facebook .
When she couldn't find the type of wooden planters she wanted, she designed, built and eventually sold 150 of them.
This camper was her COVID project. The full-time nurse was looking for something to focus on. Before the pandemic, she'd cleaned up a pop-up camper, and was ready to level up.
During the shutdown, it was hard to come by used campers that cost less than $10,000; new ones ran $30,000-$40,000, she recalled.
Also, while her siblings have "big, fancy" ones, she prefers retro-looking units. She said she knew to get what she wanted, she'd have to make it herself.
Standing in "Mickey" the camper (named after its previous owner), Paull and Rasmussen give the News Tribune a tour.
Rasmussen inadvertently does the thing parents do: inspecting the sturdiness in a door or a drawer by opening and closing it a few times.
"I finished adding onto my garage," Rasmussen recalled, "and within two weeks she said, 'Dad, I bought a camper, can I put it in there?"
"I thought for a month," she recalled.
"For a month," he echoed.
"And it stayed for a year," she said.
"For a year," he said good-naturedly.
Everything, save for the windows, is brand-new, and it's exactly as Paull envisioned. She built the cabinets, the doors, the table, even the throw pillows. There are geometric light fixtures, white tile backsplash, canvas curtains and leather clips (that she also made). The seating area pulls out into a twin bed, and there's extra storage underneath.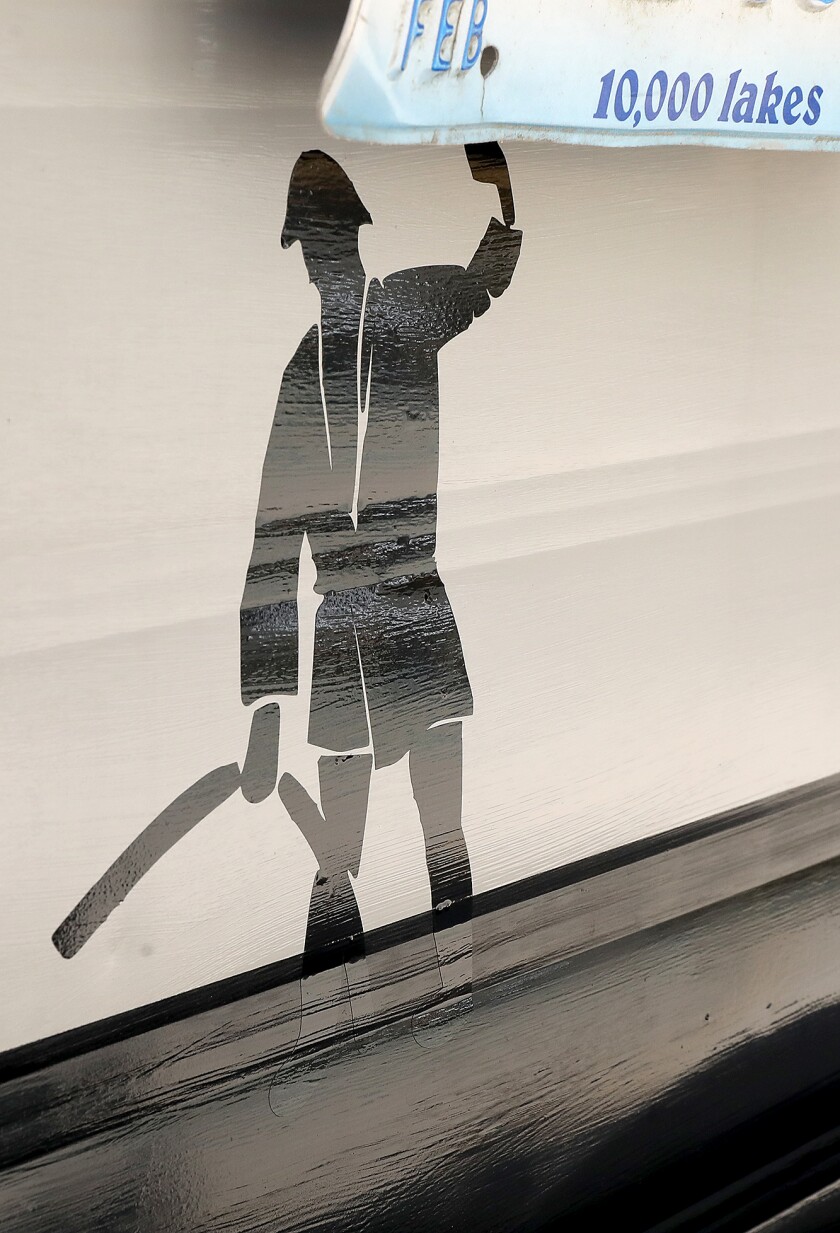 There's also an electric fireplace that works quite well, said Paull, who has slept comfortably in 30-degree weather.
She added the final coat of exterior paint a week prior.
In total, she's put about $5,000 into making Mickey like-new.
The Paulls took the camper to Wisconsin last summer, and in September, Mickey will make her maiden voyage to Itasca State Park in Park Rapids, Minnesota.
Now, Tom Paull said it's perfect for the two of them and their dog. "To get an old one for what she has put into it and what I think it's worth is great — and, it's paid for," he said.
Paull is building a new shop at her house where she can store lumber, have room for her furniture work — and her next camper project.
This time, she wants to convert a small bus or a utility truck. "You in for that one?" she asked Rasmussen.
"Nope," he said.
"I've been out on that trail. I know what the hills are like, I know what the conditions are like. ... I have so much respect for them," Mallory Cummings of Duluth said.