Cloquet musician's new album highlights the 'fun and joy' in music
Kurt and Tony Petersen recorded "The World Needs This" over several months, but without ever sitting in the same room together.
A couple years ago, Cloquet resident Kurt Petersen saw a Facebook post of his nephew Tony Petersen playing some Eddie Van Halen songs.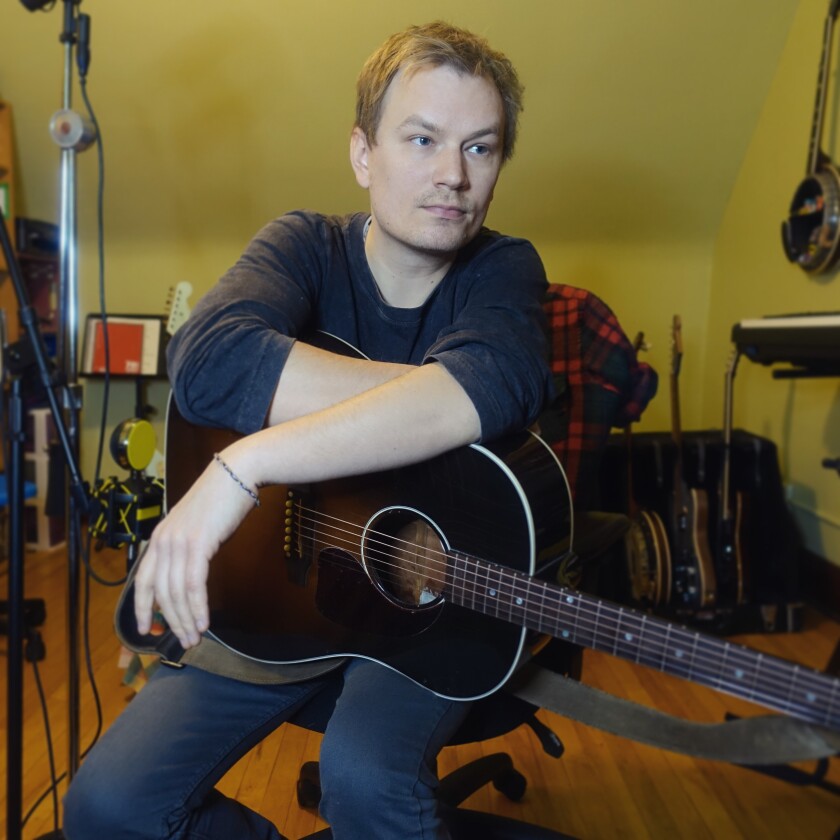 Kurt commented on the post and harkened back to when Tony — who grew up in Cloquet and is now a successful artist with the bands the Social Animals and Saint Anyway — was just learning to play guitar.
"Like every kid, he was learning Van Halen stuff," Kurt said. "As he's gotten older, as most people do, he kind of got away from that. I was teasing him, like, 'You've got to do that again, because that's just fun, you know?' I said, 'It's time to put all that down and make that tribute record, man.'"
Kurt's thoughts turned back to Van Halen last year when the legendary guitarist died in October. Kurt said he's not normally affected by celebrity deaths, but the news about Van Halen hit close to home.
"I'm still just incredibly sad about it," Kurt said. "I sat down at the computer the day after the news and go to YouTube and start hitting those videos. You watch a lot of guitar players, and it looks like they're in pain. You're like, 'Does it hurt that much?' But you never saw Eddie do that, he was always smiling."
Kurt said he had the riff for a song called "The World Needs This" since Tony's original Facebook post and started writing some lyrics. Kurt said his intention was to give the song to Tony and "walk away," but the COVID-19 pandemic had forced the musician off the road for several months already. The time away gave the pair a unique chance to collaborate, and the result is not just a single song, but a 10-song album.
"The silver lining of COVID has been that I can be home and focused on a lot of things I've wanted to focus on for a really long time," Tony said. "I learned my first chords from Kurt, and he's been a huge musical influence for me forever. … It just felt like something exciting to work on — like both our lives just seemed to fit with this moment where we could work on this together."
The album, also titled "The World Needs This," was recorded between October and January, but Kurt and Tony never actually sat in the same room together.
Kurt lives and works in Cloquet, but Tony lives in Minneapolis. With COVID-19 cases spiraling out of control last fall in Minnesota, getting together to record wasn't an option. Tony has a recording studio at his Minneapolis home, and Kurt began recording in his basement.
Over the next few months, the pair spent countless hours on video calls and sending audio files back and forth.
"Kurt had the song writing, and he had a lot of the ideas," Tony said. "He would give all the ideas, like this song should have horns or this should be more laid back. I was able to put the pieces together — Kurt had a lot of ideas for me to help work with."
"The World Needs This" probably took the most time for the pair to produce, but as they got further into the process, songs started coming faster and faster, until they had a 10-track album.
LISTEN:
The resulting album is a hybrid of genres Tony described as "Americana-alternative-rock with touches of folk and country." They count among the influences on its sound as Tom Petty, the BoDeans and, of course, Van Halen.
Tony's girlfriend, Jill Zimmerman, performs on the album, as well as Kurt's brother — and Tony's uncle — Christian Petersen.
Christian performs with a death metal band regularly, and the song he sings lead on — "Hold the Door for Me, Please" — definitely has a different sound.
Kurt said they tried to keep the album playful and fun, like the legendary guitarist who influenced the album's genesis.
"I've had it up to my neck with the negativity," Kurt said. "That's what I told Tony. Let's keep it positive. There's still room for fun and joy, for light and laughter in the world."
Love + Effort has another two-track release called "Two Songs for Summer" scheduled to be released June 8. Digital copies of "The World Needs This" are available for purchase in the iTunes store or loveandeffort.bandcamp.com.