'An activist church': Peace UCC celebrates 150 years of social justice work in Duluth
"You will see Peace Church people out in the street, protesting and in council meetings working for policy change — and also having fun, too," interim Pastor Jim Mitulski said.
We are part of The Trust Project.
DULUTH — Hundreds flocked to Peace United Church of Christ on a brisk autumn Saturday night. Folks filled the pews and a soft warmth filled the bright sanctuary while an electric-blue sky peeked through the windows.
A triad of crosses stood center behind the pulpit, and nearby hung a sign for Hispanic Heritage Month, a portrait of black Jesus and a human-sized painting by Anishinaabe artist Leah Yellowbird.
Hoots, hollers and laughter emerged as an intergenerational cast performed the church's history. Afterward, church members dined on a traditional German meal and washed it down with beer or root beer.
While many would return for the next day's service to listen and worship, this night was meant for celebration. Peace Church turned 150 this year and marked the milestone with events that mirror its values.
In August , congregants lit the Peace Bell Tower for the first time, illuminating bells created from implements of war turned into items for peace. This fall, they gathered for a German-inspired meal and a program. And, September saw a rally for peace featuring Parkland school-shooting survivor and gun control activist David Hogg .
In 2022, taking a stand against gun violence is similar to our predecessor generation taking an anti-war stance in 1960, said interim Pastor Jim Mitulski. "Peace Church is an activist church," he said, and it sees social justice work as part of its identity.
"We're unapologetically pro-choice, unapologetically pro-climate/pro-environment, unapologetically pro-LGBTQ and unapologetically pro-immigrant," he continued. "This is part of our spiritual practice to be attuned to the ways in which the world is an unsafe place for many people and the ways that even our own religion has contributed to the ways white supremacy functions in our society."
Peace Church was founded as St. Paul's German Evangelical Church in 1872, and the first church building was erected a year later on 10th Avenue East and Third Street.
At one point, the church operated a second location in Hermantown, with the same pastor tending both. Services were spoken in German until the 1920s.
The church's abundant archives are well-organized in filing cabinets and protective plastic due to efforts by church matriarch Trudy Schwerdt (mentioned several times during the News Tribune's visits).
Bill Kohlts and Sharon Crosby are among the archive stewards, greeted at church and trained by Schwerdt, who has since died. She had a knack for saving things, said Crosby, and amen to that.
Scanning a few books and drawers of the church's documented history, one can't deny the many hands that helped build it.
Birth records date back to the 1860s-70s. Meeting minutes from the 1880s are handwritten in lovely German script — the church's earliest diary.
Weathered pages with newspaper obituary cutouts, and a 1944 "Pecks of Patter" pamphlet to keep sent to men serving in World War II updated on church happenings.
In 1960, the congregation moved to its current location at 1111 N. 11th Ave. E. In 1973, they joined other churches in the creation of CHUM.
They burned their mortgage in 1980, added an elevator in 2000 and remodeled the sanctuary in 2008.
In the past, they've hosted environmental justice events and Ramadan gatherings. Peace has a long-standing connection with the Loaves & Fishes community, the Damiano Center, NAACP and St. Mark's AME Church. They open their doors to Alcoholics Anonymous meetings and host gentle yoga and reproductive justice fundraisers.
"You will see Peace Church people out in the street, protesting and in council meetings working for policy change — and also having fun, too," said Mitulski.
Folks in and outside the congregation reflected on what this church means to the Northland. Faith communities talk about loving thy neighbor, but Peace demonstrates this through actions, said Susana Pelayo-Woodward.
In her 30-plus years here, the director of the Office of Diversity and Inclusion at the University of Minnesota Duluth has collaborated with Peace through their shared work with the NAACP, the Clayton Jackson McGhie Memorial and the Twin Ports Martin Luther King Jr. march.
And where congregants aren't helping, they're participating, she said.
During the 2020 shutdown, some UMD international students were unable to work or return home due to travel restrictions. When Pelayo-Woodward started raising emergency funds for them, Peace congregants started contributing right away.
"I didn't even ask them, they themselves found out and called me ... they have always been very generous," she said.
Congregants declared Peace a sanctuary church in 2017 after the church built a space of residence on-site, available for folks who meet the criteria. (They must be somewhere in the asylum process and working to resolve immigration status.)
The Duluth congregation of Peace United Church of Christ on Sunday voted "overwhelmingly" to become a sanctuary church for undocumented immigrants.
Today, Peace remains the only sanctuary church north of the Twin Cities, said pastoral associate Charlotte Frantz, who was integral in these developments.
Asked about the number of folks who have received sanctuary and stayed in the space, Frantz replied: "To me, the question isn't how many people actually stay here. It's how many people have felt safer in our community because we're here.
"It's a contribution, apart from whether or not anybody used it."
Peace Church has evolved from a tiny congregation of German-speaking immigrants to a thriving congregation that leads with bold faith in the Duluth area, said the Rev. Shari Prestemon, conference minister of Minnesota Conference United Church of Christ.
This congregation has been "a consistent witness" for justice and extravagant love, a leader in community outreach, mission, advocacy — all actions that reflect commitments and values in the United Church of Christ.
"I have no doubt they will continue to embody a faith that calls them to do justice, love kindness, and walk humbly in their service to Jesus Christ for decades to come," Prestemon said.
While many overlap, members are called to and fueled by the church in different ways and for different reasons.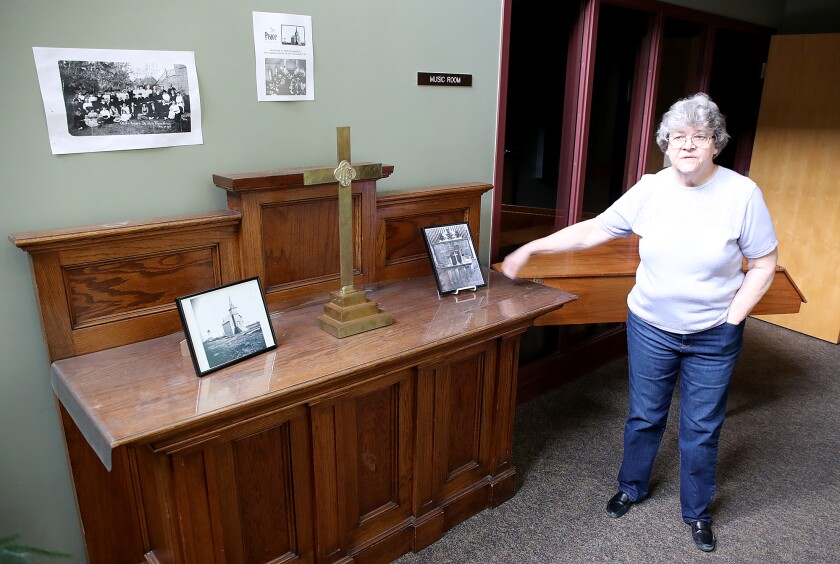 Joan Severson attended when the church was "very, very German." She used to walk to the former location a few blocks from her house. Decades later and no longer driving, Severson is unable to attend in person as often as she'd like. "I miss it like heck," she said.
"I'm the longest confirmed member," the 91-year-old added by phone. "That church means everything in the world to me. It's been my hope."
For Amy Westbrook, of Duluth, Peace is where she can reflect and feel peace when there's a lot of "noise" in the world. Also, she's encouraged by the support her children have received to process all of the spiritual, emotional and physical elements of adolescence in the safe haven created in youth group.
"It's a place for my kids to grow up where they are loved and welcomed as they are — and challenged, too," Westbrook said.
Jessica Olson found Peace while "church-shopping" after moving out of the Twin Cities. She wanted a progressive, social justice congregation, and she found it.
"It was through my connection to Peace that I first learned about systemic racism and white privilege. Like most folks, I've been aware of and condemned outwardly racist acts, but it wasn't until I took a class at Peace that I started to consider how existing systems have benefited me while they push others down," she said.
Church members at Peace are "living the way of Jesus," said Olson — challenging themselves and walking in faith.
For Kelly Grgas, of Duluth, Peace is a respite. "I come here sometimes with a lot of fear, but I never leave here like that. It's one of the places I feel safest," she said. "This place exemplifies Christ."
Grgas and her wife were married in the church, and her sons, Lachlan and Luka, 7, are very active in the choir today with an intergenerational support in church members.
Added Joan Peterson: "There are times when I've been a doubting Christian, and Peace Church is a comfortable place for that."
"A minister says something from the pulpit or some music brings me to tears. ... It reminds me of my spirituality, which is why I like to go to church," she said.
The church moderator has participated in anti-racism work, environment, immigration, gun violence — the latter is personal. "In 1992, my sister was shot in a domestic shooting. I can't begin to tell you how supportive the church was immediately," Peterson recalled.
While on the forefront of progressive movement in the Northland, Peace, like other organizations, is not immune from some pause on the way forward.
"We have a broad spectrum of belief on gun ownership in the congregation — ban assault rifles now — but, I know that we agree on this: Schools should be safe," said Mitulski.
Occasionally, somebody within the church might object to a stance. To that, church members refer to the national UCC position on justice, which allows them to act, Peterson said.
All churches meet conflict of some type, and members make space for folks to express their views. Hopefully, they'll work through it. If not, some may leave, and that happens, not just at Peace, Peterson said.
After years of online or hybrid gatherings, the 150th has been a great way of drawing in new people and bringing back old friends.
Retiring in 2021 after 30 years, Pastor Kathy Nelson hadn't returned to Peace until she was asked to conduct a celebratory sermon for the 150th. (It's customary, Nelson said, and healthy, for a former minister to worship at a different church than the one they served.)
"She is one of the most incredible, faith-based, interfaith leaders that I've ever met," said Henry Banks, Duluth activist and elder.
It was nice to return this way and less awkward, Nelson said. Reflecting on the church's history stirred a poignant lesson she'd received there.
During her first week as a young pastor, Trudy Schwerdt gifted her a box of note cards, each with a member's name on it along with pertinent info about them. These were things a pastor might need to know, Nelson said, and Trudy wanted to make sure no one was ever forgotten.
"She helped me know the stories of these people, and she made sure I took the time to listen," Nelson said.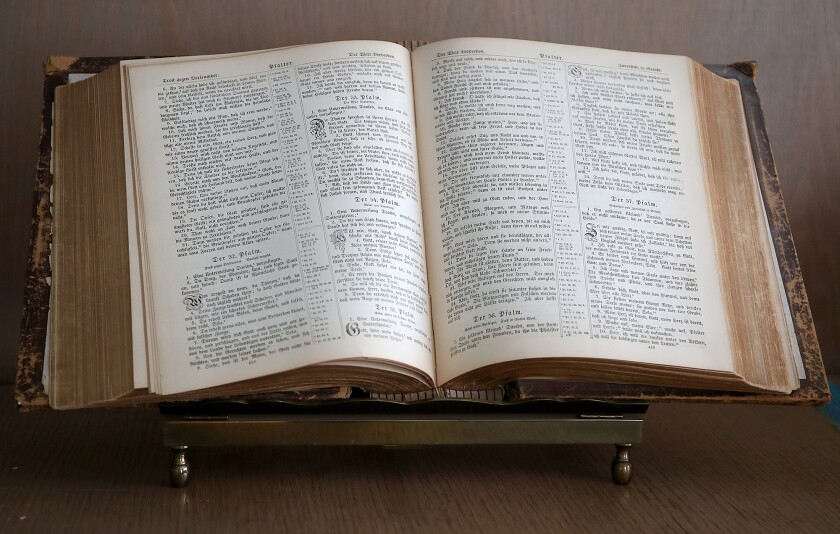 "I've been out on that trail. I know what the hills are like, I know what the conditions are like. ... I have so much respect for them," Mallory Cummings of Duluth said.
You might see the great-great-granddaughter of John Beargrease collecting banners at Billy's or at the big finish in Grand Portage.
The space speaks well for Minnesota. "We're much more open and experimental than I think the country sometimes gives us credit for," said Duluth-born artist Venus DeMars.
"It's actually a really good fit — a landscape company with a wedding venue on the same property," said Ken Hammarlund.