Carlton Daze returns with large crowds
The festival had a strong turnout after being canceled in 2020.
After two full days of events, Sunday rounded up Carlton Daze with the annual parade at 1 p.m. along Minnesota Highway 210. Through Friday and Saturday, the community celebration consisted of several tournaments and contests, a car show and live music.
Organizer Daisy Rose called the weekend a "huge success."
"We were hoping for some good crowds and good participation, and we've seen that. It's awesome," Rose said. "It's nice that we've been able to come back like this."
The parade kicked off with members of the Carlton VFW post 2962 making their way along the parade route, crowds gathered on both sides of the street sang along to a recording of the "Star Spangled Banner."
Carlton High School alumnus and Jeopardy! champion Sam Kavanaugh , grand marshal of this year's parade, rode down the street clad in a Carlton Football T-shirt atop Carlton's classic first fire engine. He waved and bore a shiny Jeopardy! Champion belt on his lap.
The Carlton Wrenshall Raptors Cheer Team performed a cheer routine every block to thunderous applause. The Carlton County Riders also had a strong showing of dirt bikes, ATVs, UTVs and four-wheelers toward the end of the parade. A few bikers performed wheelies for the crowd as they made their way down the line.
According to organizer Daisy Rose, parade registrations were comparable to previous years, though considered "very strong" as the celebration made a comeback.
Following the parade, the Carlton Fire Department hosted kids' activities and gave out free hot dogs and root beer floats. As of 3:30 p.m., staff at the fire hall reported that they'd given out approximately 700 of the 800 hot dogs they'd ordered for the event.
Outside, visitors had the opportunity to try out the fire hoses attached to one of the fire engines. Participants tried to aim the hoses through a tire hung up about 10 feet high, while children ran through the residual water spray.
Wrenshall resident Chase Martin, 10, said it was his second time trying out the firehose, as he'd been able to try two years previously.
"It's pretty powerful," Martin said. "Holding on and aiming is the hardest part."
Nevertheless, Martin was able to aim the stream of water into the tire a few times.
Over at the Northern Pacific Junction Bike Shelter at the DNR Park, bubbles blew in the breeze while a DJ led children through various dances and songs at the Carlton Community Education's bubble dance party. Rose was pleased with the turnout at this new event.
"You're never sure how it's going to go, but we're pretty happy with it," she said.
1
/
6:
Lyndie, 6, and Natalie Nynas, along with George, take part in the Carlton Daze parade Sunday, July 25, 2021. (Steve Kuchera / skuchera@duluthnews.com)
2
/
6:
Carlton High School alumnus, Jeopardy champion, and parade grand marshal Jeopardy contestant Sam Kavanaugh throws candy to the crowd during Carlton Daze on Sunday, July 25, 2021. (Steve Kuchera / skuchera@duluthnews.com)
3
/
6:
Evan Sheff pops a wheelie while riding in the Carlton Daze parade Sunday, July 25, 2021. (Steve Kuchera / skuchera@duluthnews.com)
4
/
6:
The honor guard pauses to fire a rifle salute during the Carlton Daze parade Sunday, July 25, 2021. (Steve Kuchera / skuchera@duluthnews.com)
5
/
6:
Children scramble for candy thrown from one of a long line of vehicles taking part in the Carlton Daze parade Sunday, July 25, 2021. (Steve Kuchera / skuchera@duluthnews.com)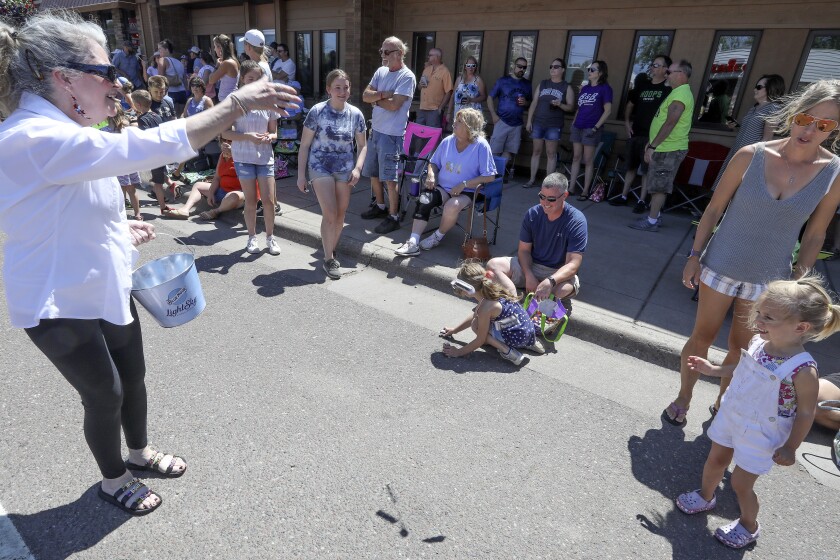 6
/
6:
Kitty Bureau throws candy to the crowd during the Carlton Daze parade Sunday, July 25, 2021. (Steve Kuchera / skuchera@duluthnews.com)