Minnesota couple builds boutique tiny cabins from ground up
"I don't know if we'd want to do it again," said Cuyuna Cove co-founder Kelsey Braun. "It tested us."
CROSBY, Minn. — Kelsey Braun and Christopher Austin rescued sets of outdoor string lights from pools of multicolored leaves. Each returned a set to a nearby branch as they walked through their 3 acres.
Even apart, the spouses and business partners are in sync. These hammocks are from a merchant in Sayulita, Mexico, said Austin.
Moments later, "the hammocks are from a street vendor in Mexico," said Braun, back from a quick call. (And, this happened more than once.)
The couple behind Cuyuna Cove , a set of boutique tiny cabins and glamping tents, spent the past four years in tight quarters building their relationship and their business from the ground up.
Their boutique tiny cabins are 215 square feet, and made from 20-year-old wood, adorned with circular saw and water marks. The queen-sized bed faces a floor-to-ceiling window that looks out to a patio and a pond.
It was a challenging piece of land to plan around, with many curves and drops. The depressions and shelves leftover from blasting of the former mining shaft created a unique opportunity for the floating cabins the couple built on stilts.
Each cabin has a bathroom, kitchenette, patio and a bike storage shed. (There's also a bike cleaning station on-site.)
In the bathrooms, crisp tile lines the shower and at your feet lies a rock tile floor — an intentional outdoor element brought indoors, said Braun.
The cabins are named after area mine pits. The Alstead cabin is Americans with Disabilities Act-accessible and the Acro Deluxe cabin sports an outdoor shower and private fire pit.
Prices — based on time of year and availability — range from $250-$285 per night, with a two-night minimum. Wi-Fi is available, but the cabins are TV-less, on purpose.
Cuyuna Cove (pronounced "KAI-una") is meant to get people moving and relaxing, said Braun, adding that folks come from all over to snowshoe, fat bike, hike and cross-country ski. And, the cabins are uniquely positioned for it: The Cuyuna Lakes State Trail and the mountain bike trail system in Cuyuna Country State Recreation Area are within walking distance.
Also in the cabins: a stainless-steel French press, mini-fridge, two-burner electric stove and a host of carefully curated and regionally made mugs, paintings and room sprays.
"It's a reminder that you can shop local for a lot of things. It takes more time, but it's absolutely worth it," said Braun, a former working artist.
Michelle Blackhawk was introduced to Cuyuna Cove via a Midwest travel blogger's Instagram account. From there, Blackhawk and her husband booked a stay in the "luxurious" Acro cabin.
She took several reference photos on-site, which became artwork she posted and tagged on social media. Soon after, Braun reached out with an offer to collaborate. Since May, the Minneapolis-based artist's paintings have been featured in each Cuyuna Cove cabin — a move that's led to art sales, commissions and increased visibility.
This was a new venture for both small-business owners. "They trusted me, and I could paint what I wanted," Blackhawk said.
While their industries are different, Blackhawk relishes working with another Minnesota business who shares her core values — adding beauty with intention.
The launch of Cuyuna Cove and its owners' coupling seemingly happened by chance.
After attending the same high school, Braun and Austin went separate ways, their cumulative travels taking them to South Africa, Australia, Spain, California, Texas and New York.
"I ended up moving home. Chris was back in Minnesota for holidays, and we stumbled into each other on Bumble (an online dating app)," recalled Braun.
At the same time, Austin had been trying to connect. "I'd been asking if anyone knew how to find her number that same day," he said.
At age 30 and ready for a shift, they eventually moved to Bali, Indonesia, for a few months to work out next steps. After working as a physical therapist in Brooklyn for five years, Austin said he felt "diminished," and longed for a new physical challenge.
And, he got it.
With the help of Braun's father, the couple renovated their first residence together: a 30-foot Georgie Boy Swinger RV.
This meant a lot of work followed by showers from a rigged-up hose and gravity-fed bag off the backside of the motorhome, Austin recalled.
In 2018, they set their sights on Crosby, Minnesota, where mountain biking was taking off and friends were opening a business. "We needed somewhere to live. We can't get by in an RV," Braun said.
They found an affordable, "pretty dilapidated" old mining house. "Tar was dripping off of the walls in there," Austin recalled. "Other Realtors were showing potential buyers, and we were the only ones dumb enough or crazy enough to do it."
They bought it and a 3-acre lot, where they'd build what is now Cuyuna Cove.
"Kelsey's dad taught us how to build; he's still mentoring me," Austin said.
"We had no idea," Braun added.
Phil Braun agreed: "When they started this project, they were so naive, and it was like, 'Oh, my goodness, you guys are jumping into a tornado.' They weren't aware of that, but they learned fast over six months."
His daughter had helped him with projects a bit in the past, but Austin was "the greenhorn of the group."
With years invested in construction, education and real estate, Braun was pleased to pass along his experience and lend a hand. From then until now, Braun said he's very proud of what they created.
"Both Kelsey and Chris put a lot of hard-earned, knuckle-busting labor into it. They did a good job," he said.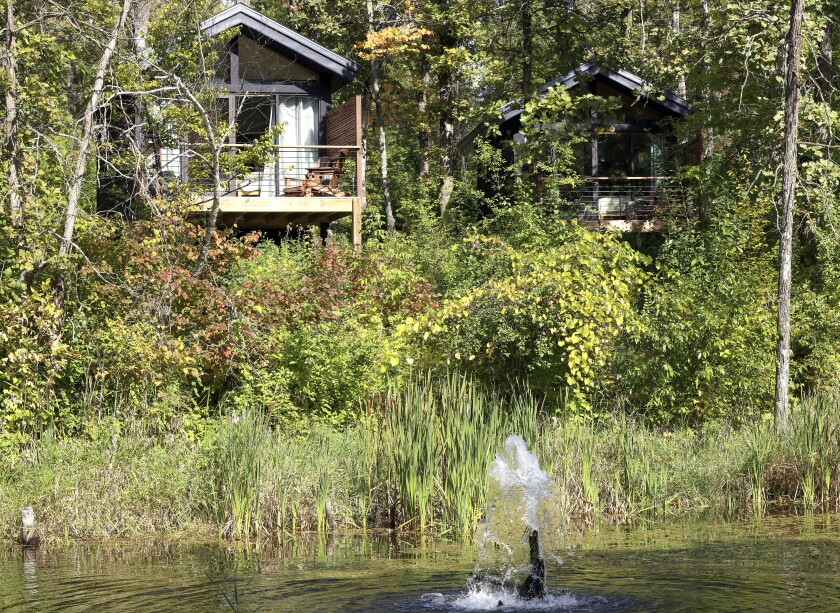 This year, the couple broke ground on another set of cabins up the shore. Tofte Trails will rest on 17 acres on Minnesota Highway 61 — and, they opted to hire a crew for this build. "I don't know if we'd want to do it again," said Braun, "it tested us."
When they dove into constructing Cuyuna Cove, they were learning to navigate marriage, communication, construction, launching a new business — all while working and living in 700 square feet.
"We kind of pat ourselves on the back, how many people could've been on top of each other for that many years," Austin said.
It taught them there is going to be an obstacle in anything, so stop stressing about the problem, and find the solution together, said Braun. "It's a no-quit option."
They're closer because of what they've walked through together, and now, they practice having humor and accept advice to relax.
"We're still here," he said.
For more information, visit cuyunacove.com.
This story was updated at 4:48 p.m. Oct. 11 to reflect that the hammocks featured at Cuyuna Cove were purchased in Sayulita, Mexico. The News Tribune regrets the error.
St. Joseph Catholic's closure was due to a lack of priests, according to the Diocese of Duluth.