Esko couple open alpaca ranch
Five Daughters Farm won five blue ribbons at Wisconsin Alpaca & Fiber Fest.
ESKO — "They're cute, they're curious. They're almost like cats," said Jared Hegna.
He and his wife, Jennifer Hegna, are behind the alpaca ranch, Five Daughters Farm .
It's a new venture for the couple, who purchased their 20 acres in 2020, but they're off to a solid start. They recently won five blue ribbons at the Wisconsin Alpaca & Fiber Fest and the Great Midwest Alpaca Festival in Madison.
"I wish I would've done this 20 years earlier," said Jennifer.
Fully grown, alpacas weigh 150-160 pounds. They live 15-20 years and they come in 22 colors. They're gentle, curious animals, but, Jared said, "as soon as you touch them … they don't like to be petted."
At Five Daughters Farm, their alpacas are white, beige, dark fawn, light brown and black with names like Matty, Pedro, Bandit, Coco and Max.
A commercial banker by day, Jennifer Hegna said she'd wanted alpacas since she was a kid.
The Hegnas toured Solway Township's Frosty Ridge Alpacas with owners Loni and Horst Blumerich. There, Hegna saw a way to make it happen.
Under the tutelage of Loni and Horst Blumerich, of Frosty Ridge, the Hegnas purchased initial animals from the Blumerichs.
The Hegna land was formerly owned by an equine veterinarian, so much of the necessary infrastructure only needed updates.
They purchased their initial animals from Blumerich, who has been a great help getting started.
Hegna said she and the alpacas are fortunate to have mentor and a farm animal veterinarian Justin Dahl, of Superior's Happy Tails, so close by.
Alpacas are low-maintenance animals, and their soft-padded feet are gentle on pastures. After shearing day next week, the Hegna alpacas will appear two-third the size. The fiber collected will be processed into yarn locally, at Grumpelstiltskin's Fiber Mill, which opened in March.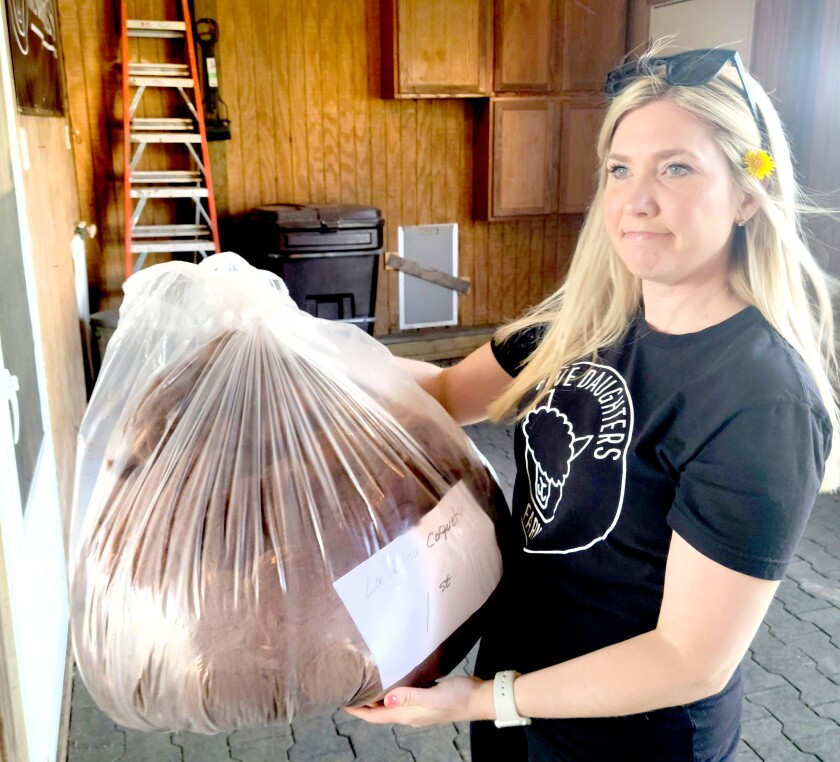 Hegna held a plastic bag of milk-chocolate brown-colored fiber, marked "Coquette Coco." It's part of last year's yield, which will be combined so the Hegnas can have a larger amount prepared for processing.
She pulled out a handful of fiber, examining it in her hands.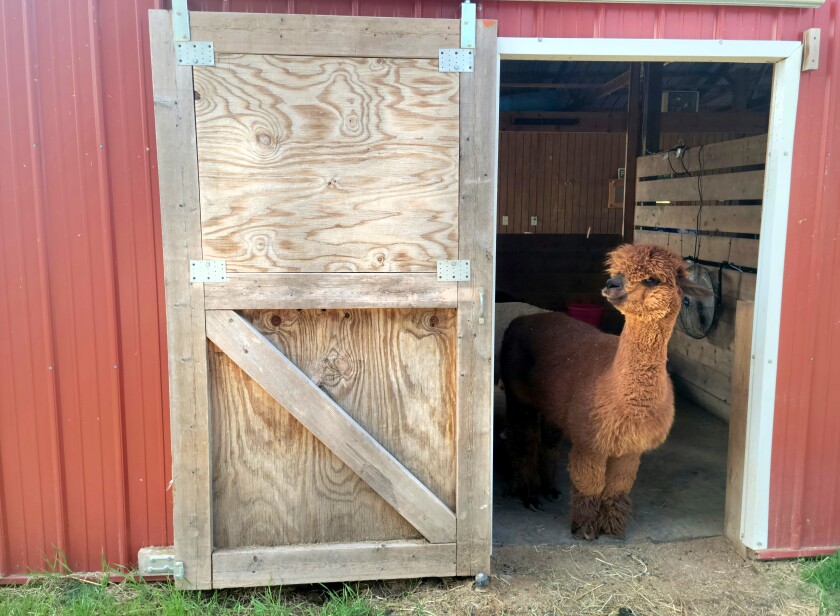 "What you're looking for is how crimpy it is," she said, adding that straighter fiber signifies less capacity to make quality yarn.
Right now, the focus is on shearing day, but down the line, the Hegnas aim to move ahead. They'll build their herd and breed more animals, they'll attend more shows, and they hope to open a farm store where they can sell their goods.
Asked about their farm name, Jennifer Hegna went the literal route. "I have five daughters; I have no sons."
The County Seat Theater show opens at 2 p.m. Sunday at Encore Performing Arts Center and Gallery.