Cloquet bars, restaurants submit second request for help from city officials
The business lost by local bars and restaurants during the COVID-19 pandemic has led some owners to seek a reduction in liquor license fees.
Cloquet bar owner Adam Bailey recently sent an email to city officials asking them to reduce the liquor license fee to help compensate for lost business at local bars and restaurants amid the COVID-19 pandemic.
"While we are open now, we are heavily regulated, and it is still very difficult to turn any kind of profit," Bailey wrote on Tuesday, Feb. 23. "I am asking, and will continue to ask, that the City step up and help those businesses by reducing our liquor license fees and refunding based on the days we were not able to operate."
Bailey owns and operates The Jack on Cloquet Avenue and said the establishment was forced to completely close for a total of 122 days during the pandemic.
He is asking that the fee be prorated to account for the days when license owners were unable to sell liquor. He compared the situation to that of a landlord asking a tenant for a full year's rent even though they were unable to live in their home for five months.
While other local establishments kept doors open through take-out and outdoor dining options, business owners said they still took a significant hit in sales during the shutdowns.
RELATED: Local restaurants reopen for dine-in service Owners used curbside service, delivery and expanded outdoor seating to attract customers during the seven-week pause to in-person dining.
RELATED: The Jack on Cloquet Avenue rebrands amid pandemic Cloquet's The Jack went through a major renovation during the COVID-19 pandemic, reopening as a sports bar with 13 different big screen TVs now decorating its walls.
RELATED: Struggling Cloquet bars and restaurants look to city for help Cloquet chooses to defer liquor license payments until December in the wake of the coronavirus pandemic, but declines to reduce the fee for 2020.
Erika Aranda, owner of Pedro's Grill and Cantina, said even though business has been steady, she ultimately lost thousands of dollars as a result of not being able to offer normal liquor sales.
Aranda applied for her offsale liquor license through the city in 2020, but said she never received it and did not see any sort of refund for the check she sent in.
Instead of returning the money, she said city officials offered credit towards her 2021 license payment.
In addition to losing liquor sales, Aranda spent money to add a patio space and an ice bar to Pedro's, something she said she had to do to get business at the establishment.
While she said she was grateful that the city did not charge her for a patio permit, Aranda spent a lot of time and money obtaining supplies, with shortages causing her to travel as far as the Twin Cities to find patio furniture, she said.
Bailey echoed her frustration.
"We've invested back into the community," he said, explaining that he spent approximately $100,000 in renovations at The Jack.
According to Bailey, almost every local restaurant or bar has made some sort of upgrade during the pandemic.
Bailey and others first brought their request for a fee reduction to the Cloquet City Council last spring, asking for assistance after the initial shutdowns.
This resulted in officials granting a deferment option for the fees, which allowed liquor license owners to pay in December 2020 instead of July. Bailey said the deferment didn't help much in the long run, especially since there was another shutdown in December.
Aranda chose not to take advantage of the deferment and paid her fees as scheduled, a choice she said she was glad she made.
"A month or two wasn't going to help anyways," she said.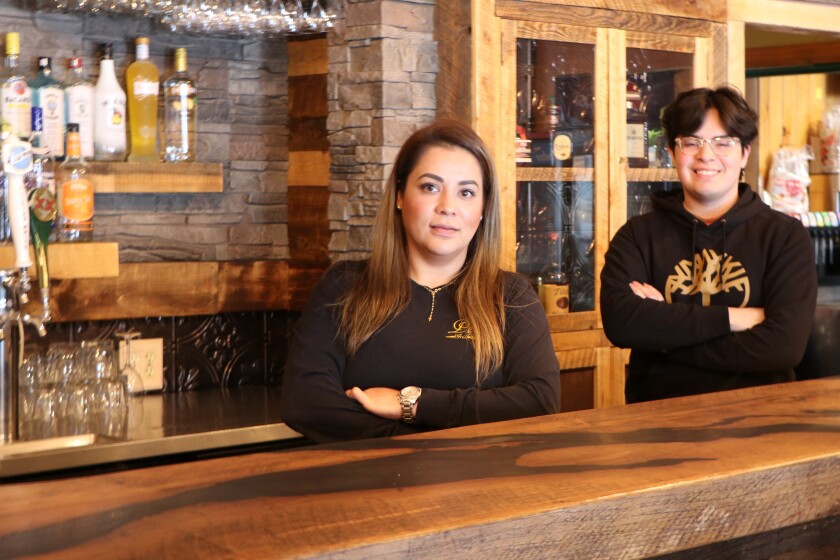 Bailey has yet to hear back from city officials following his most recent email. He said that while he can appreciate the situation the city is in, he feels frustrated seeing other cities offer license fee reductions when Cloquet has not.
Duluth, Scanlon, Proctor and Carlton have offered some sort of reduction or refund for liquor license fees in light of the pandemic.
"It's not just about the money, it's about the principle," Bailey said.
City administrator Tim Peterson said it does not seem appropriate to reduce fees for one branch of local businesses and not others.
"There's a lot of small businesses out there that don't have license fees," he said, referencing establishments such as salons and movie theaters.
According to Peterson, the city tried to meet with and assist all liquor license holders once outdoor dining was permitted in the state, working to open businesses through city-owned properties and other avenues.
He also emphasized that grants and loans have been made available to all local businesses during the pandemic.
Overall, Carlton County has received $4.4 million in Coronavirus Aid, Relief and Economic Security Act funding to put toward pandemic aid and relief initiatives.
The council is likely to discuss Bailey's request in upcoming meetings, and a response will be issued soon, Peterson said.
This story was updated at 9:53 a.m. March 1 to include Scanlon in the list of area cities choosing to adjust payments for liquor license fees. It was originally posted at 10 a.m. Feb. 26.